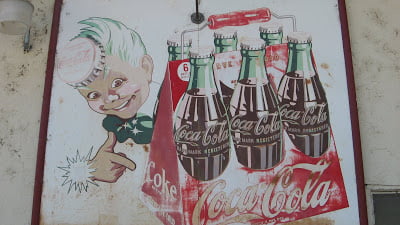 Wednesday, August 24, 2011: 500 miles, 500 miles, 500 miles, 500 miles…
We were up early (six) and packed and out by seven.  Some high cloud but very warm.  Drove SS to the Charles Schulz airport (aka Sonoma County Airport).  Was on my way by eight.  So it began.
The most complicated part of driving home, particularly alone (should have called this entry Home Alone), was getting to the Interstate.  It was indirect, east, north, northeast, and east again, on several different routes, including some non-intuitive turns west and even south.  The switchback route up to and through Robert Louis Stevenson State Park was tortuous to say the least and rivalled Hwy 1 on the coast in its required arcade game skillset.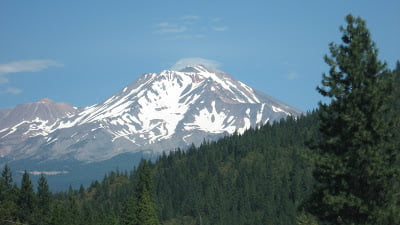 Shot through windshield while driving.  Seriously!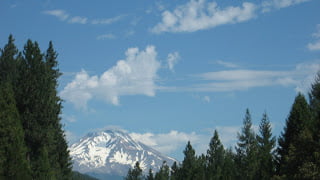 A less stellar view of Mt. Shasta via windshield photography
Once on the I5 it was cruise control; CA allows 70 MPH in rural areas.  The temperature climbed, slowly, from mid 70s, to low 80s, to, finally, low 90s.  My first stop was in Redding, at a Starbucks, for some lunch items and a coffee, around 11.  Too hot for Mr T to do anything, so back in the car he went.  Second stop Castello, a tiny municipality buried in the Shasta Lake area, gorgeous northern California mountain territory.  Third stop was a large rest stop abutting a campground just past Medford, Oregon (where we hit the high today, 97), on the Rogue River.  Only about 95 at the rest stop, but stinking hot nonetheless.  After that I was getting tired, about eight hours driving.  With the intention to make it to Halsey, a small town halfway through Oregon, I turned off instead at Eugene.  Based on TripAdvisor, checked out Red Lion, but they wanted $129.  Too much!  They pleaded with me telling me it included breakfast–but breakfast is dirt cheap in the US.  Drove back onto the I5 and took another exit and checked out the Super 8 where they include a breakfast in the much lower rate.  And here I will say three nice things about the Super 8 (aside from the fact that it was much cheaper than Red Lion): First, the air conditioner is quieter (and more efficient) than our more expensive hotel rooms; there is free Tazo tea in the lobby; the WiFi is free and fast.  There, three things.  Go Super 8!
Took Mr. T on a very long "mall" walk as, just a quarter mile off the freeway, there is not much more to do.  We checked out the myriad dining options (Carl's Jr., Denny's, Sizzler, Burrito Amigos, Burrito van Ditto, Applebee's, Subway, KFC, Taco Bell, China Sun, Jimmy John's, Taco Time) and stumbled across Cafe Yumm.  This is probably the best idea in fast food in a generation.  Score!  Got take out and went back to the room with the dog.  Panting from the heat he seemed extraordinarily happy to pass out in the cool of the AC.
Tomorrow home.
Transamerica: Actually, I wanted to call this entry Travelin Thru, but that was Dolly Parton's (pretty wonderful) theme to the movie, and switching to title tracks as opposed to actual titles as a blog theme would disappoint all 31 "international" readers of this blog I'm sure.  But the Interstate system is, really, Transamerica, so no disappointment…