Now It's Istanbul Not Constantinople…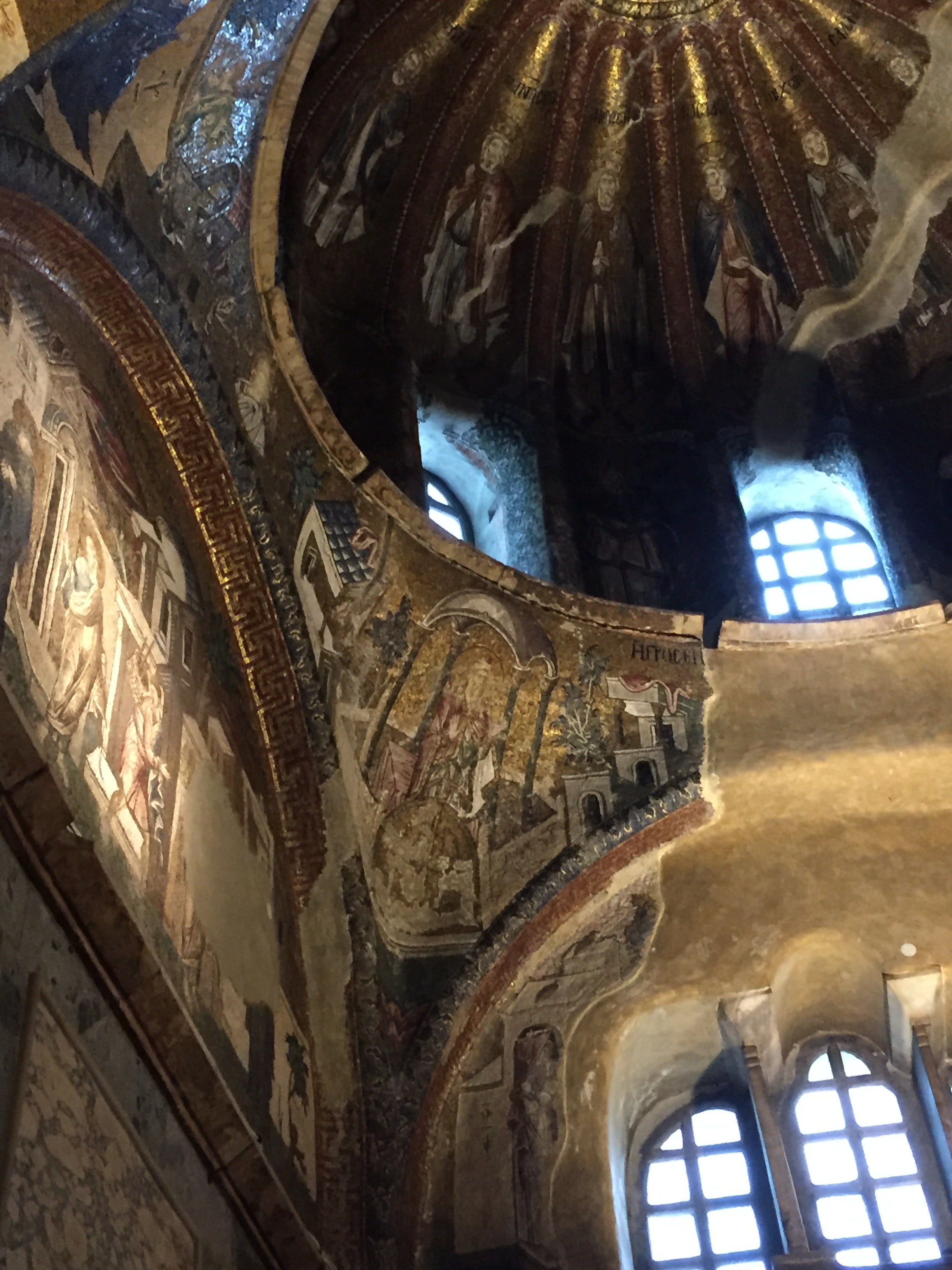 Why did Constantinople get the works? That's nobody's business but the Turks. Of course I've been waiting a week to write that.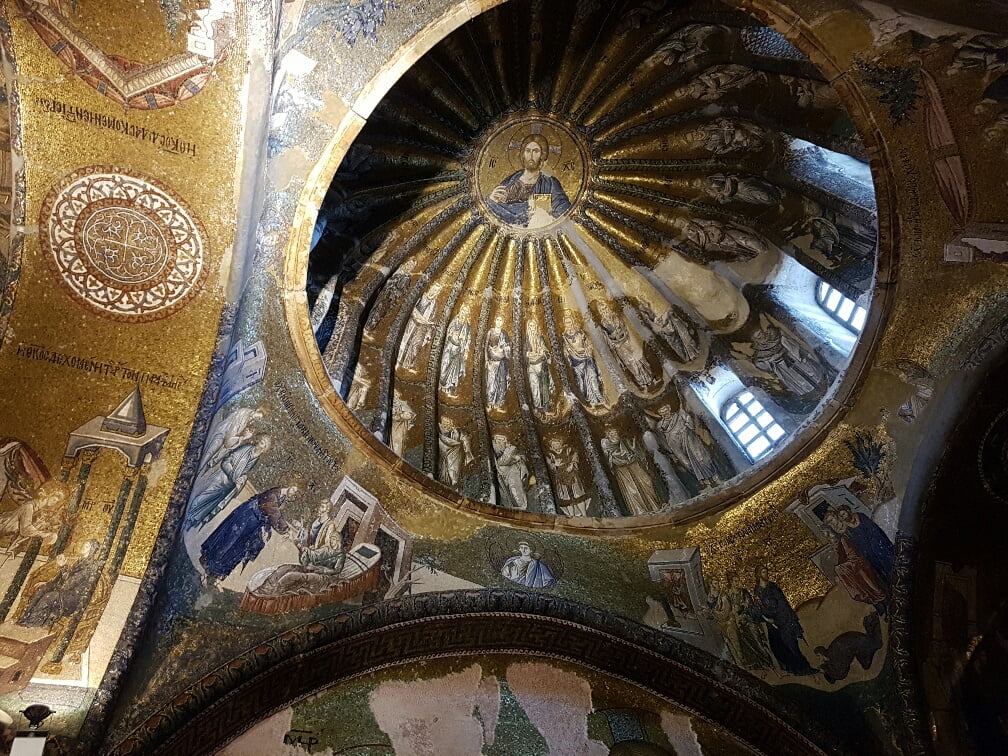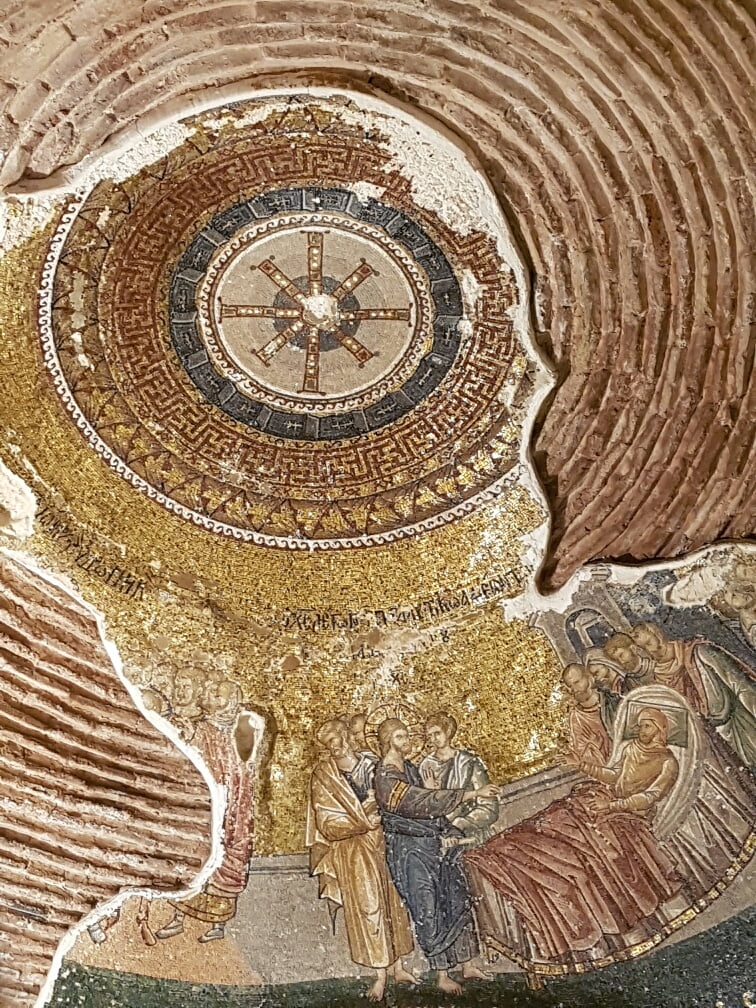 Above: Christ healing the paralytic at Capernaum.  What parable is that?
A shout out to Jarome for recommending the Chora church aka Kariye Museum. We made our way there this morning. The plus side is the art, from the 1300s (in a building which, historically, dates to a monastery from antiquity); the down side is that the entire exterior and part of the interior are under wraps for restoration.  One room with a significant dome depicting the Virgin Mary's life (not in Biblical scenes) was completely off limits, unfortunately,.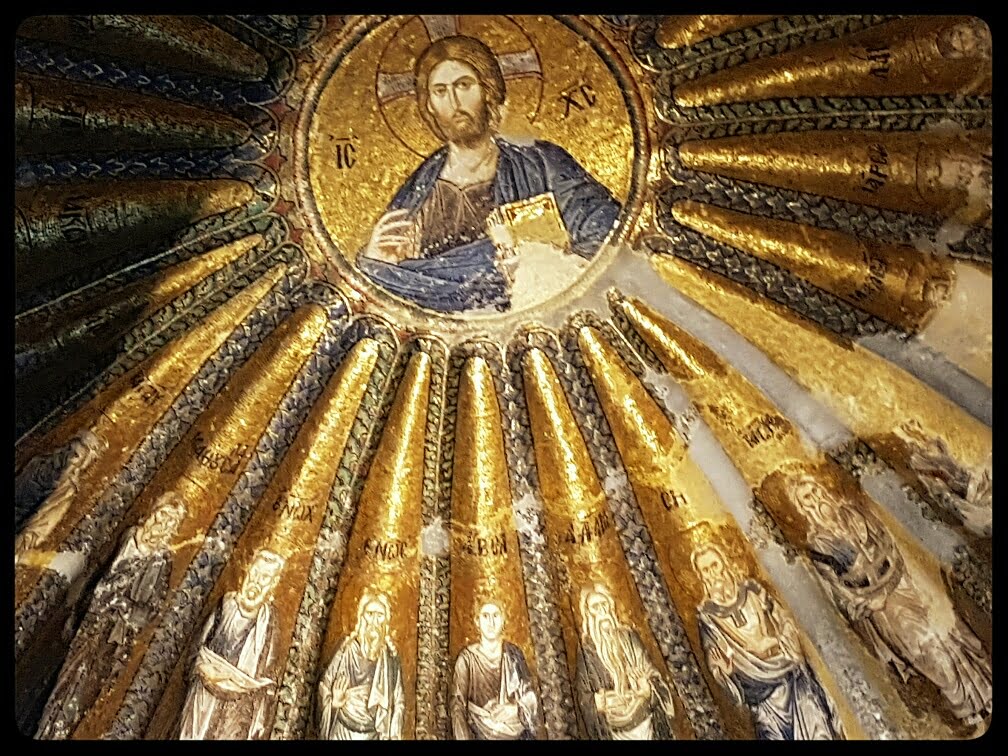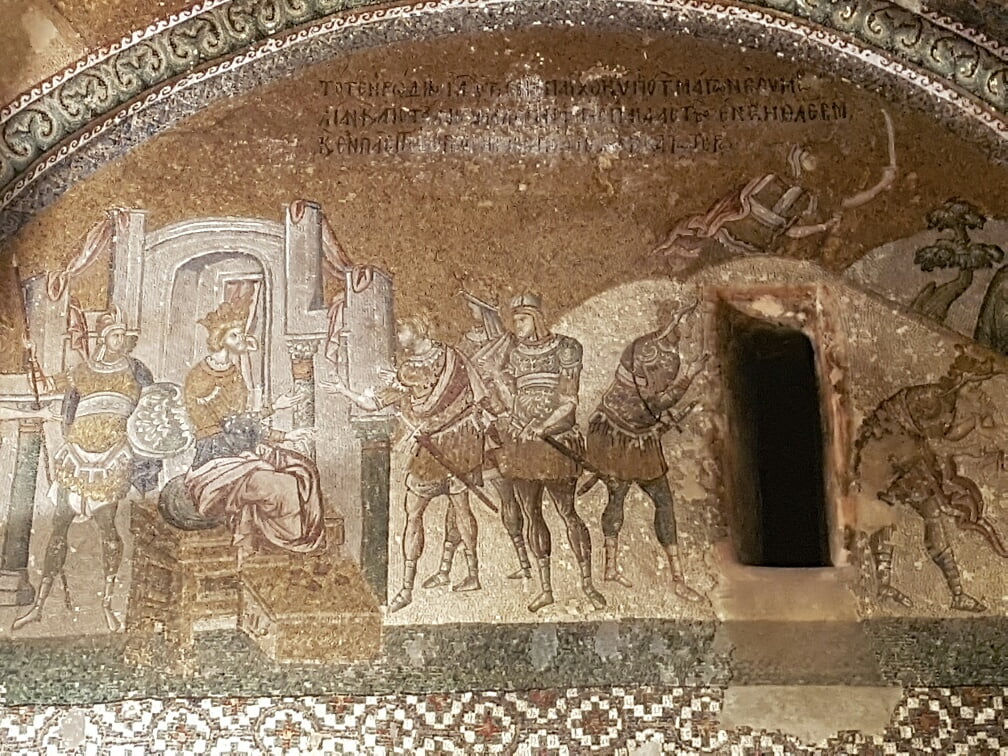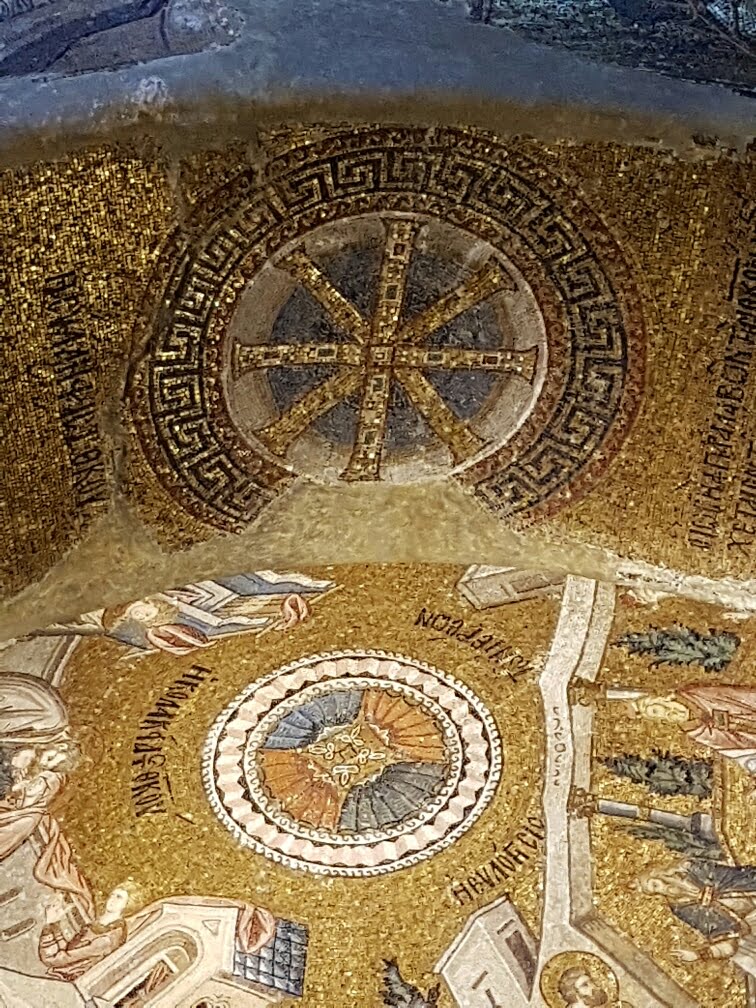 It was built outside the walls of Constantine's city, so became known as Chora, "outside," but later was immediately inside the ramparts which fenced the old city, constructed by Theodosius in the early 400s. The Byzantine mosaics and frescoes are simply beyond description. Its sleepy, pleasant setting, away from the Blue Mosque hordes, was immediately refreshing. What is especially appealing is that the church has none of the grandeur of St. Peter's or St. Paul's, but all of the sense of worship; it's somehow modest in it's detail and passion.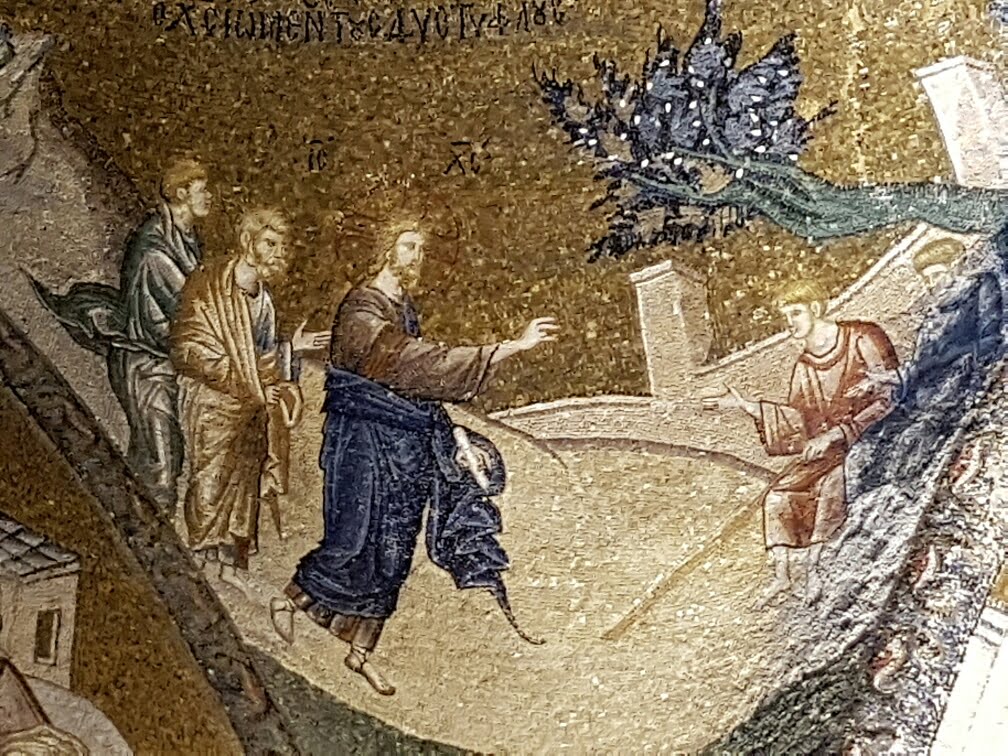 The healing of a young man with a withered hand.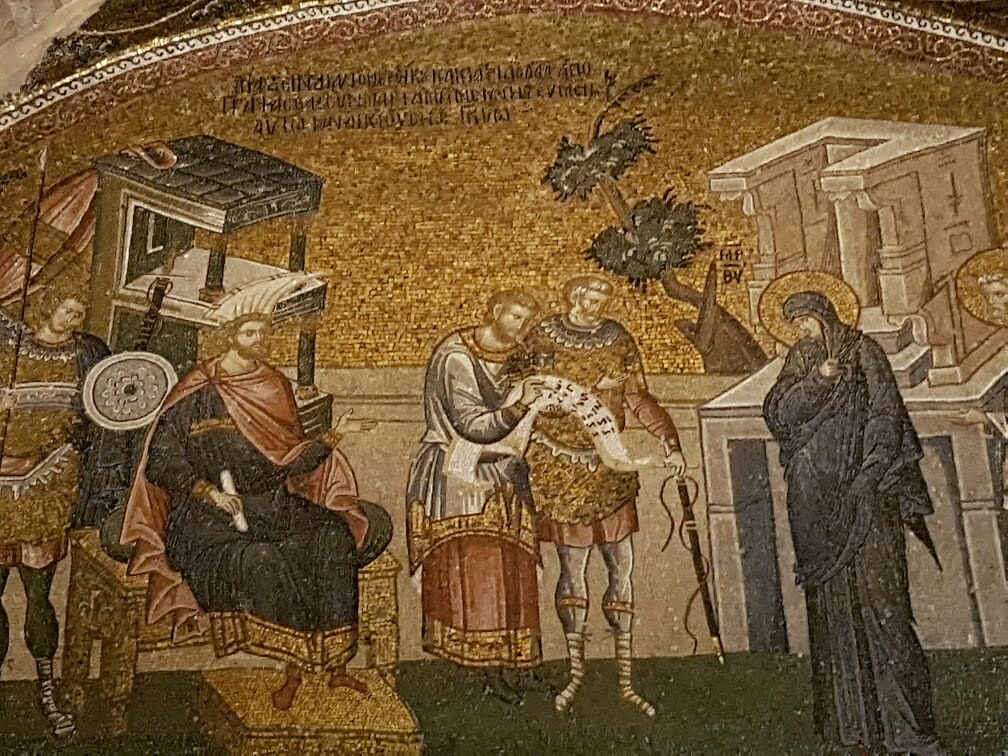 Part of the mosaic about preparing for taxation.  Yes, there is a mosaic on taxation.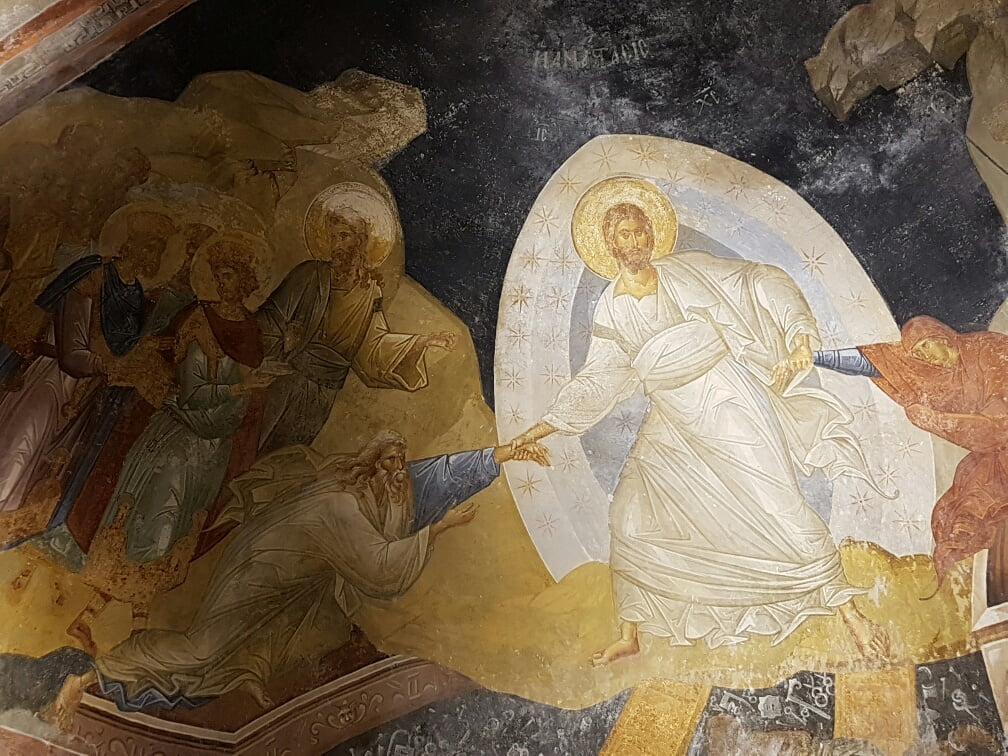 The above is a group of the righteous and John the Baptist.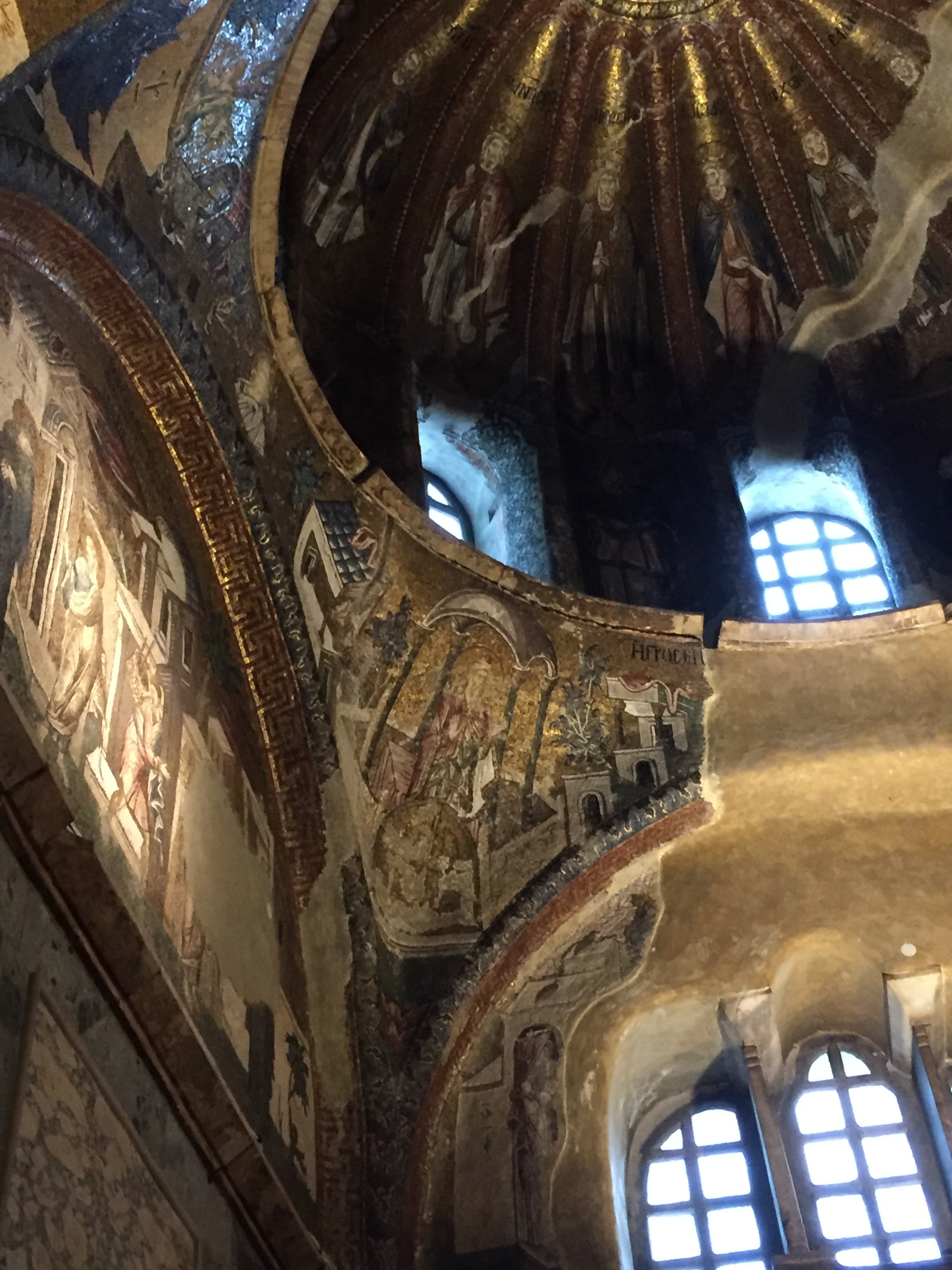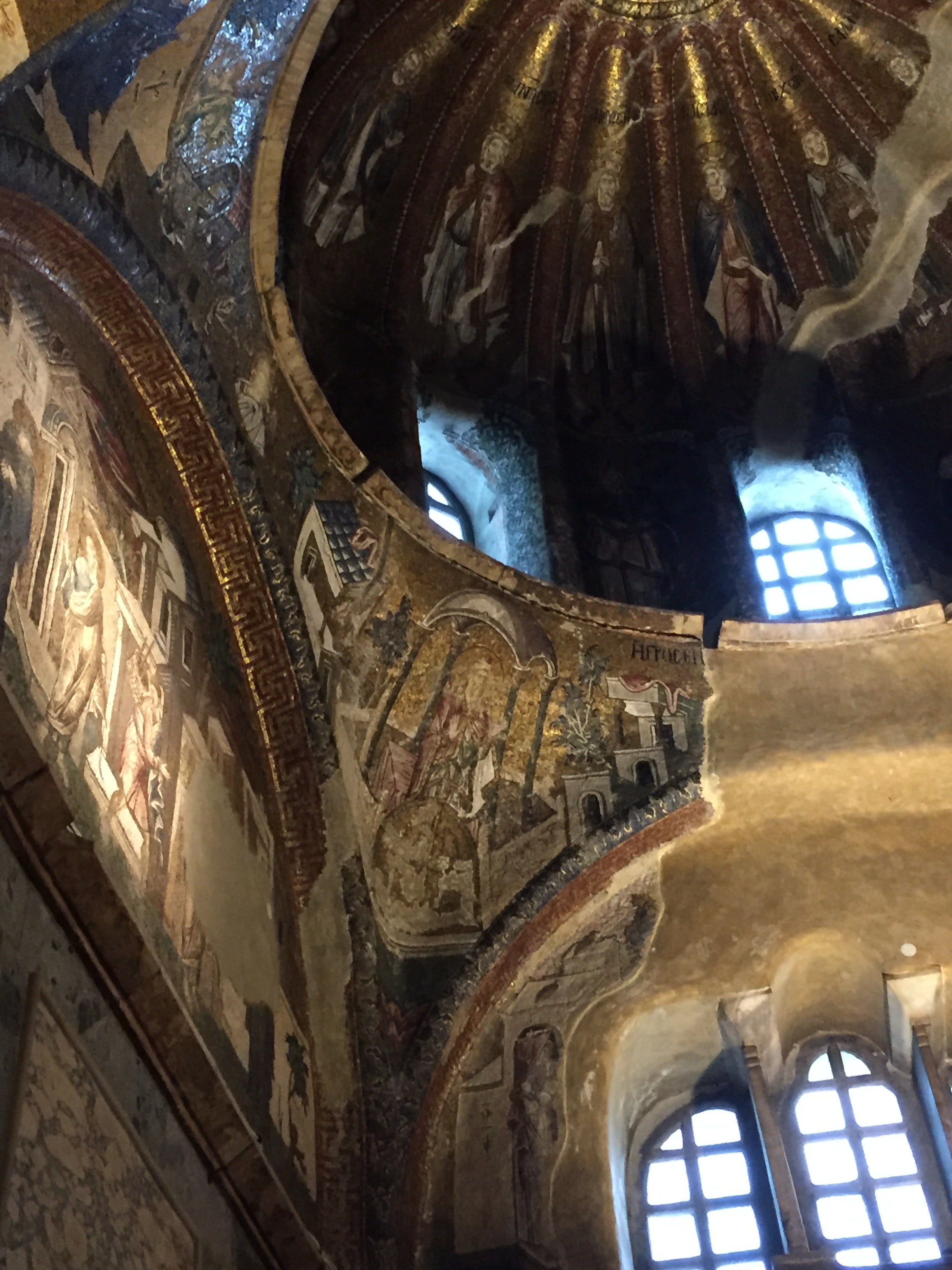 After a lot of craning and gaping and oohing and aahing, we wound our way down along the old ramparts towards the Golden Horn. We caught a ferry back to the Karakoy neighbourhood, then took a tram towards Beyoglu, stopping for lunch at a little place called Journey Café. This blog captures the spirit of the neighbourhood and saves me posting ten more pics.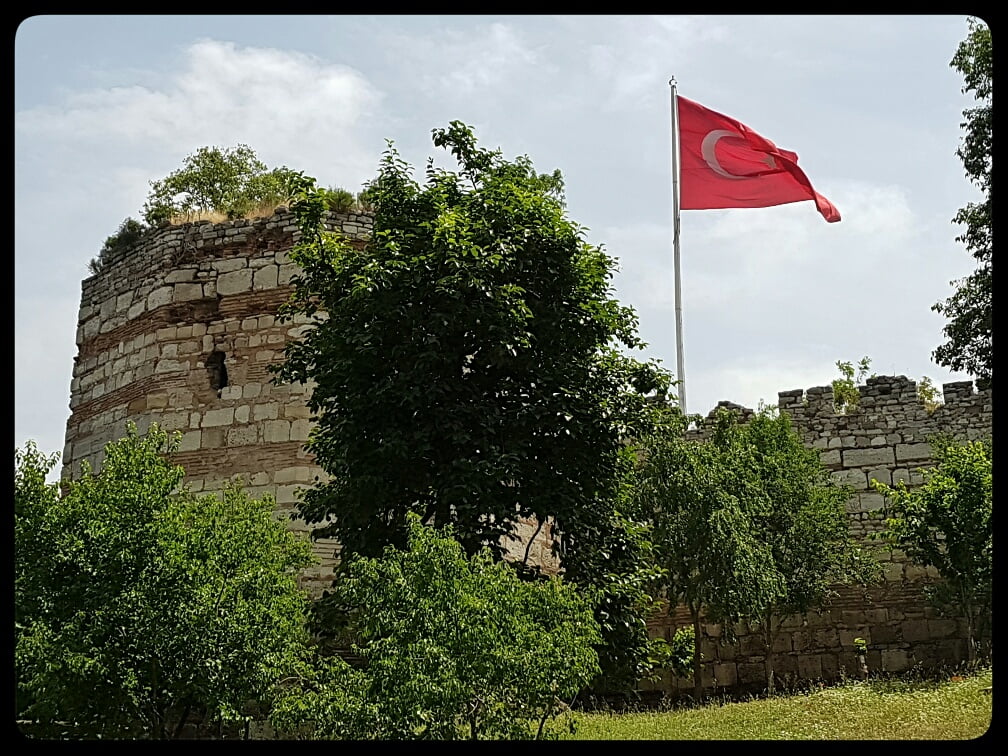 The ramparts of the original walled city, as built by Theodosius in the 400s.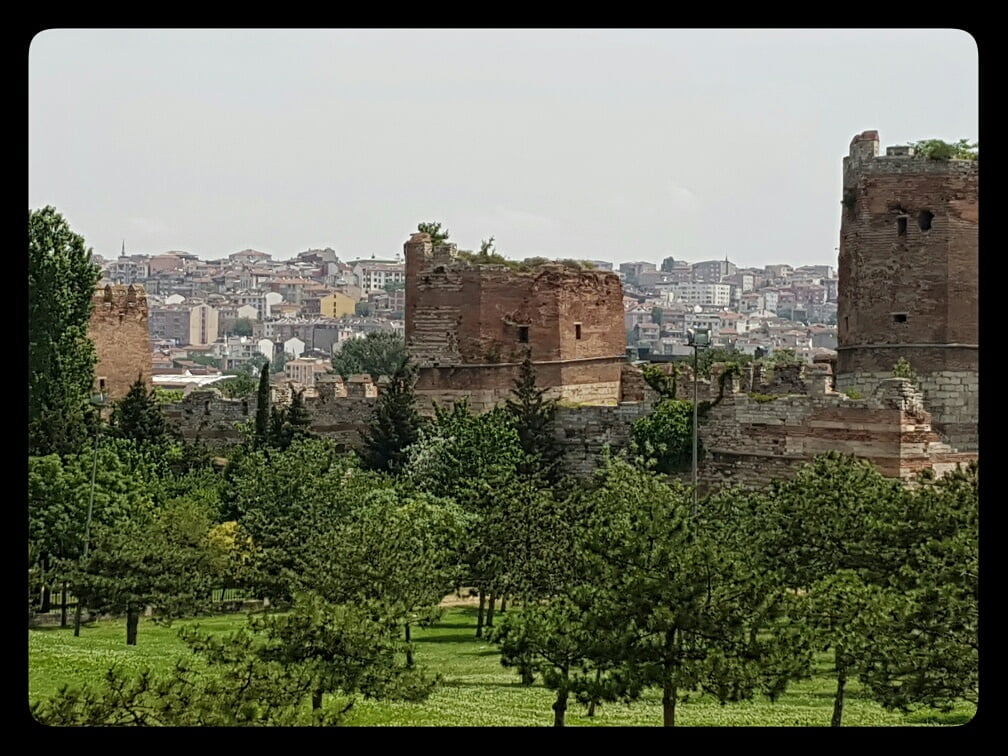 Three of the bastions on the ramparts.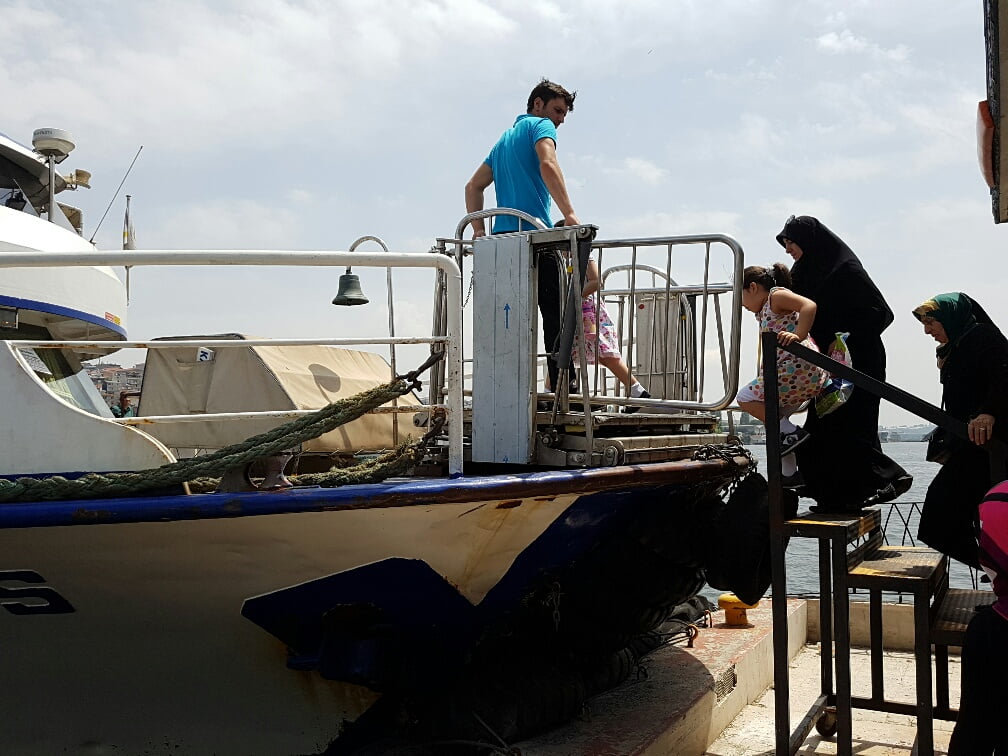 Ferries pull up to the dock, they don't moor or secure the ship; they simply just line up with stairs on wheels and you have to hope you make it safely.
Over the week we have shifted from breakfast at eight to breakfast at 10, lunch at noon to lunch at two, and dinner sometime around eight or so. So, in keeping with the locals, the day seems done after lunch.
Today, as a bucket list item, we booked in at a hamam. I've only been to one real Turkish hamam, somewhere in the east, maybe Gazientap, but that was thirty years ago. A massage back then, a traditional massage, involved old Turks swatting you with a "whisk" made of birch twigs, but the actual sauna, in the town square, underground, was magical. Today we booked at a totally renovated spotlessly clean and uber modern sauna just 10 minutes from our hotel: Kilic Ali Pasi Hamam. The weird part was this: The whole week we've had no agenda, no dinner reservations, nothing to do at any particular time, until today. And 15 minutes before our appointment, there was thunder, lightning, flash floods. One minute it was 27 degrees, the next dark and brooding. We deked in and out of overhangs on the steep hill down to the spa, only to get soaked (SS took a full on fall in his slicker). Then, when we came out, it was summer all over, clear, sunny, a refreshingly mild 22.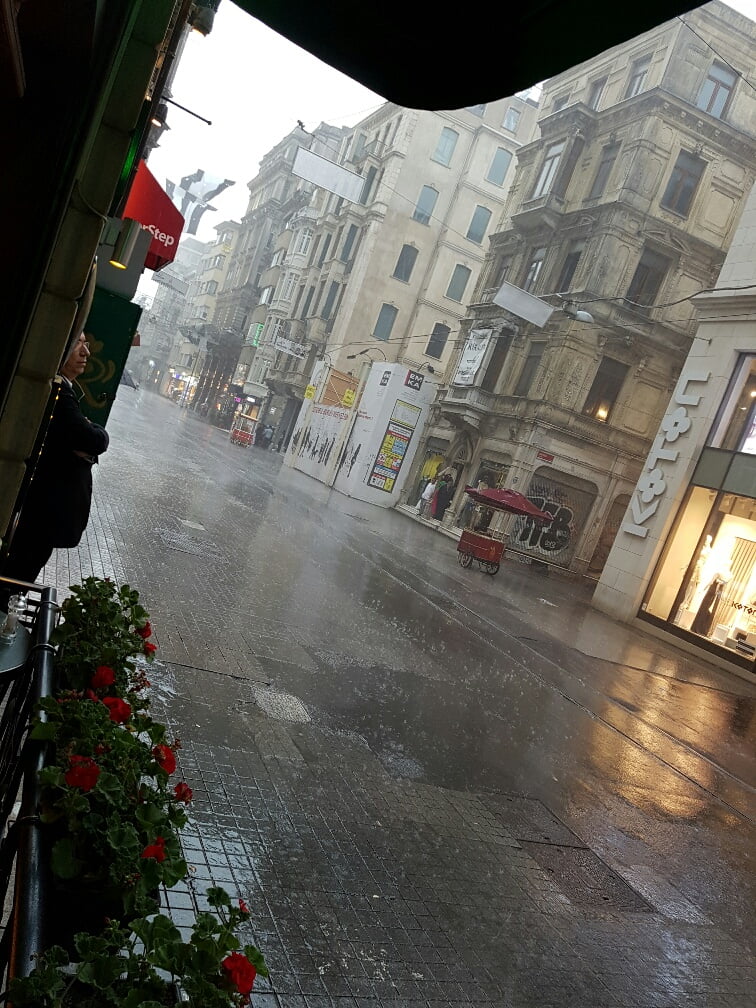 Rain came out of nowhere.
The overpriced but absolutely worth it sauna was an exquisitely orchestrated experience: You are welcomed with a sherbet (what I would call a cordial) and asked to put on booties over your shoes; the main entrance area, with a fountain in the centre and lounges around the perimeter, contrasts decadence with modernism. There is a lock box for valuables. Then you're shown to your private locker to change. Virtually naked, with nothing but a pestemal on (bigger than a loincloth, less than a towel), you parade down the stairs across the room in all your semi naked glory, to be escorted into the hamam proper. First, your personal attendant (soaks you in water, hot and cold and hot, then he leads you to a central stone, a hot marble slab, where you lie on your back for at least 20 minutes to get your body heat up; the stars in the ceiling dome filter in refracted light along with drips of condensation. Women come in the morning or afternoon, men in the evening.  The male attendants are pretty brutish, like retired wrestlers.  After you bake a while on the slab, your "bather" takes you to a vestibule where the wash begins. First there is a little massage. Then there is a scrub; he uses a hand loofa to pretty much destroy your epidermis, taking some pleasure in showing you the detritus. Following that there is a soap. I don't know how they do this, but they capture suds in something like a pillow case and cover you in foam so you end up looking like Marilyn in the Seven Year Itch. The second rub down is a wash. A very thorough wash, let me tell you. Including a shampoo if you want it. There is a rinse, then you're mummified in soap suds again. The final rinse involves a final massage. After that is all said and done he hoists you up, drapes you in a dry pestemal, and leads you to an ante-chamber where he places towels on your head and back and gives you a thorough dry. It's sort of like bathing a dog, except you're the dog. Following that you go back into the entrance lounge where, bandaged in towels, you slowly come back to life.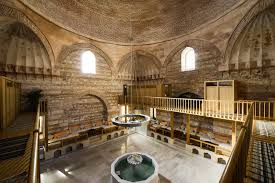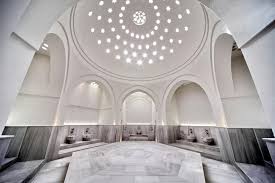 Hamam pics clipped from the web: The interior courtyard and the central hamam with marble slab centre.
The rest of the evening, in a post-hamam chill, was a bit of a slacker blur. We took dinner at a nearby restaurant and called it a day before midnight. Nice way to end the Istanbul portion of our tour.  But I did want to close with the green plums.  They are called Erik plums and we have had them umpteen times on fruit plates –but they have never been edible.  Tonight we got served them for free, a chef's gift.  They are rock hard, without flavour, and are apparently eaten by the locals, often, with salt.  A Turkish delicacy, you can Google it.  Go figure.