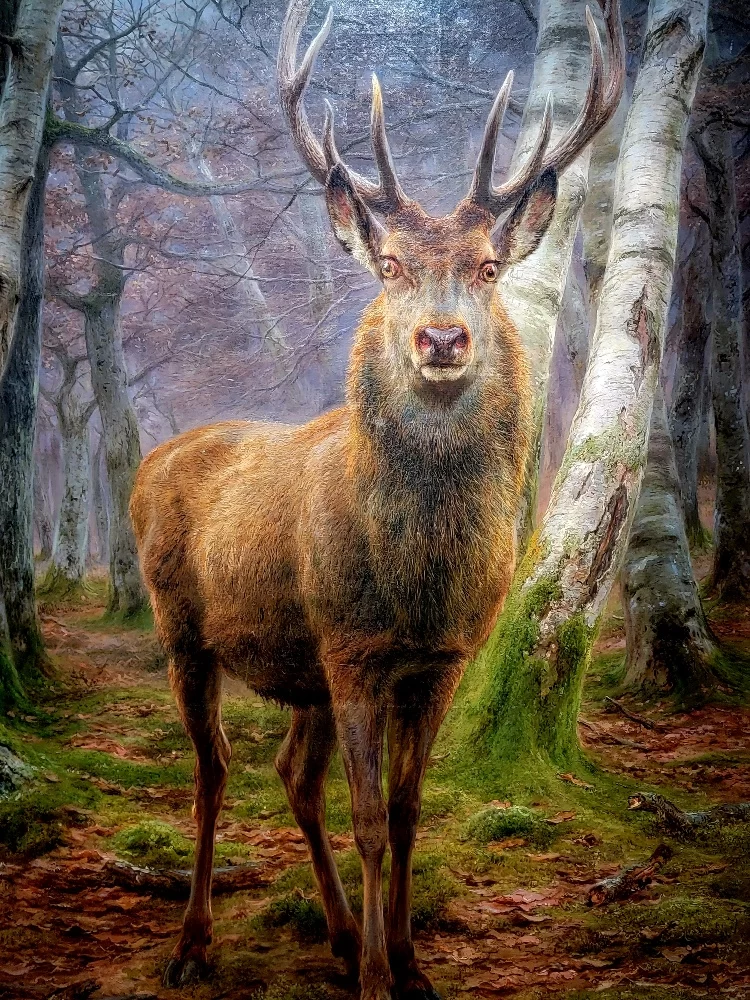 Seville is lousy with orange trees. Every "calle" and every courtyard and every plaza. Could there be a lime tree? Oh no, just a bunch of lemons masquerading as oranges. They are coming into fruit just about now. While notoriously "non-edible" I decided to test the theory and brought a ripe volunteer back to the Air BnB, cut it in half, and ran my tongue across the surface. Crikey. Ow. Ooof. That's some uber-bitter torment of an orange. Whose bright idea was it, all these orange trees? To borrow from Tarantino, you can't trust a Seville orange, but you can trust a Seville orange to be a Seville orange.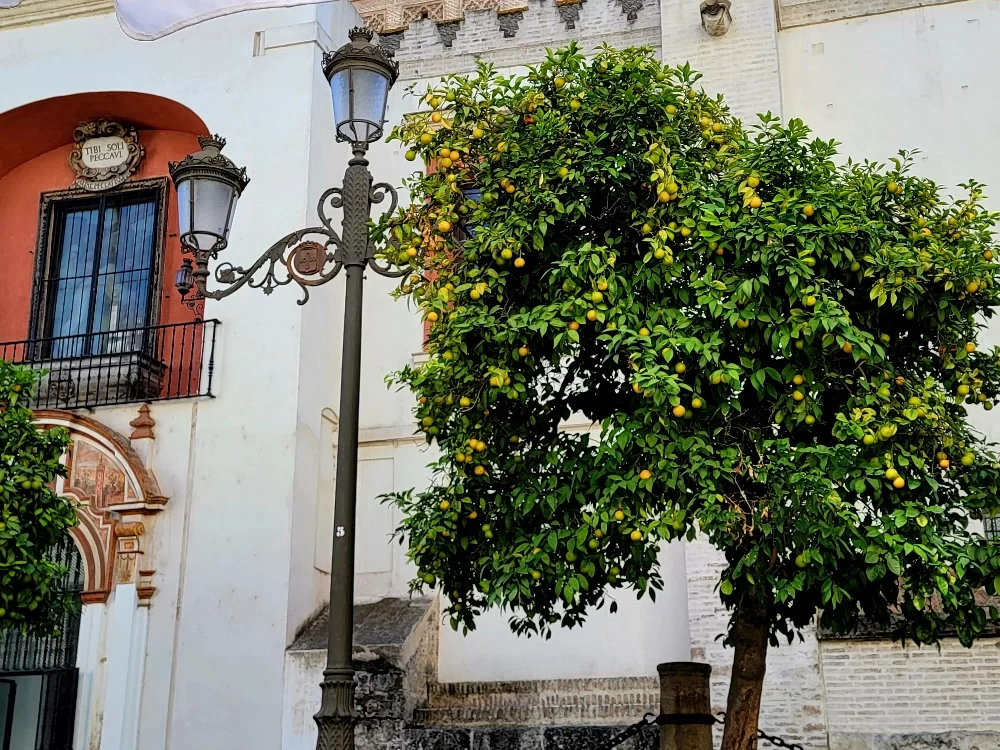 We had a midday checkout; with nowhere to leave our bags we wheeled them towards the cathedral for a coffee, relaxed in the sun, the very hot sun, and when the restaurants opened for lunch at one, we had a light meal, then took a taxi to the airport.  It had reached 26 degrees early afternoon and was oppressive.  Mid-November.  We could only imagine July.
After check-in and the torment of post-911 post-C19 security, we took a break in the "VIP" lounge which was, all things considered, like the restaurant at Ikea without the adjacent bouncy tent.
In fairness to AF, as the jetbridge was retracted we left the gate, spot on.  No waiting on the tarmac.  In the air within minutes, and a half hour early at CDG.  We had our luggage and were in a cab by 8:03 p.m.  The taxi into central Paris, lord, the taxi in, the lane cuts, the nudges, the roundabout turns.  If a Seville orange is a mistake in the world of biological species, Paris traffic is the engineering equivalent.  A lot of the somewhat dull Jacques Tati film traffic is shots of cars not moving.  The A3 to A15 merge was James Cameron's epic version of Tati's.  The train is the only way to arrive in Paris.  Period.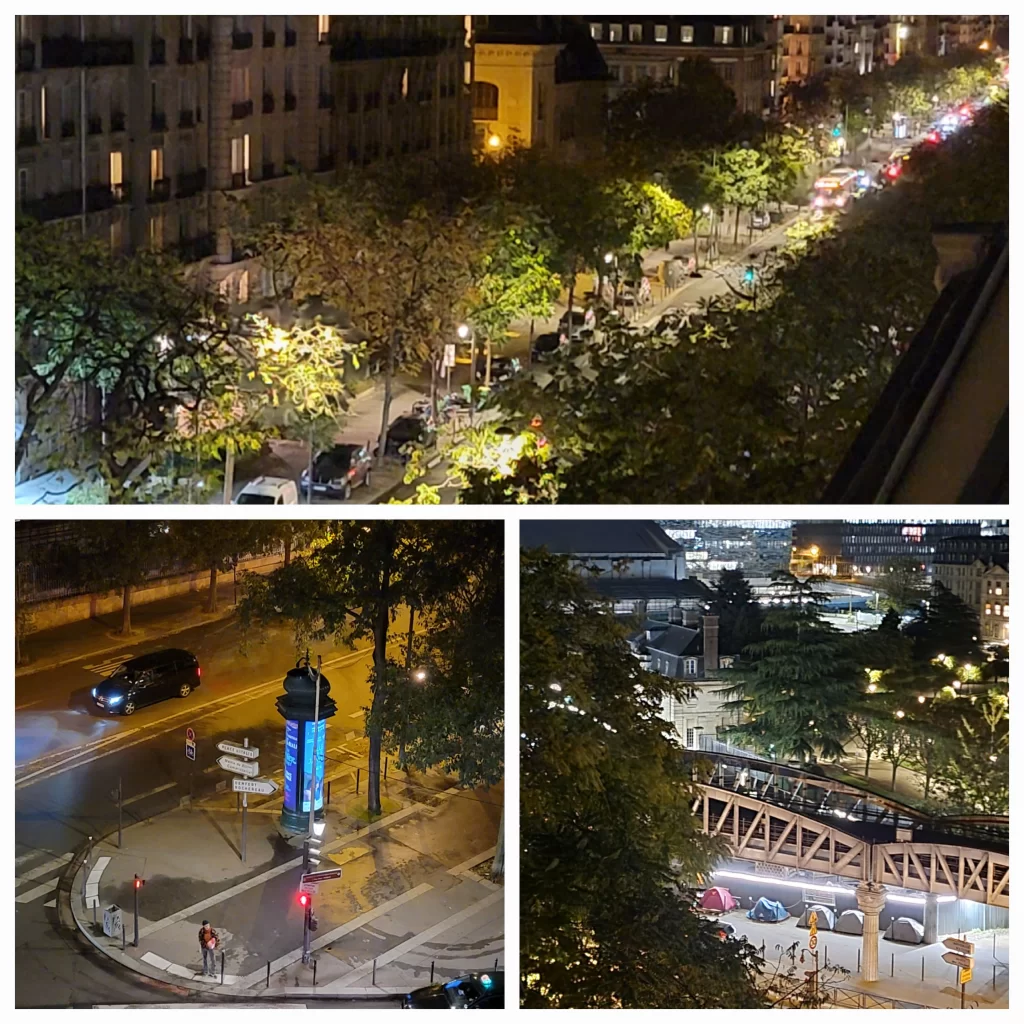 Our hotel was featured in the NYT T magazine as a style destination.  An older site recently renovated it is to give T its due visually appealing and the location is, although to the east in the 5th, decent; one metro stop from Gare d'Austerlitz, meters from the Museum of Natural History and adjacent to the medical faculty of the Sorbonne.  But it's also a slog into the centre, line 5 is not a decent connector.  It was a long and eventful day so SS and I made hay in our teensy, tiny, garret room but, believe it or not, Nina met up with Michelle from London and went out for "Spanish" (i.e., uncommonly late) supper.  It was jarring to need a parka but it is November.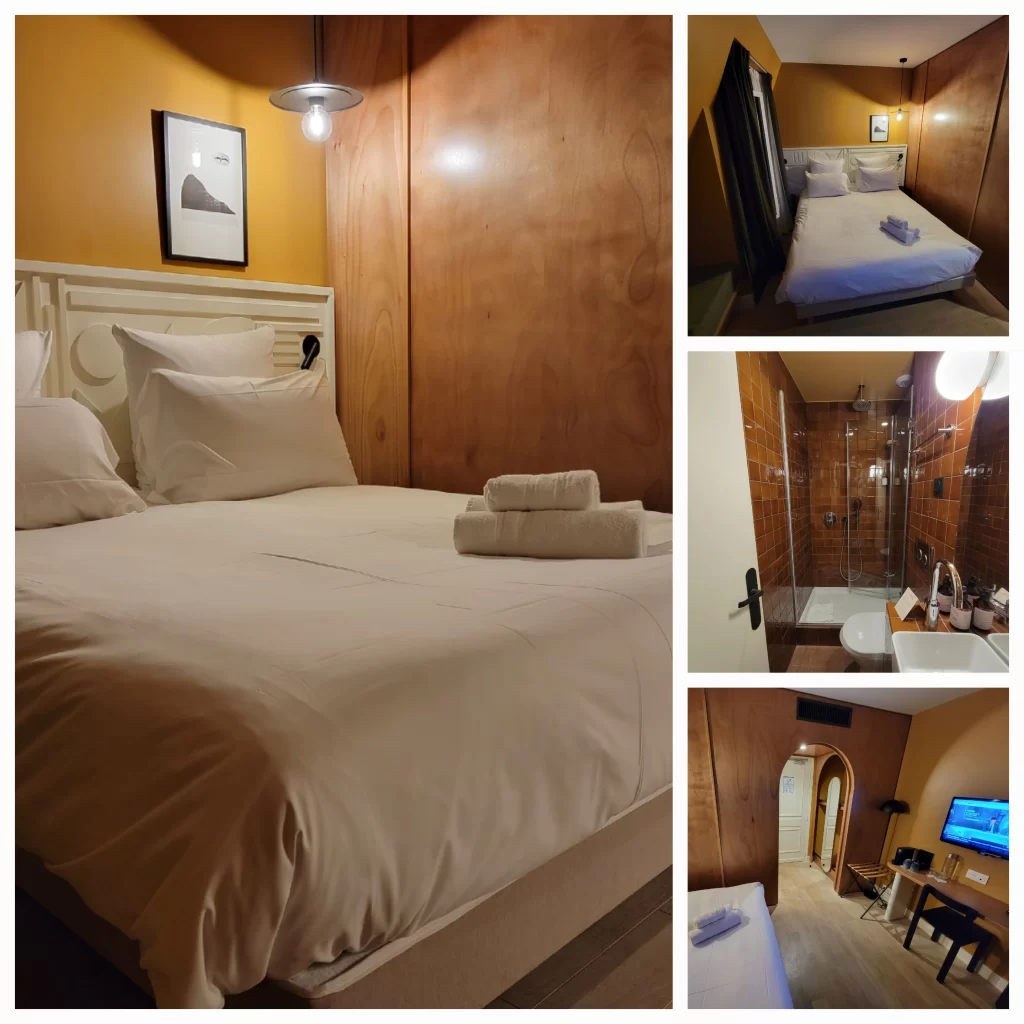 Saturday was a glorious fall day, clear, crisp, not too cold (in fact mid-afternoon oddly mild).  Nina spent her day with Michelle, SS and I headed up to the Pere Lachaise Cemetery, which is umpteen stops north, spread across over 100 acres.  In keeping with our resolve to always do something different when returning to a city, it was a magnificent obsession, er, diversion on such a beautiful day.
Everyone is at the PL cemetery.  Everyone.  Piaf, Pissaro, Poulenc, Proust, and that's just the Ps.  Our pilgrimage was just to half a dozen or so.  Maria Callas was in the cemetery, interred, then her remains were taken away, but she still has a plaque.  That, despite our best efforts, eluded us.  But we did hit a number of other graves.  Do you think anyone on the planet who owns a Modigliani has ever visited the grave? And Oscar, too poor for a gravestone; but most Instagrammers don't take two steps out of Pinterest range and look on the back where a short inscription notes "a lady" donated his marker.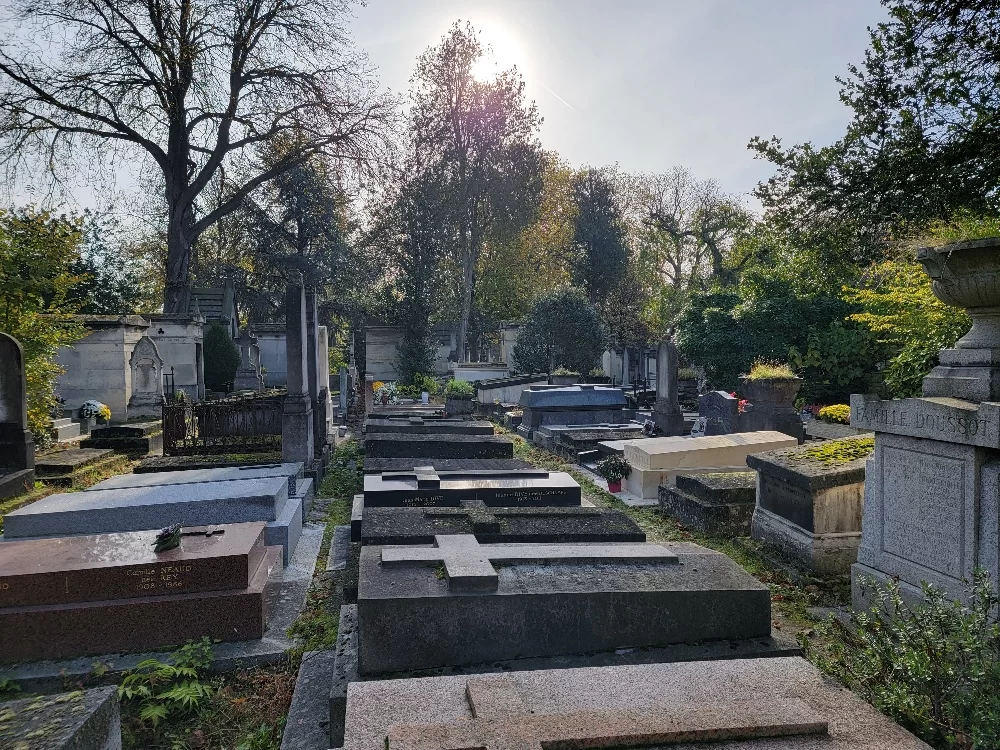 After Pere Lachaise we hit the left bank where we wandered the extremely busy streets, shops, bistros.  Paris feels like Paris, I think, once you start to look at the windows, and I mean stop and look at windows.  And we did.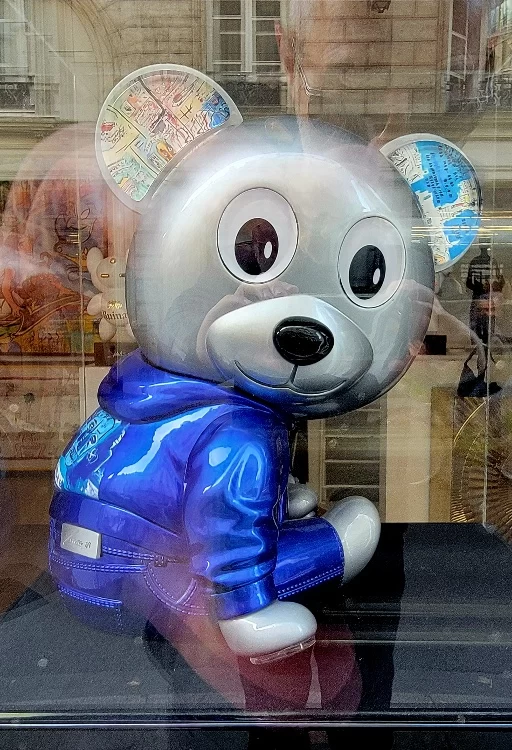 Just to extend the loveliness of Paris, to borrow a phrase, we walked east to the Ile St. Louis then to Notre Dame (to witness the reconstruction).  Then we returned west.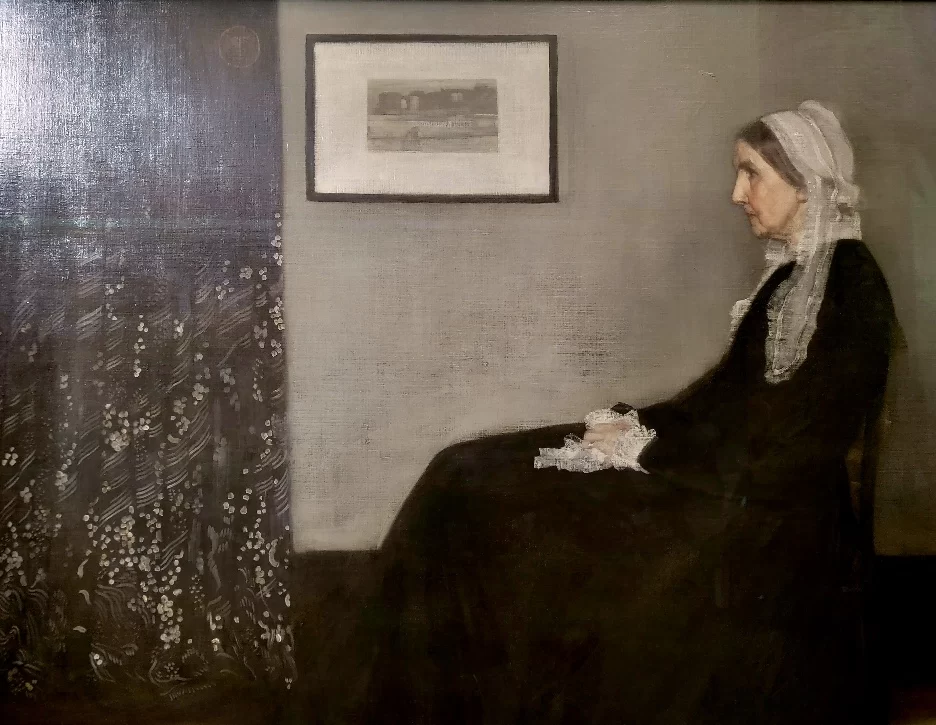 Late afternoon we had tickets for the d'Orsay.  I was keen on the Rosa Bonheur show which, given the fact it was paired with Ed Munch, I thought would be deserted.  Think again.  The entrance plaza was teeming with hundreds lined up for general tickets.  In a separate queue, of about 100, we lined up to enter.  Which of course is an outside queue, followed by an inside security queue, and then when we finally got to the special exhibit, a third queue.  To be fair, the Munch line was like a run on the banks.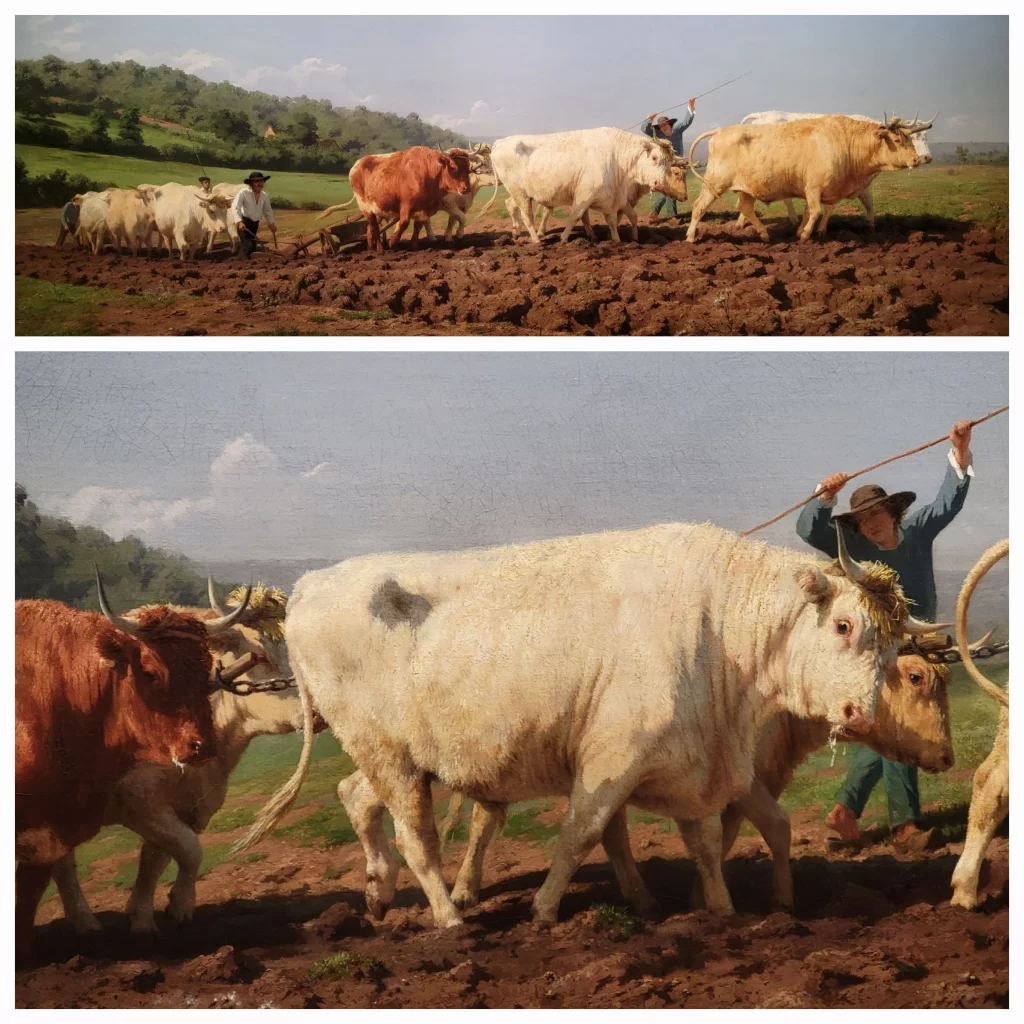 In a sentence, Rosa was renown in her day, her paintings received much acclaim and sold well, she received the Legion d'Honneur, had enough success to retire to an estate in the country.  But, in another sentence, it would be fair to say she's been forgotten; she painted animals, almost exclusively, and that fell out of fashion.  Plus, she lived with a woman.  Who died.  So then she lived with another woman.  The show is then something of a reconsideration.  Truthfully, I found it exceptional.  Not just how she captured personality, but the ludicrous naturalism of it all; horses, cows, sheep, painted from the back (because, as anyone who's been on a farm will know, animals rarely give you the time of day).  There was no caricature, and not a single painting looked like it was to please an owner, a breeder or a captive audience.  But it was hard to enjoy the museum given the hordes.
Upon leaving the d'Orsay we joined a queue.  To leave.  Seriously.  Paris is bursting.  (You thought I was going to say burning, didn't you?)
Our dinner was at eight at Le Fumoir, a gorgeously French bistro with white linens, waiters in starched shirts, and a price tag sensitive to the pathetic Canadian dollar.  A 40 Euro three course dinner superb (although, I should add, we didn't order until 8:45.  Frederique was rushed off his feet and the maitre 'd, who was somewhere between Larry "Bud" Melman and Truman Capote, was seen tippling on crème de menthe and, by the end of the night, whistling).  And Michelle picked up the tab; how great is that?  Didn't see that coming.  I felt like I was out with a CEO!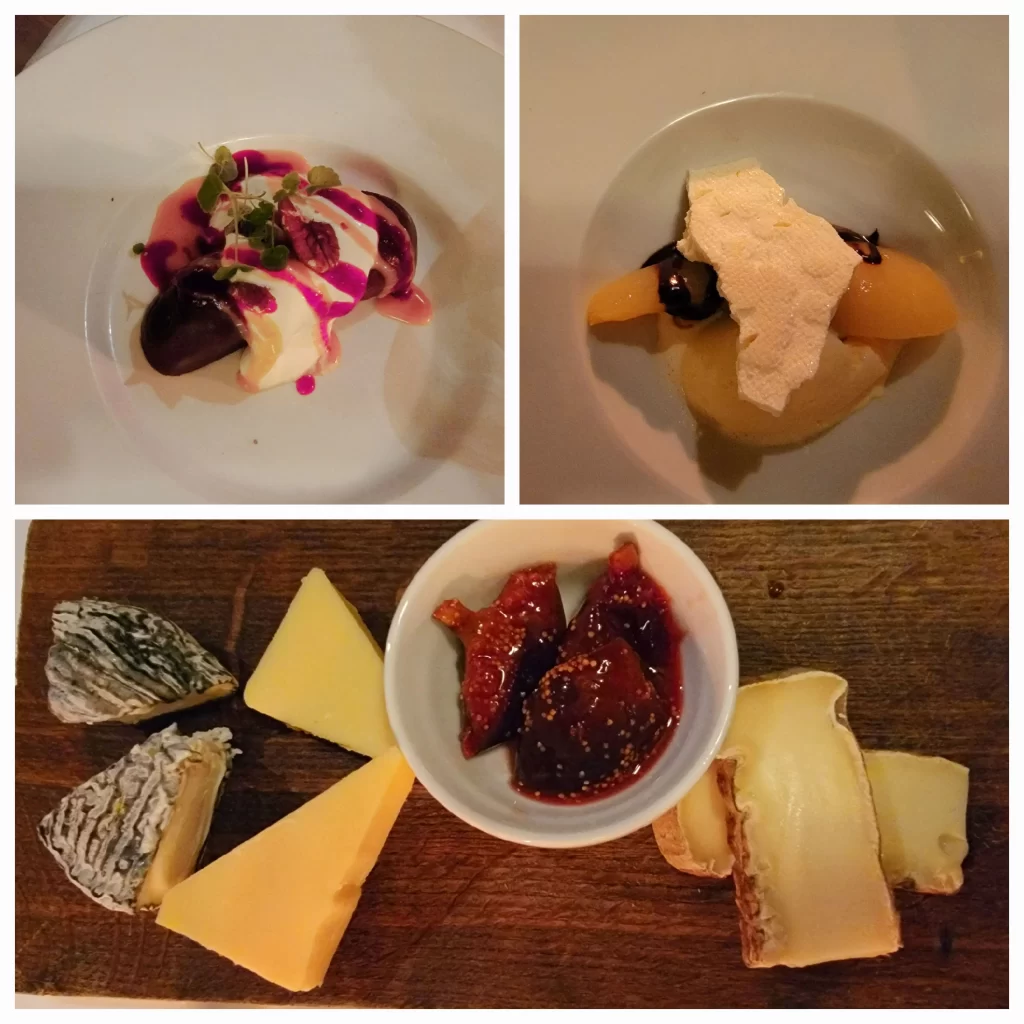 Just as last Saturday in Seville there was no chance for tapas, this Saturday there was no chance for a taxi.  We took the metro back to St. Marcel and called it a night.  A very late night.