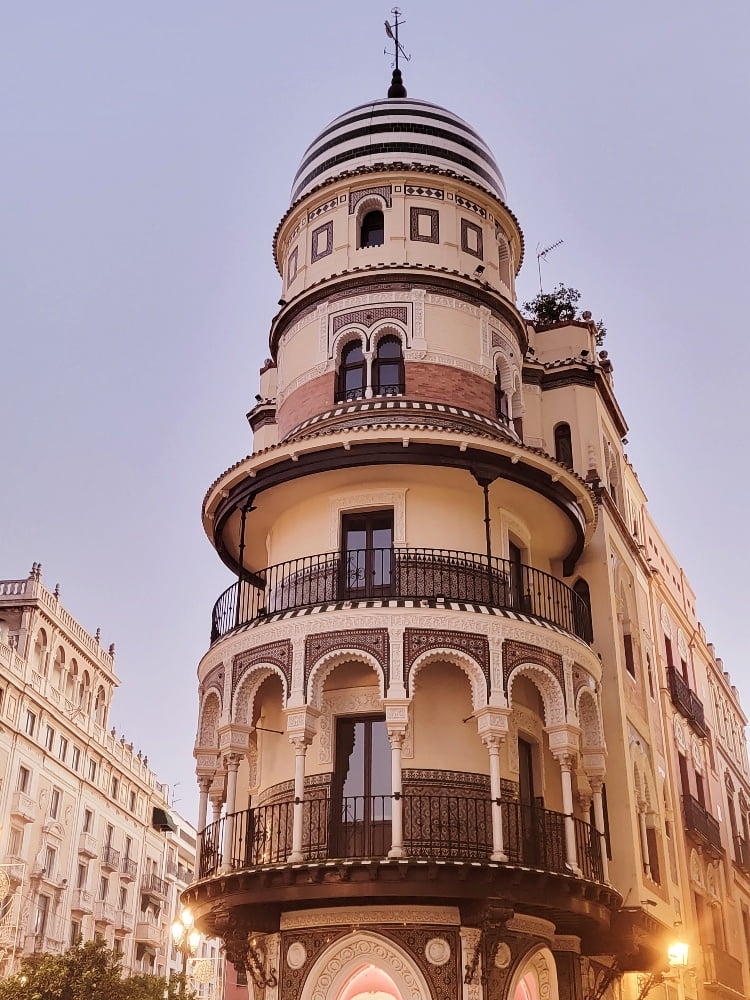 That translates to Spanish Fly. Er… Spanish flyers.
We were out to YVR early, through security and to the AF lounge which, in terms of outlook was lovely, although the made to order noodle bar was a bit of a non-starter. The Frankfurt YVR Lufthansa 747 taxied in during our stay; the epitome of a passenger aircraft, just the sight of the raised nose, like an Orca, makes you want to travel. Too bad it's a dying breed.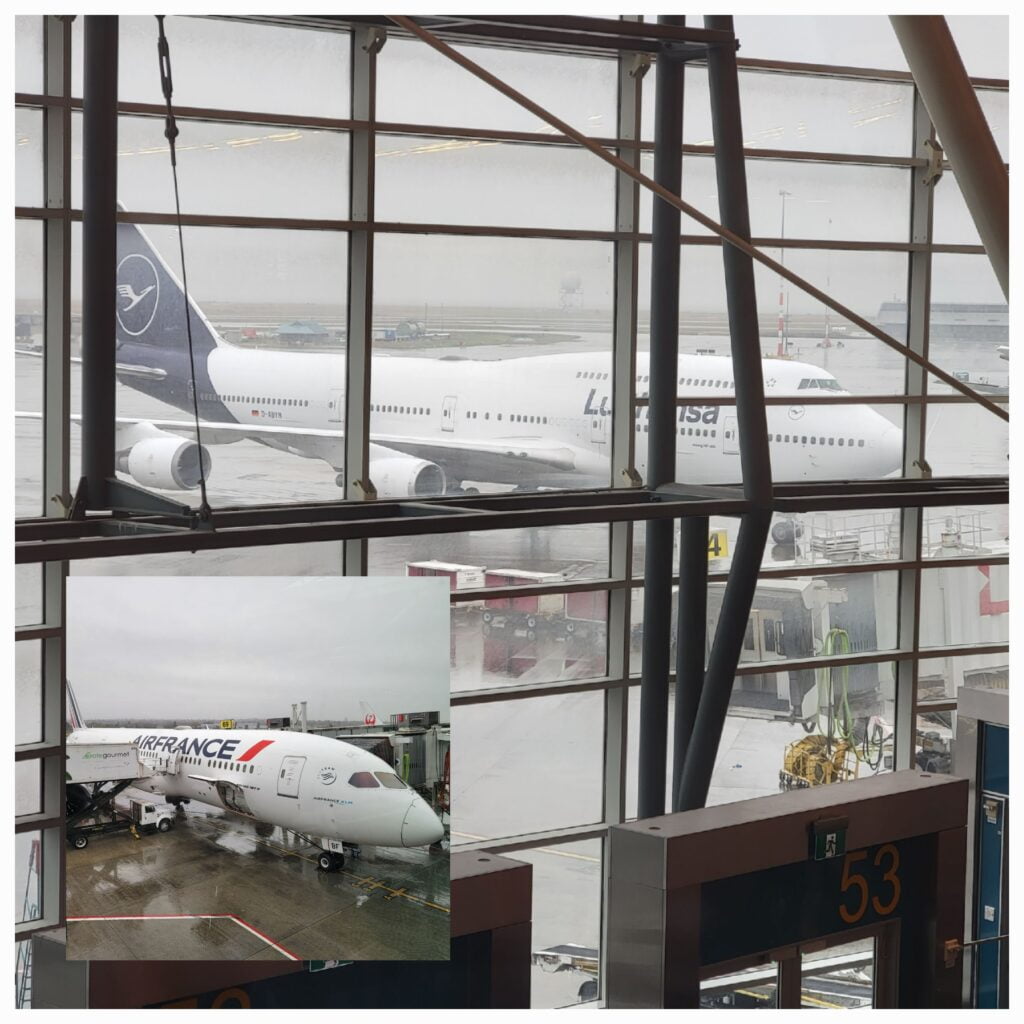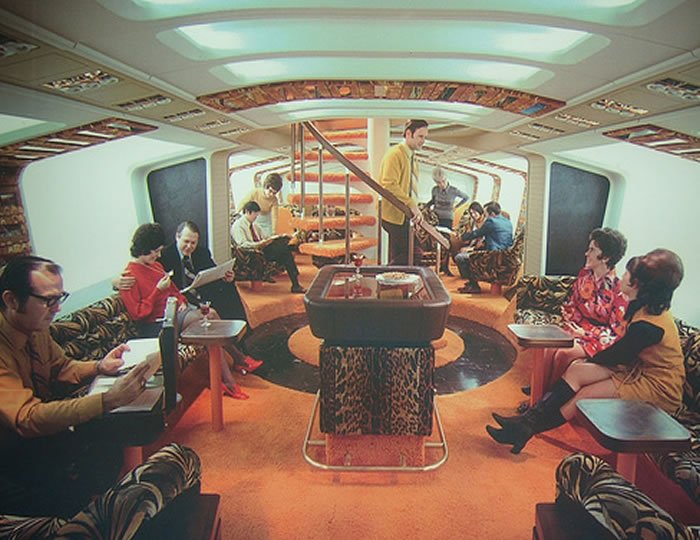 The AF direct leaves at a very civil 14:30 which is both an ideal time to depart but slightly too early to get a decent sleep over the Atlantic.
For our first ever AF YVR to CDG flight we were on a three-class Dreamliner.  Probably the best aircraft for air, light and space, as these things go, although the reverse herringbone in biz is less than cutting edge.  Lunch, as they called it, was served at dinner time.  Five hours later there was breakfast.  All the pre-C19 bells and whistles (pre-flight drink, hot towels, tablecloth, multiple courses, etc.).  Who can complain when there is on offer a red Rhone and Bordeaux, a white Burgundy and Rhone, and Champagne?  Air Canada just introduced "sparkling wine" in their lounges in November 2022.  Repeat, in November 2022, Canada's flagship lounge just introduced sparkling wine.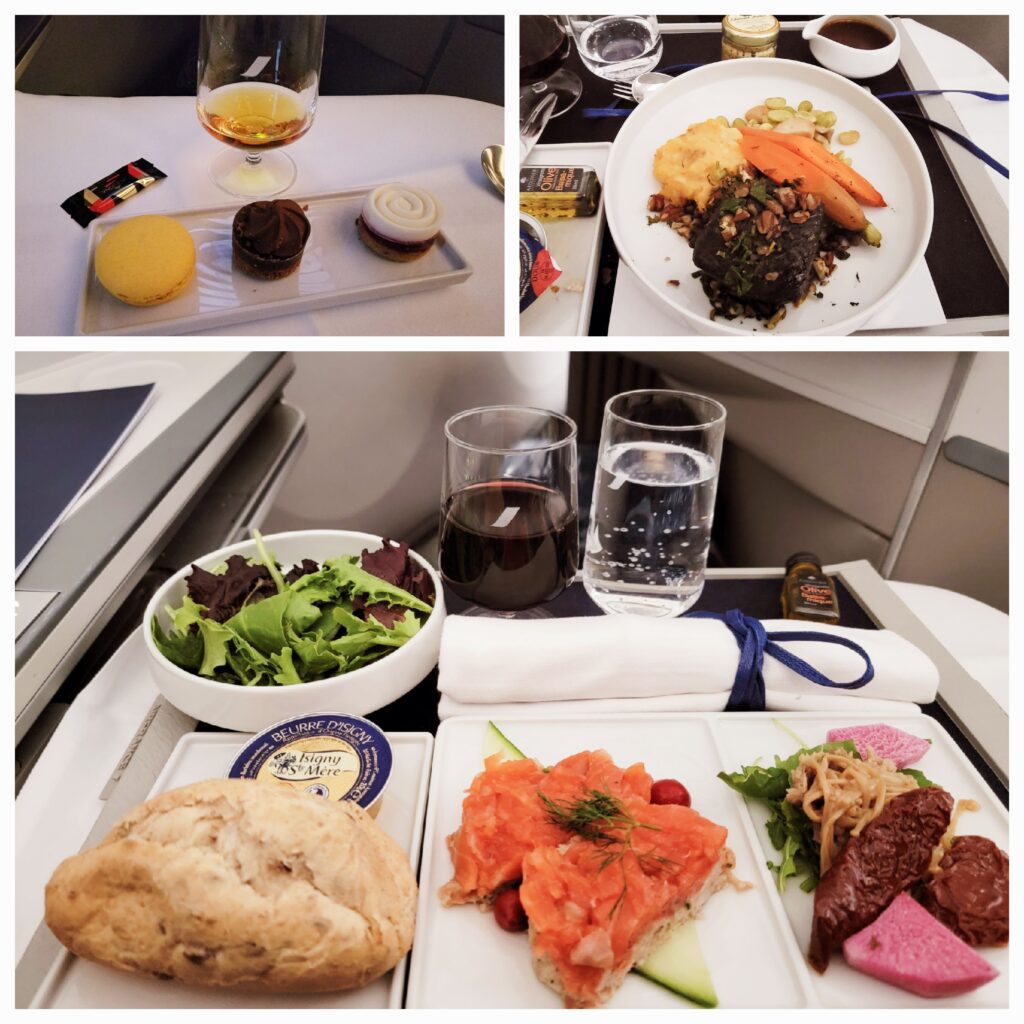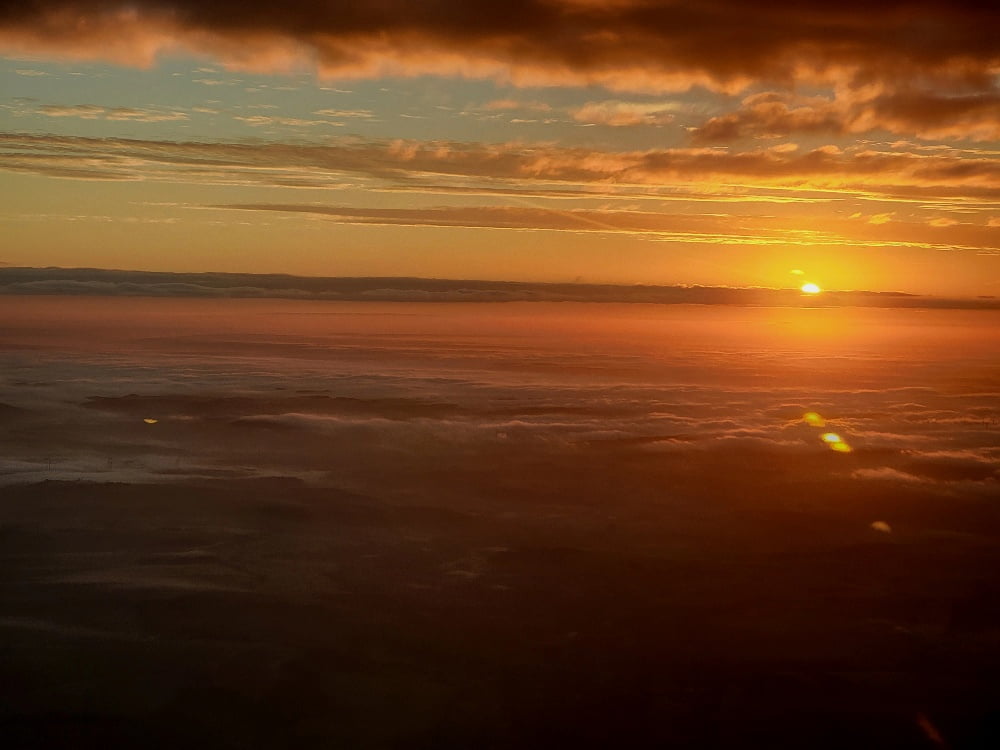 At CDG we deplaned in one terminal, walked about 10 minutes to a train, then took the train two stops to another terminal. We disembarked, walked some more, went down two flights of stairs, and joined a staggeringly long non-EU queue for passport control. Two kiosks were in operation. Two. After that rigmarole we walked down another long corridor then down yet another flight of stairs to reclaim baggage. (Our baggage was not checked through because I am a travel neurotic and bloggers are keenly certain that CDG handlers are "accidentally remiss" with transfer luggage.) Then we toted our baggage past half a dozen carousels to the exit. From the exit we walked down a long corridor towards signs for Terminal G where we'd check-in for Seville. This led to another terminal, where we followed signs down a long concourse for TG. Then we took an elevator up two levels. Then we waited for a bus, which then drove halfway to Orly and dropped us at TG. On the plus side, there were no fewer than seven options to stop at a "salle de fumeurs" if you will.
Terminal G gets busy late day but on our arrival was like an outpost in a Wes Anderson movie. The only things missing were a frail old woman in a Breton headdress sweeping the ashes from Gauloises and a stray cat in the middle of the hall licking its balls. We had three hours in the lounge here, so we all joined the queue for a shower and took a more than decent lunch. Ah French butter.
The French sitcom A Very Secret Service has the operations staff bring out the bar cart every day whenever they hit an administrative hurdle, even in the morning. At noon, in the lounge, ebullient AF staff wheeled around a bar cart offering champagne and madeleines. I kid you not. "Champagne? Ou madeleine?"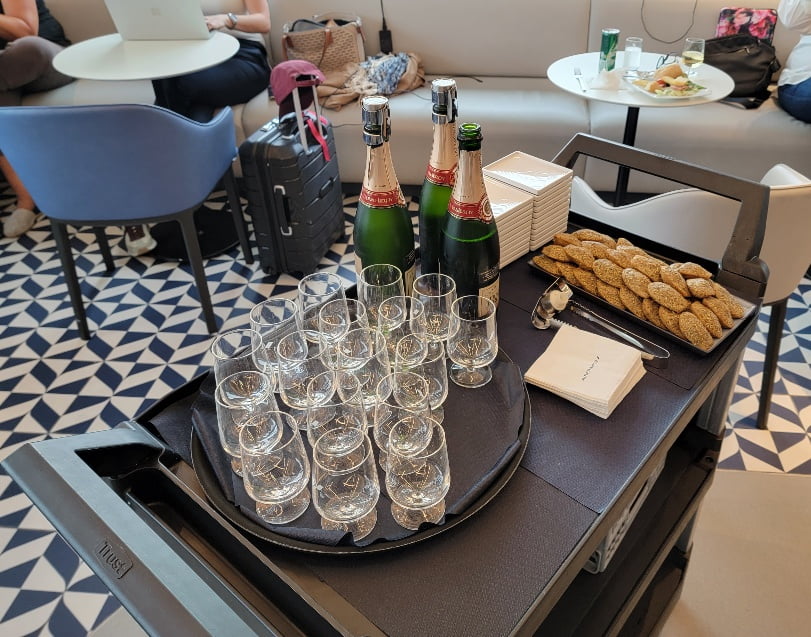 John Leguizamo (and his wife) made a cameo appearance. No one seemed to recognize him. When he finally got up to sample the buffet I asked whether he'd consent to a photo. He declined but offered to shake my hand. We had a brief chat about Eduoardo Galeano's book on Latin America (which he recently recommended in an interview). He was not, as you might suspect, very tall.
We boarded, off the tarmac, about 15 minutes before departure. The Embraer is not my preferred aircraft but at least we flew a jet (unlike in June on the ATR turboprop Aer Lingus we flew from Scotland to Ireland). The route, counter-intuitively, took us west toward the Atlantic, then south to Seville.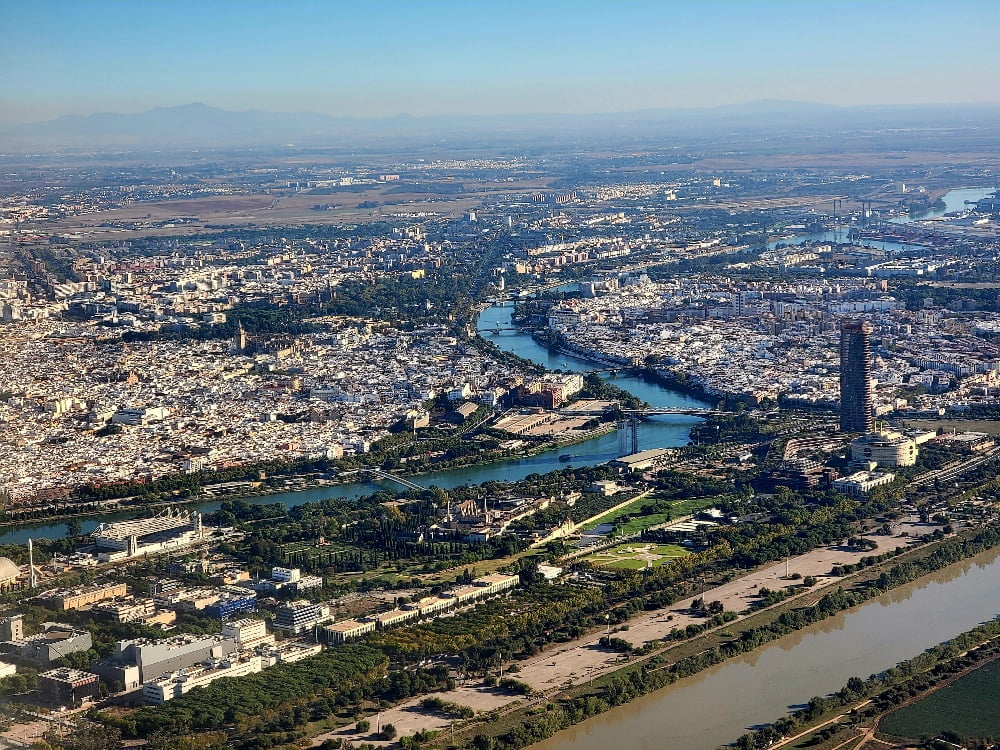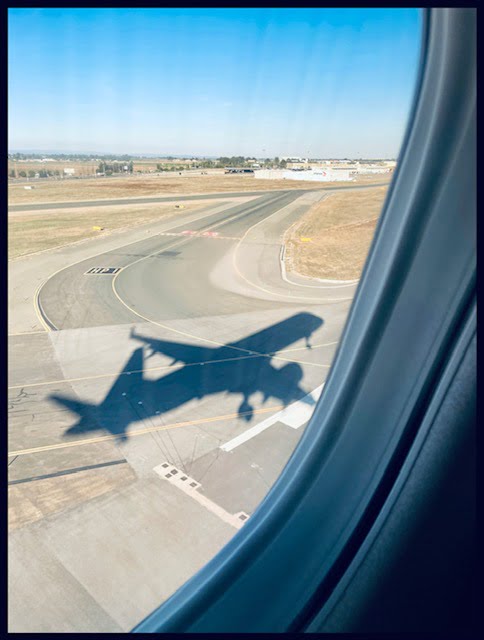 It was hot (24) and balmy.  Two of three suitcases arrived.  God bless Apple air tags which showed the third was nearby.  We hunted it down without "professional" assistance to a carousel half a football field away.  The cab ride in was a taste of Mr. Toad's Wild Ride.
Our Air BnB (or AirB, there is no breakfast, somehow that B has been dismissed by most landlords) is a two bedroom, two bath, smack in the centre of the old town.  Thankfully the bedrooms sit at the back of the inner courtyard and are blissfully quiet.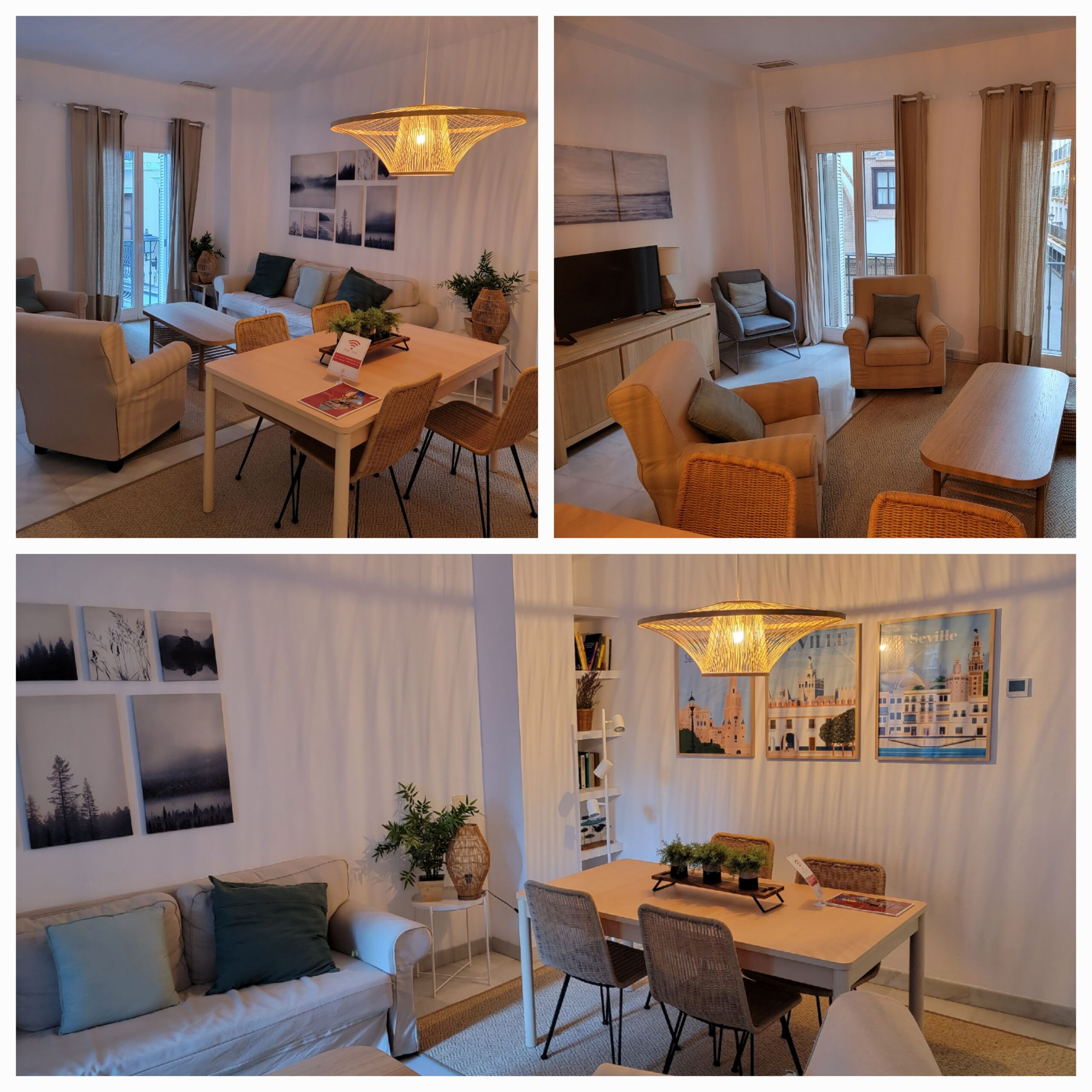 We did a skinny around the neighbourhood which, early evening, was teeming with families and couples and throngs of teens meeting up, some raucous scenes at local bars and, as is the case whenever and wherever you travel, a lot of German being spoken. I noted that dressing children in tailored sailor suits is still a thing in Spain.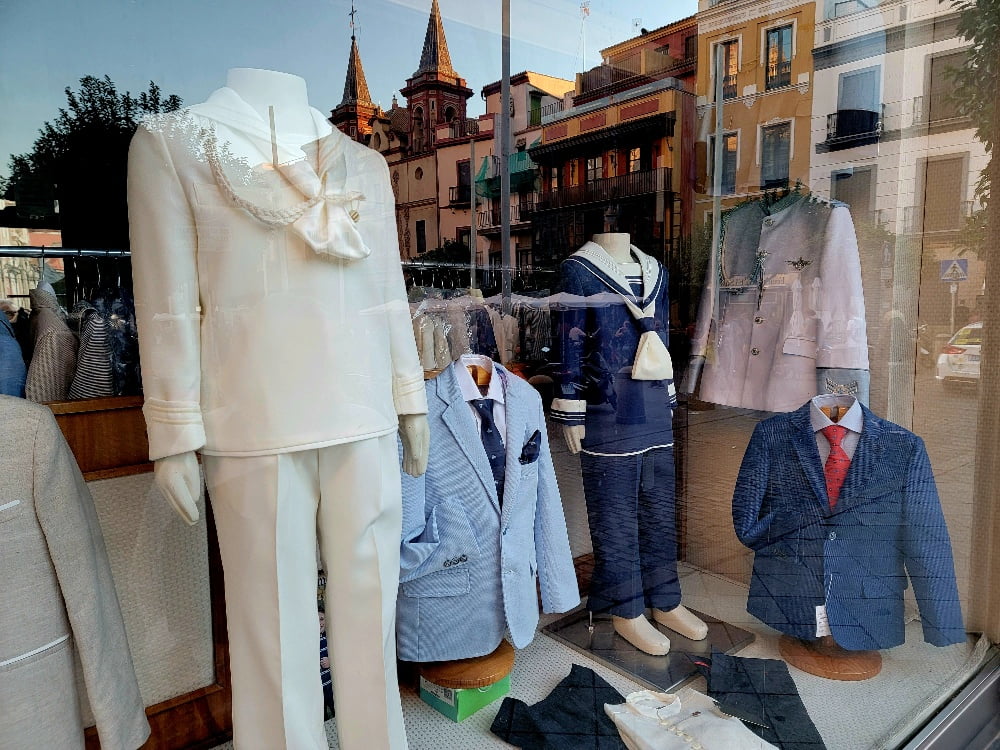 Early evening but the light was beautiful.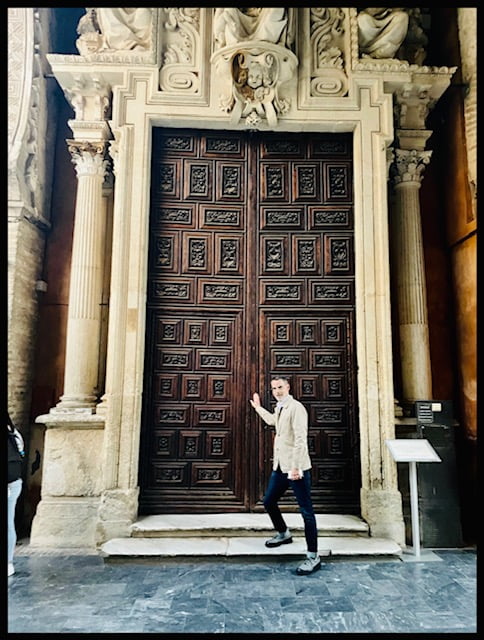 Reflection of the cathedral on a modern "tower" block. We took a table on a narrow pedestrian street for a light nosh. "Saturday. No tapas," was the server's opening salvo. We hung in there as long as possible but given the flights and time zones all of us were tucked in before nine.