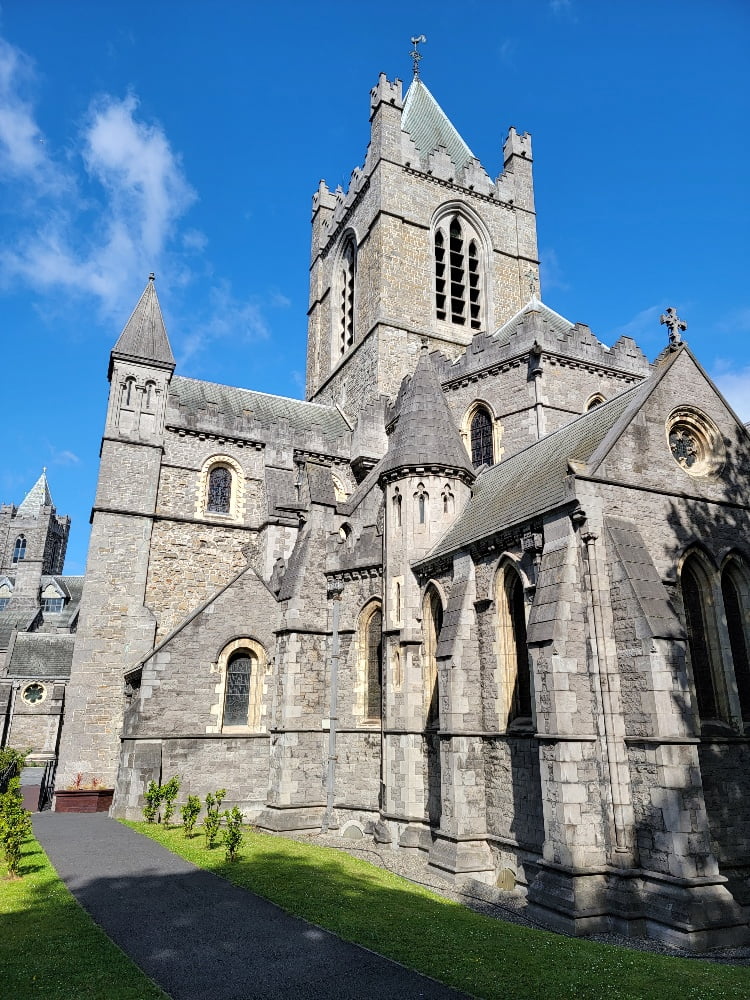 Early Friday morning we left our hotel for the airport.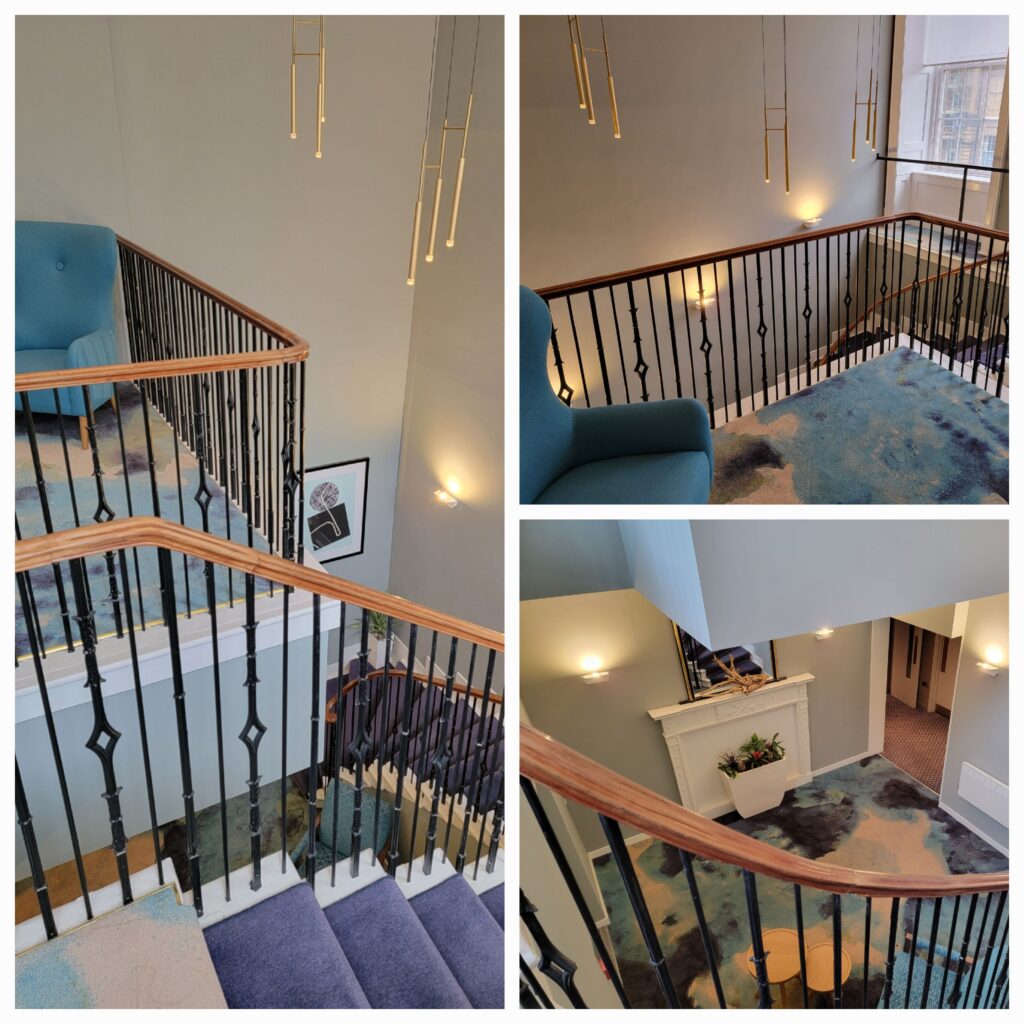 We had planed two days in Dublin, starting with a short morning flight from Edinburgh. And wouldn't you know it, the sun came out.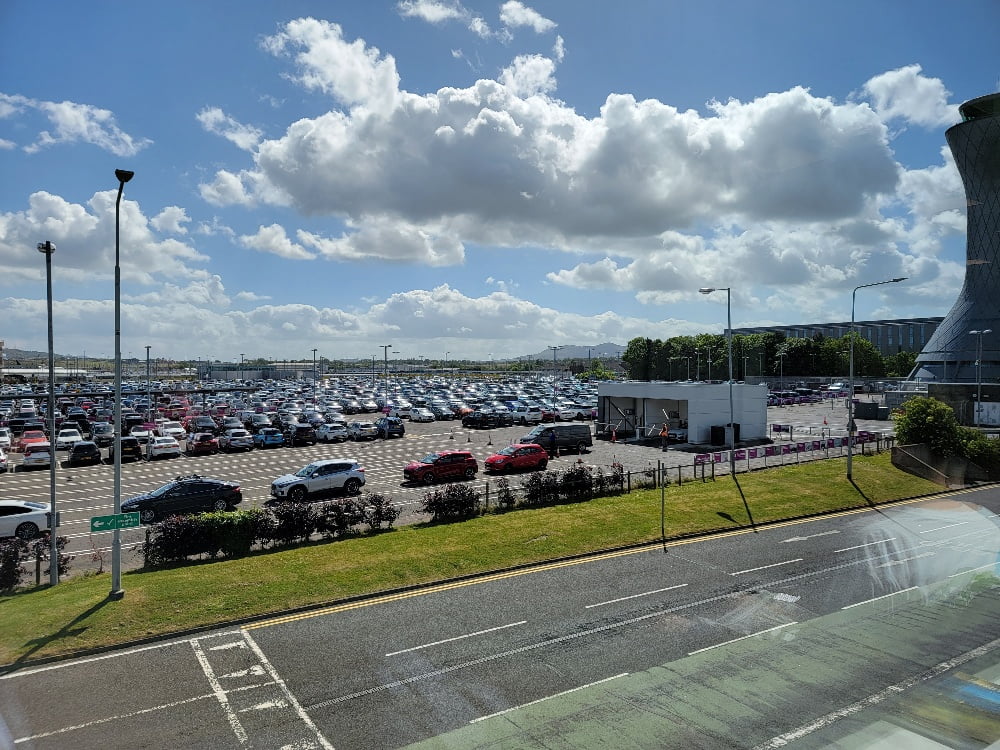 Unfortunately our morning flight became a midday flight, then a late midday flight. And, get this, it was on a twin prop, the same crappy French made thing we flew in Greece, but this was no island hop, well, in fact it was an island hop, but still. Who flies Vancouver to Calgary in a twin prop?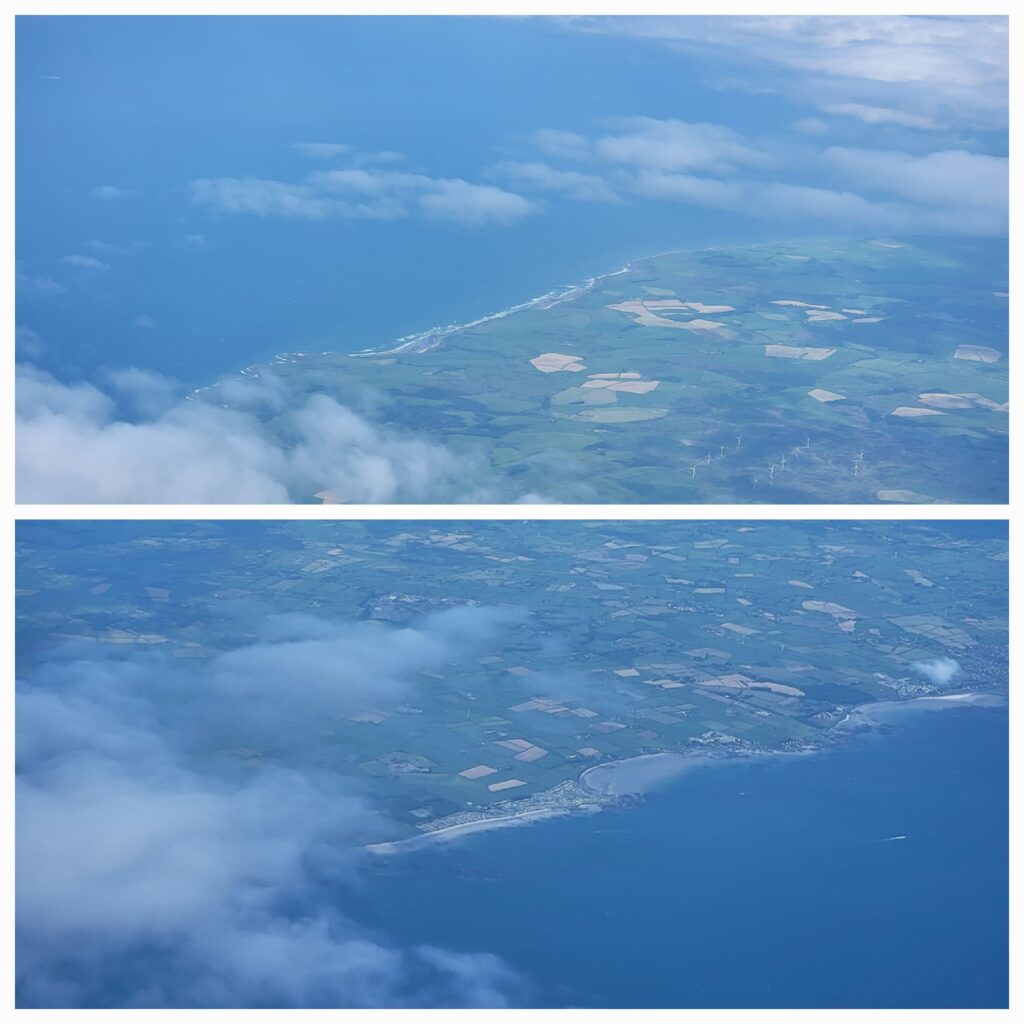 When we arrived it was sunny, cloudy and raining, all at the same time. And of course we had to disembark off rear stars and be bussed a few kms to the terminal.
And when we eventually got to Dublin we waited over an hour for luggage. You book on Aer Lingus but they subcontract regional flights to Emerald Airlines which then subcontracts baggage handling. So arrival at the hotel was end of day and we ended up with just one day in Dublin.
It took a long time to get a cab, and on the ride into town the rain came down in torrents. The hotel room was lovely though; the hotel a chic boutique place from a renovated terrace home, and we scored a plus and a minus in our room. A room at the front with a lovely street view, but the only room available for us was a "family room" with two beds. Dublin is insanely busy this weekend; one of the reasons we discovered is that Scotland and Ireland go head-to-head in football. Spoiler alert: Ireland wins. More beers all round.
Boring fact: Dublin is rated one of the top thirty cities in the world, or Alpha Minus, by, wait for it, the Globalization and World Cities Research Network. We are single handedly replacing Wikipedia with this informative blog.
Saturday morning was lovely, about 18 degrees and sunny with a gusty wind. We walked into the centre of Dublin then to Temple Bar. There were still Friday night revellers just going home. There was also a lot of clean-up: we saw shopkeepers using undiluted Mr. Clean to hose down their exteriors. We made our way to Christ Church Cathedral (10 Euros entry, no concessions!). It was really gorgeous, and ancient, but weirdly commercial. There was a whole section where religious art was for sale—in the apse! And the gift shop, off the crypt, was called The Foxy Friars; what think tank came up with that? When you leave the cathedral there are five pubs "across the street" to choose from. Honestly, we've never seen anywhere on the planet with so many pubs. You know, the friars probably were foxy, back in the day.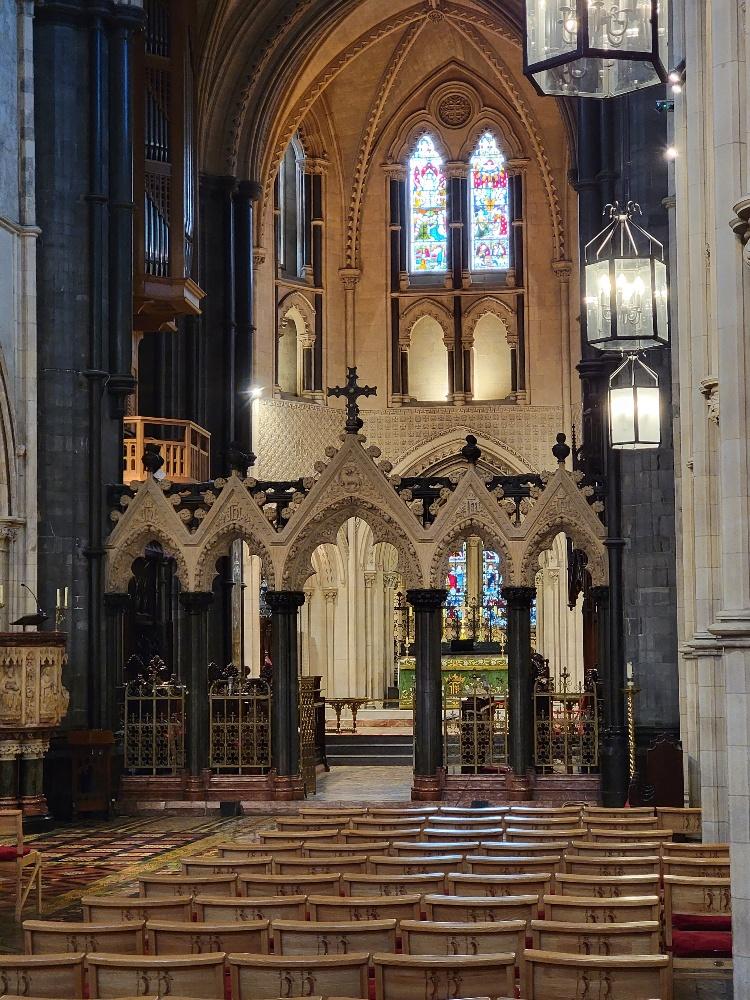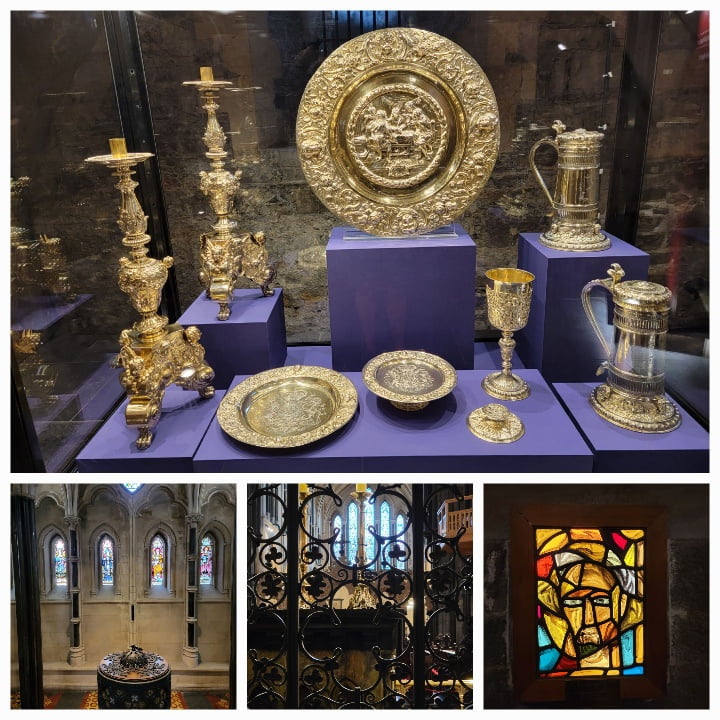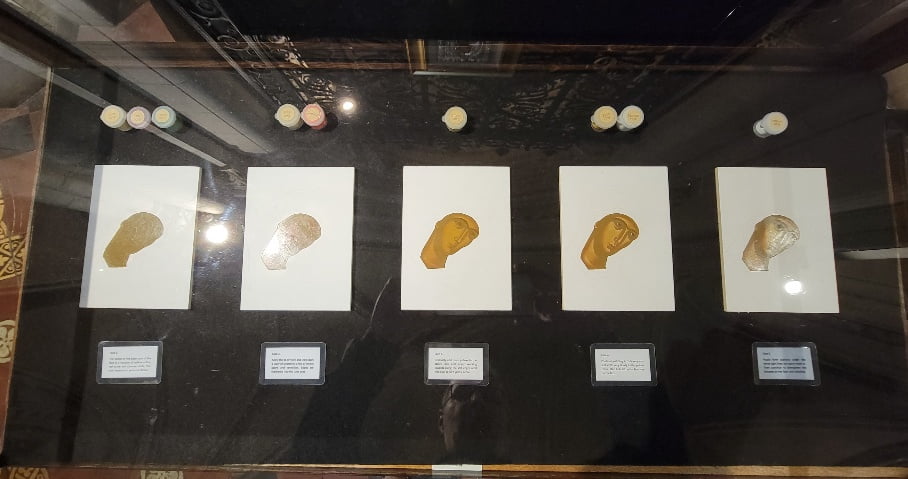 One of the really weird things about the cathedral was how commercialized it was. The above is a picture of paint by number religious art for sale. Below are religious reproductions, nearly 1,000 Euro a pop!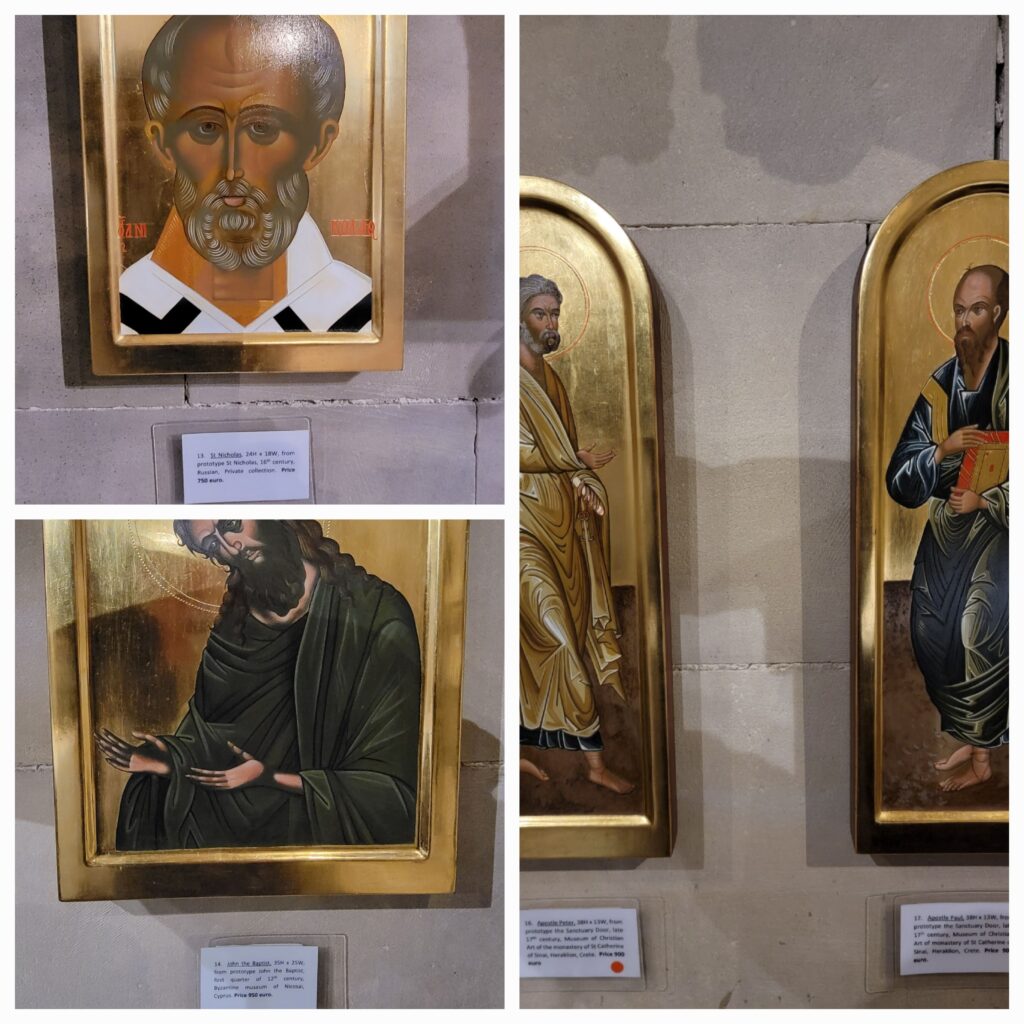 Below is a pic of some Tudor clothing, interesting and well preserved, but odd in a cathedral. Except, of course, they filmed part of The Tudors here… Also, the cat and the rat were mummified inside the organ case, and were discovered when it was dismantled in the 1870s. In James Joyce's Finnegan's Wake he wrote, "…stuck as that cat to that mouse in that tube of that Christ Church organ."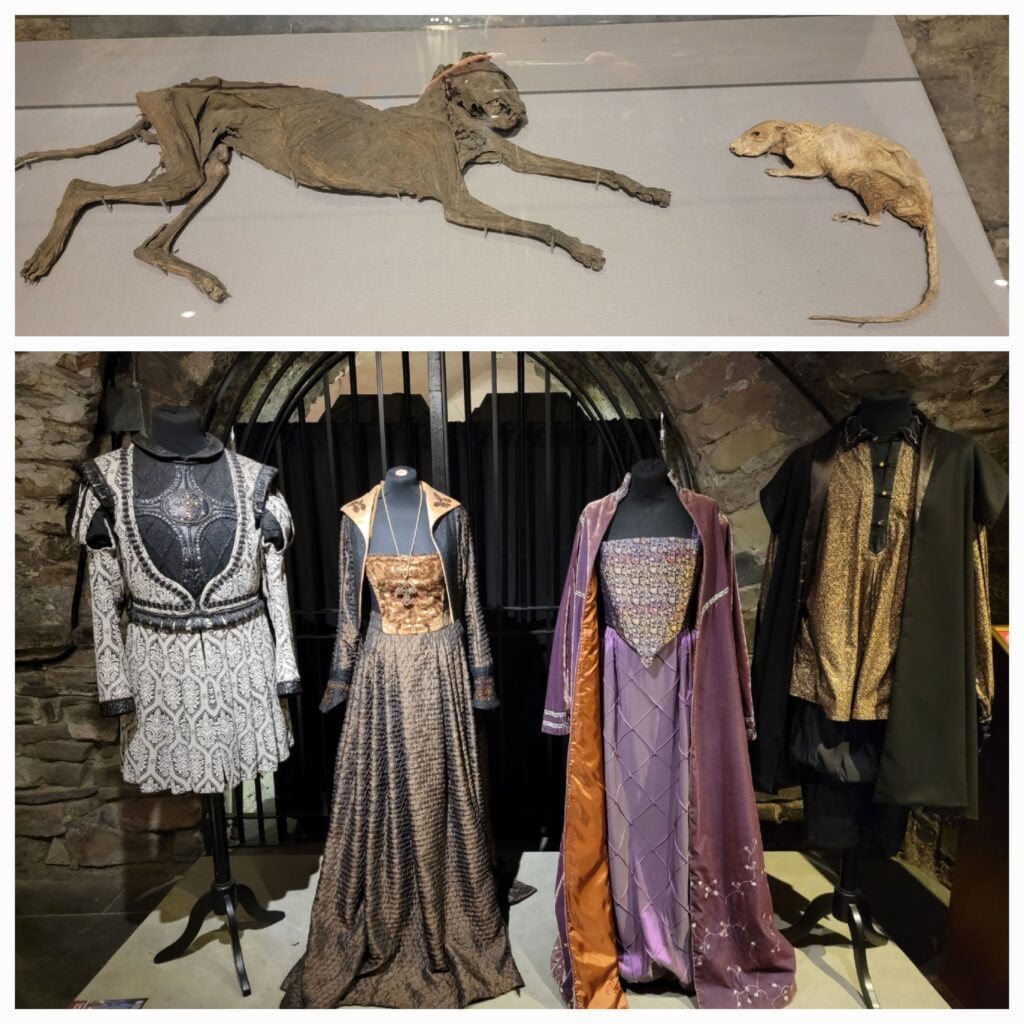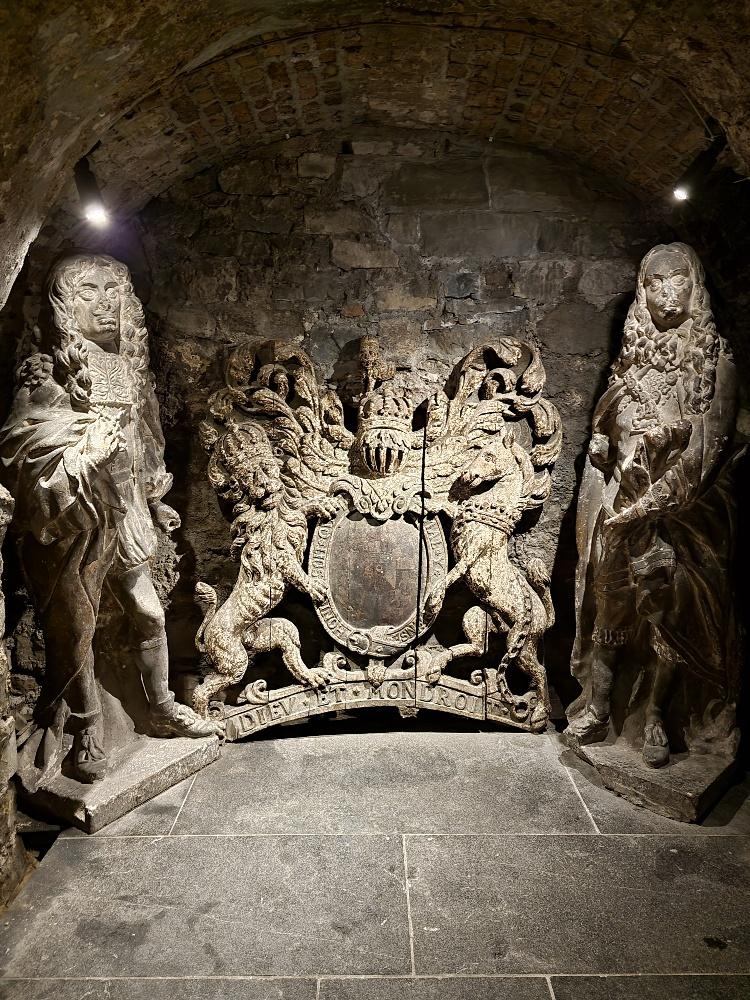 Stephen went to investigate tickets to Trinity College but it was of course booked (with a wedding going on to boot). The busloads of tourist hordes were well represented.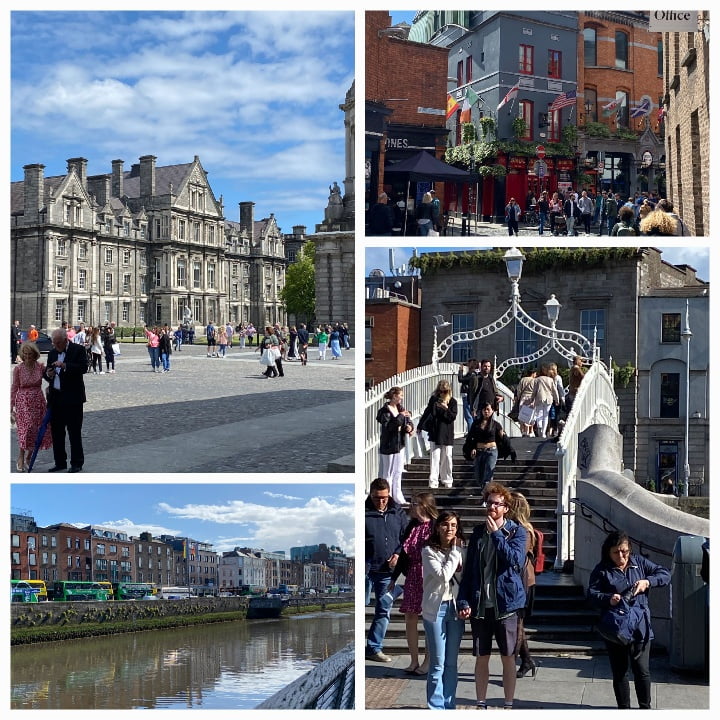 Well, as Carol Burnett used to sing, seems we just get started and before you know it, comes the time we have to say goodbye. Our flight home was scheduled for a 10 a.m. departure. Dublin airport is sheer insanity this summer; travellers have been advised to arrive three hours early for Europe flights. Sigh. So we book a cab for 6:30 a.m. and call it an early night. Wake up, packed, ready to set out, flight is bumped an hour late. Oh well, drag, we carry on. Second text, flight bumped another hour.
Get to airport. Lines like you wouldn't believe. We were fortunate to have priority check-in, but that still took half an hour. We were fortunate to have fast-track security, but that still took half an hour. We were fortunate to have lounge access but jeepers, what a crap lounge. One lounge for all the international carriers (US, Canada, European), dated and dour, no outlook, but SS sources us some semi-private chairs in a corner and that served us well as, in no time, there was a queue to get in.
Guess what? The flight got bumped up another hour.
Eventually it was time to head to the gate. The 10 a.m. flight was now scheduled for 2 p.m.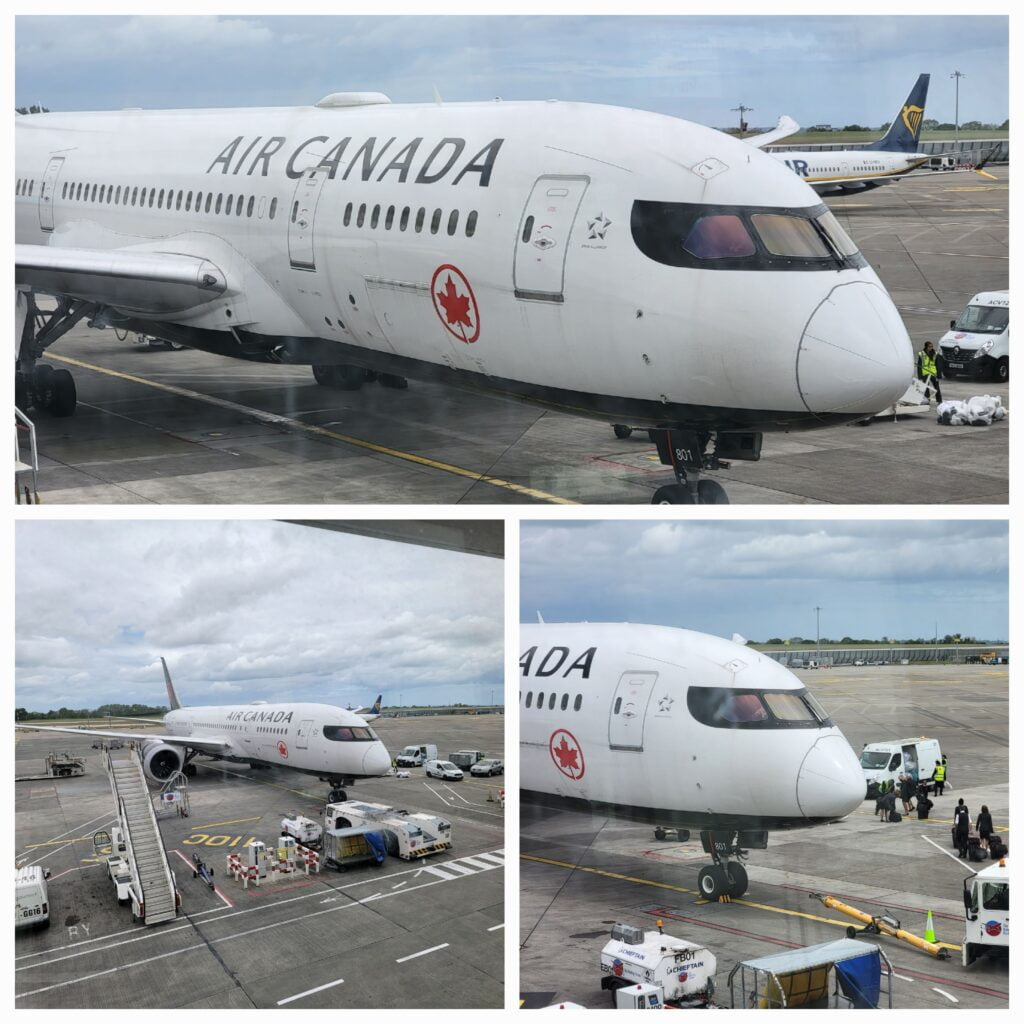 So just to be clear on what you see in the collage above: This is an international airport serving millions that has no skybridges. Tarmac for everyone. I think Irish engineers might have spent too much time at the pub. Lower right is crew arriving and cleaners deplaning at 2:20 p.m.
The Dreamliner is truly a dream for a long haul flight, the air and lighting is as good as it currently gets, but all of the AC Dreamliners were purchased between 2014 and 2015, so none are new, and this one, according to its tail numbers, is the oldest in the fleet. It was showing some wear and tear inside. Get this: After loading we spent an hour sitting on the tarmac. To get extra fuel so we could fly higher and faster and make up time. Preston Sturges couldn't have written this script.
So five hours late we are airborne. I was one hour twenty into Spielberg's West Side Story. A good thing too, as it's a snore. No disrespect to Kushner, but he wrote a movie about some young people who, over the course of 2.5 hours, just happen to sing the songs from the Broadway musical West Side Story. It was very weird.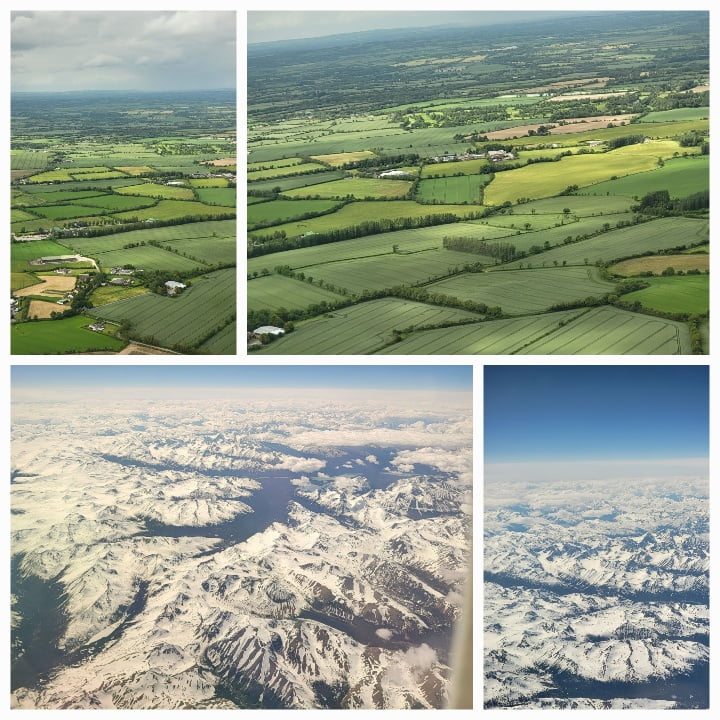 Two movies, two meals, two snacks, two sleeps and two bathroom breaks later we were beginning our descent into YVR.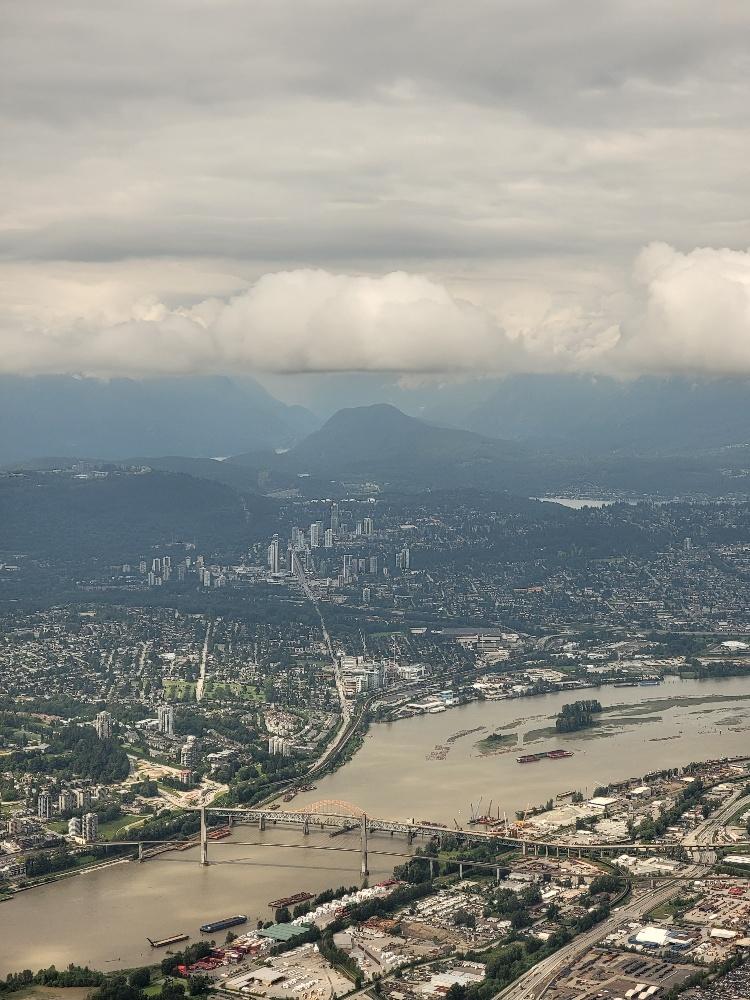 Well, it was a hell of a long travel day. But in fairness, we deplaned, got through passport control, collected luggage (promptly, a YVR first), and went through security in less than half an hour, and including the cab, were home within an hour of landing.
Outstanding vacation. As for air travel, airports and airlines seemed to have stroked out during the pandemic. We took eight flights in two weeks and each flight was either late, cancelled and rescheduled, or both. That's like dating online.