Things Change With the Change of the Times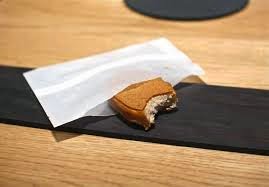 And L'As, alas.  Worst wordplay ever.  My apologies.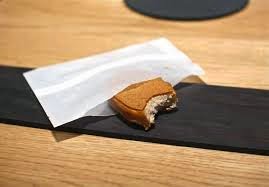 Foie Gras Sandwich
This isn't a foodie holiday but we did have one splurge up our sleeves at a modernist take on French cuisine, tucked away in a leafy ward, called L'As (which is French for ace, which means something neither of us understood).  The chef is a Japanese called Daisuke Kaneko who is, I suppose, something of an ace.  Although Tokyo has more Michelin stars than any other city, our budget was on the lookout for this sort of quality but under the radar.  And less than the Joel Rubuchon's of the world command.
This is text from their website: "Things change with the
change of the times.  We are in the era
we prefer things which are selected, scrapped off excesses and simplified.  Along the passage of the times we decide to our
restaurant is tried to be simple, so that we can give back excesses to customers
in different ways to satisfy."
Some things are a little unusual.  First, there is no menu.  There are seven courses, and you get to eat them, but you don't get to choose them.  So cross your fingers it's not all sashimi.  Second, there is no cutlery.  At least on the table.  There is nothing but a stone plate for bread and two water glasses. Your napkin and cutlery are concealed in a drawer.  It all seems like minimalism gone a step too far but in fact if you surrender to the event it works quite well.  Plus, the upholstered banquets along one wall are extended five feet up the wall to capture the ambient noise of diners and kitchen.  And, as the open concept kitchen spreads into the restaurant (the chef and sous chefs actually serve diners, with all their burn marks and pot sears across their arms in plain view) there is superb AC to keep the place neutral.
The first course, or amuse, was a homemade mozarella, a small ball of lovely waxy cheese with a drip of extra virgin olive oil, to be downed in one bite.  It was white, served on a black slate plate. Very Noguchi-ish.
The second course was a foie gras sandwich.  Sandowichi!!!  Two tiny malt-like wafers with the most decadent and perfectly sized liver pate, served at table in a wax paper envelope, to be eaten with your hands sandwich style.
The third course was Chinese cabbage pan seared and served with truffle.  As in shavings of the real McCoy.  If you had your eyes closed this was like eating smoked fish.  Texturally it was more Asian than French but a gorgeous balance of flavours with all the truffle smokiness and none of the truffle funkyness.
Next, an Asian pear and greens and walnuts and blue cheese salad, which came in a glass lidded dish. Superb, yes, but it is a somewhat trite flavour combination.
Fifth, but really fourth, fish.  This, on description, was my least anticipated: Mussel bisque.  But omigod was it stunningly good. There was a long toast served with it, a smear of harissa paste on the toast, and maybe some other deep earthy spices mixed in (Sumac maybe? all our food explanations were dependent on the broken English of the chefs) which cut through the soup's sweetness.  It was a lick the bowl type soup.
Finally, meat.  Roasted Japanese chicken in a red wine reduction with vegetables (mainly mushrooms) on egg.  Yes egg.  SS says the Japanese love egg and chicken but I have to say, this is a great combo, if you get the crisp on the skin to mimic bacon, but have the breast moist and soft without the fat, it's sort of faultless.  Comfort food with a chef's deft hand, and a perfect portion size to boot (meaning satisfying, not too nouveau).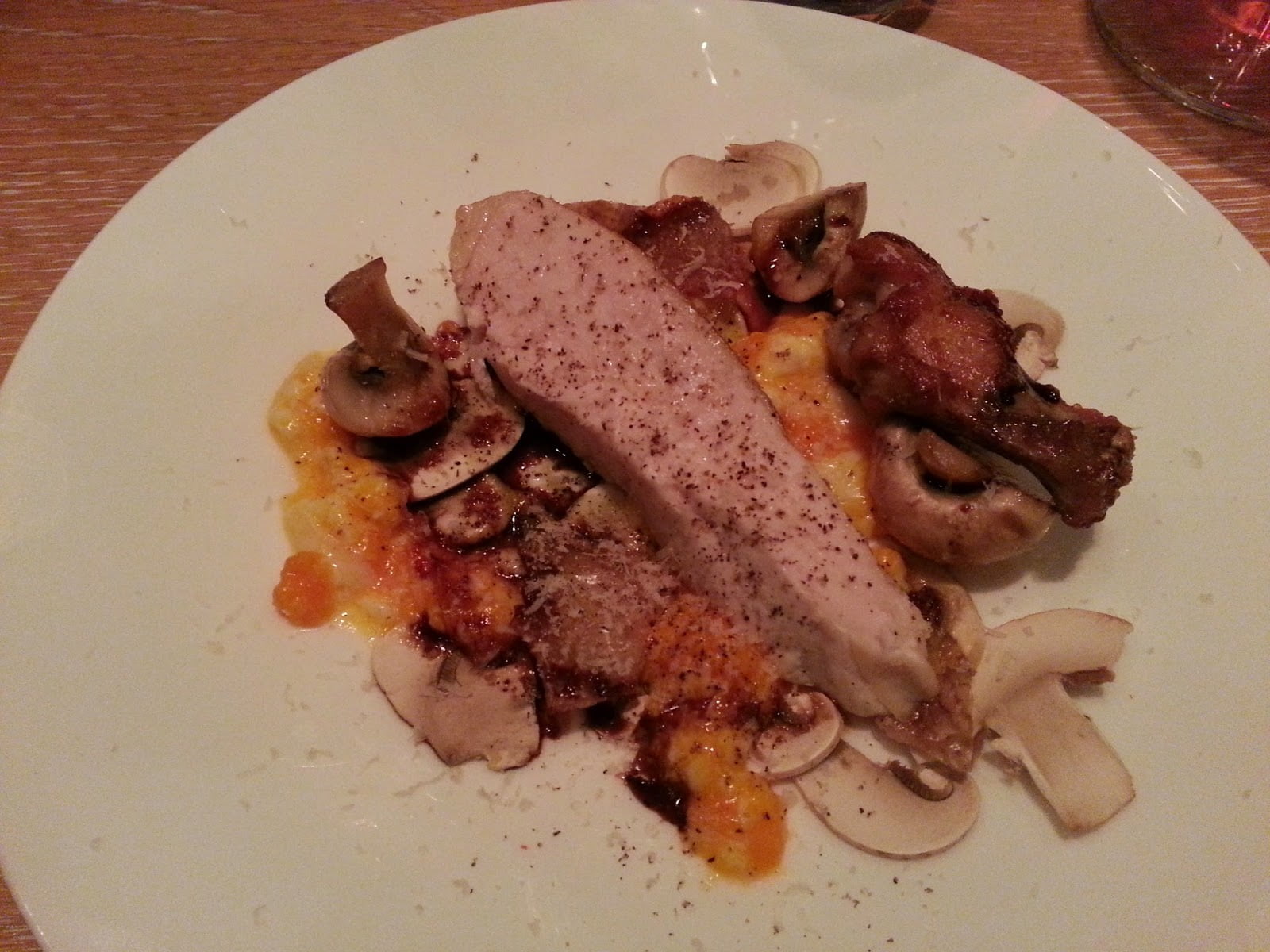 Roast chicken.  With egg.
This was followed by two desserts.  The first was very chef-ee and quirky: Compote of cherry tomatoes.  A shot glass of three blanched cherry tomatoes in a sweet basil juice which they encouraged diners to add a little olive oil to.  It was one of those super peculiar but balanced dishes you hope to experience on a night out.  Although SS complained it was too sweet (puh-leeez) it was innovative and push the envelope a bit without going all molecular gastronomy or Heston Blumenthal on the diners.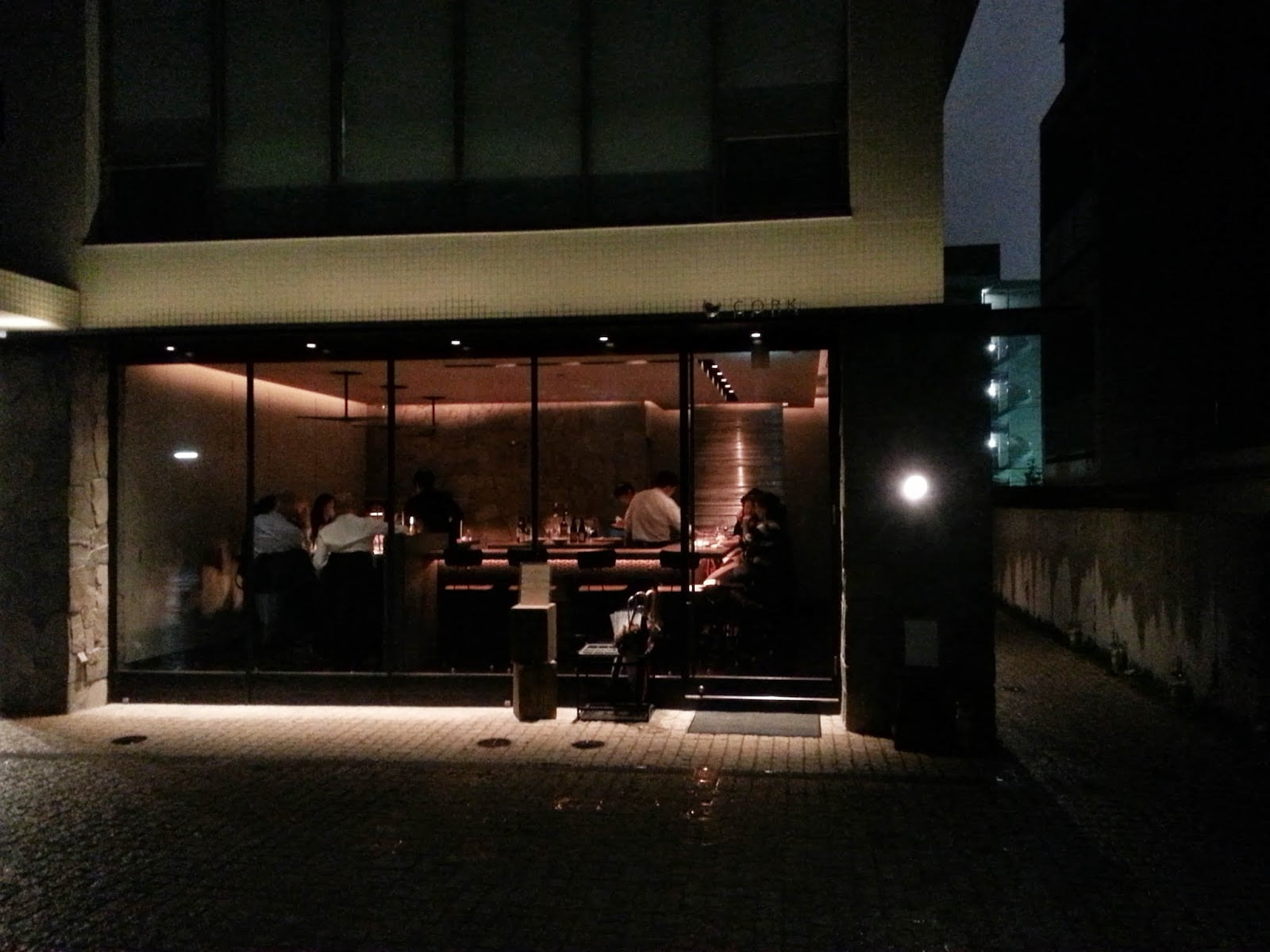 Cork, the lounge attached to L'As.  Same deal: They force you to drink wine paired to food…
Inside L'As.  Two seatings, 5:30 and 8:15.  No exceptions!
The final dessert was an insanely intense dollop of frozen strawberry puree on a white chocolate mousse with a crumble of meringue and a sprinkle of freeze dried strawberries.  I inhaled it.  To be fair, SS dipped his fork into it and had most of the strawberry, but declined the rest.
So, all in, how much do you think?  Including coffee, for seven courses plus amuse, $50.  That's it.  If you drink, it's more.  For another $50 they will serve you a glass of champagne (actual champagne, not sparkling, and from a jeroboam at your table) with four glasses of wine paired to the dishes.  That brings the evening to $100 each.  I would say astonishingly good value.