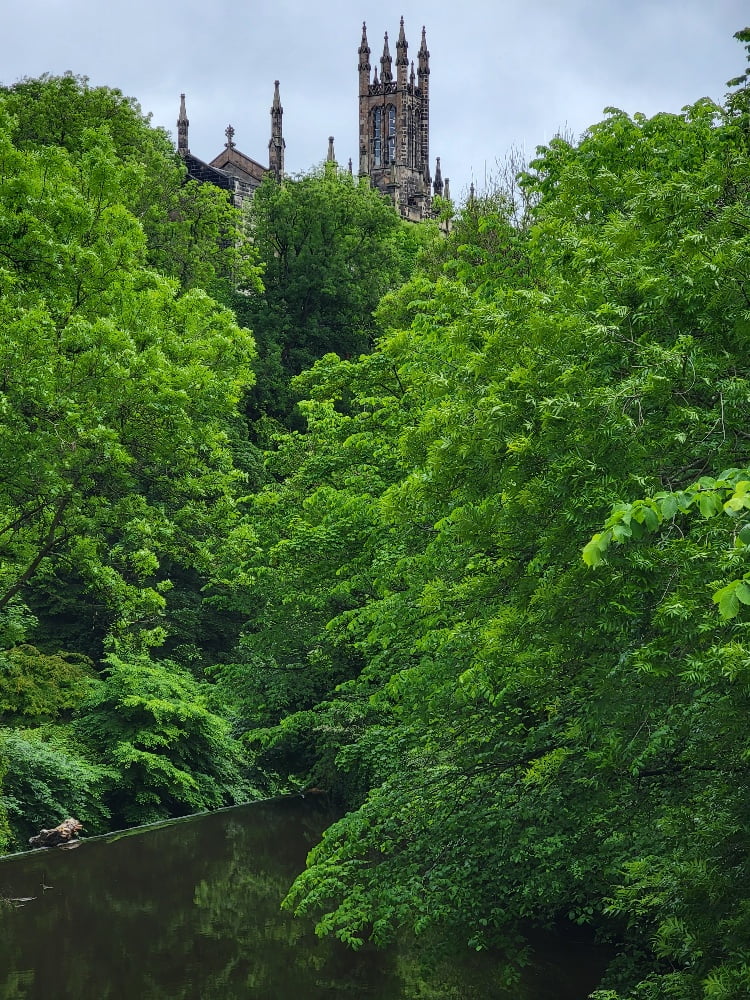 Seriously: The sun came out. I mean not for long, not all day, but still. No wonder it inspired The Proclaimers.
We decided to make it a non-museum get our steps in final day in Edinburgh; we walked the Waters of Leith path, which is a park like route of about three miles each way along the river which runs from the Pentland Hills into the Firth of Forth. We began just below the Dean St. Bridge, which is a whisker from Edinburgh New Town.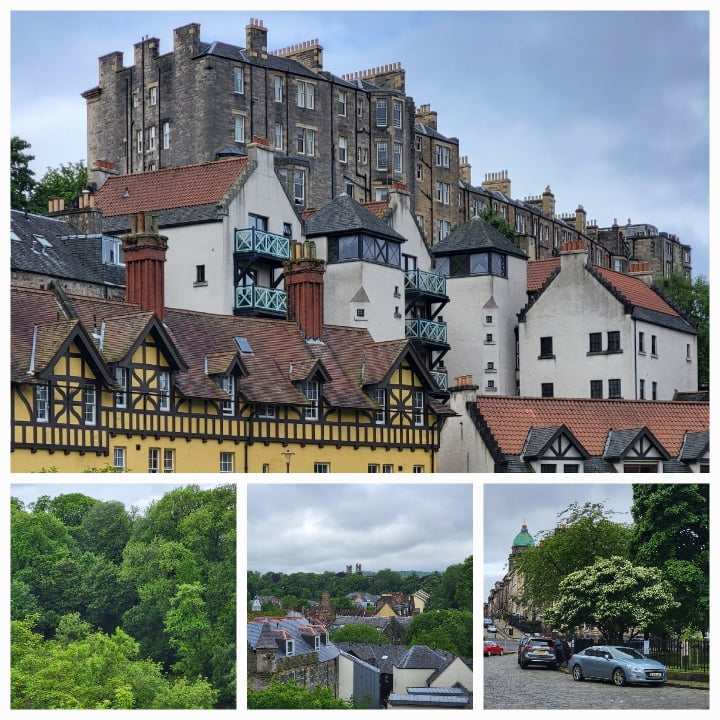 The walk was gorgeous–and so much less stressful than the Stanley Park seawall with its hordes of cyclists and tourists "walking the wrong way"! Emerald Isle of sonnets, layer upon layer of green, scenic, serene, the archetypal UK river walk. If only Laura Ashley made Waters of Leith wallpaper.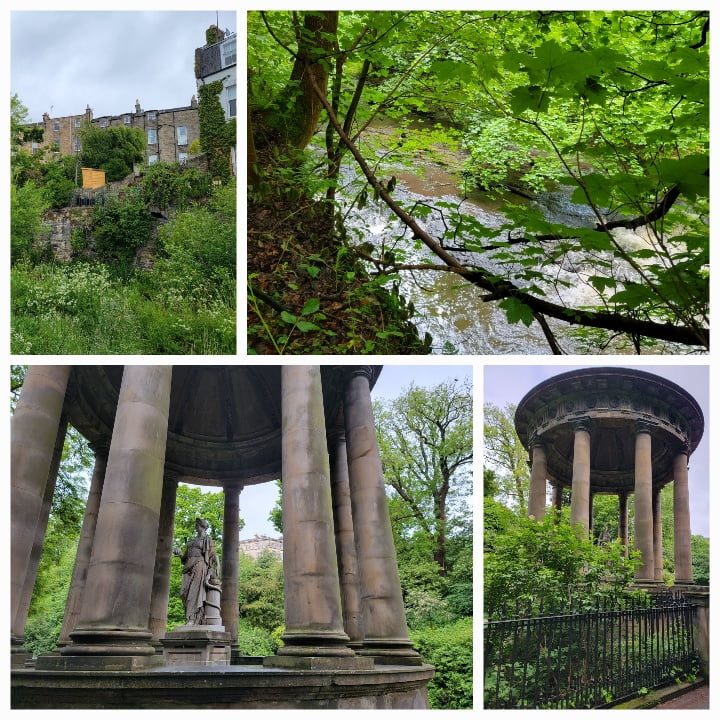 There is an oxymoronic Greco-Roman sculpture of Hygieia at a place called the Well of St. Bernard which, from 1789 until 1940, attracted many who came to "take the waters" and enjoy the "life giving" properties. It was unfortunately found to contain arsenic, and closed. Literary fun fact. Shelly in Frankenstein (chapter 19) refers to the loveliness of Edinburgh including "St. Bernard's well."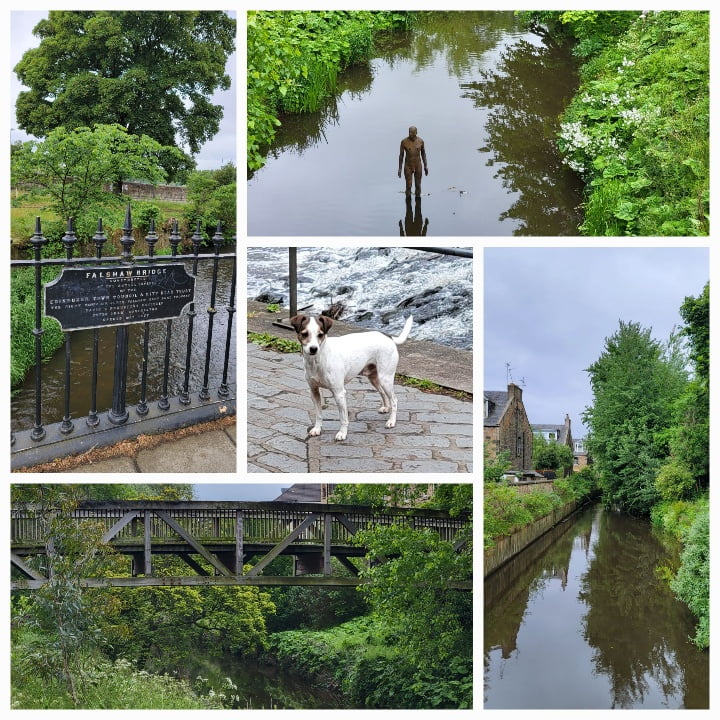 We saw a lot of dogs. A lot. A Spanish Galgo hound, pure red, never seen one of those before; an eight year old Spinone (!); a woman walking all five of her Dachsunds! And a cute little Parson Russell terrier which, again, don't think we've ever seen outside of a dog show.
After starting at Dean village, the path crosses two really appealing neighbourhoods, Stockbridge then Warriston, both reminiscent of Fulham back in the pre-real estate speculation days. It crosses a commons, then it gets super lush again, before landing in Leith.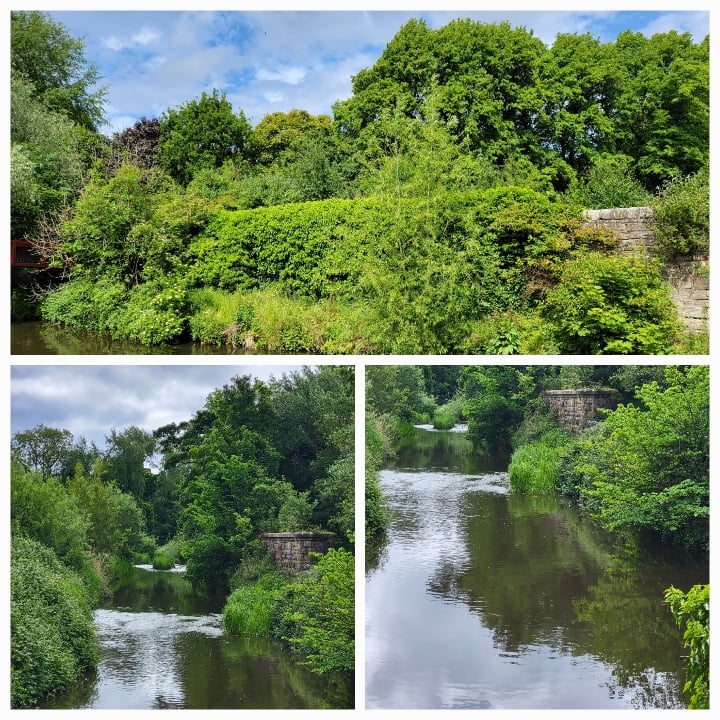 Leith, originally a bustling port town, now incorporated as part of Edinburgh, is a mix of the decrepit, the gentrified and humongous redevelopment. When you arrive along the river, the quaintness of the old working village hits you head on.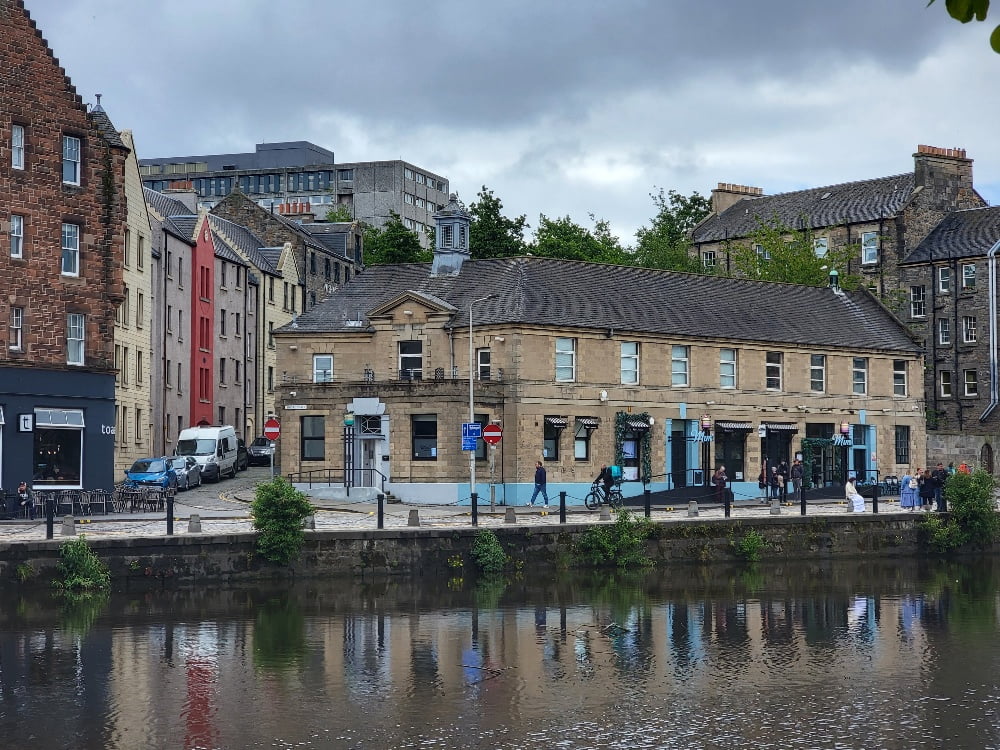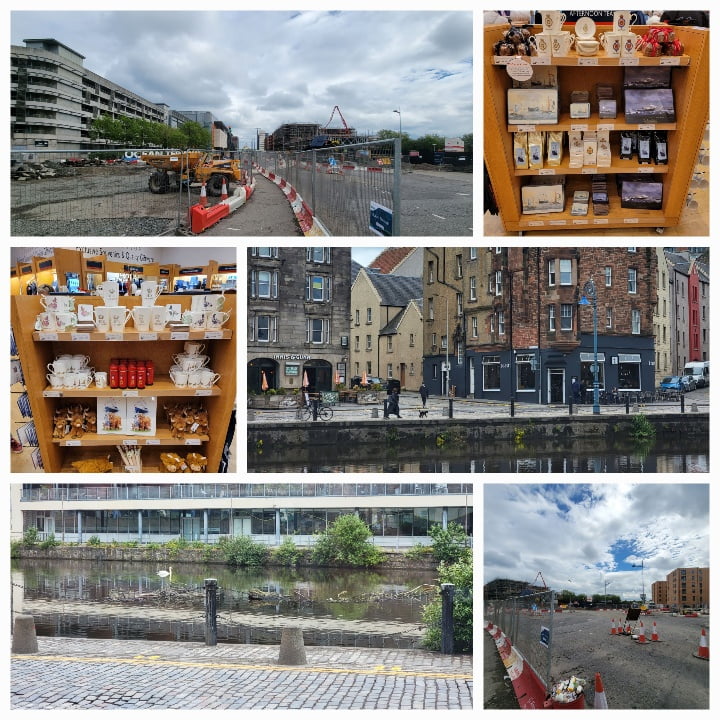 The Royal Yacht Britannia is a museum on the port so we decided to navigate our way there. Access was from the top floor of a mega mall. Busloads of tourists flocked the gift shop. Entry was 18 pounds (so I put the kibosh on it).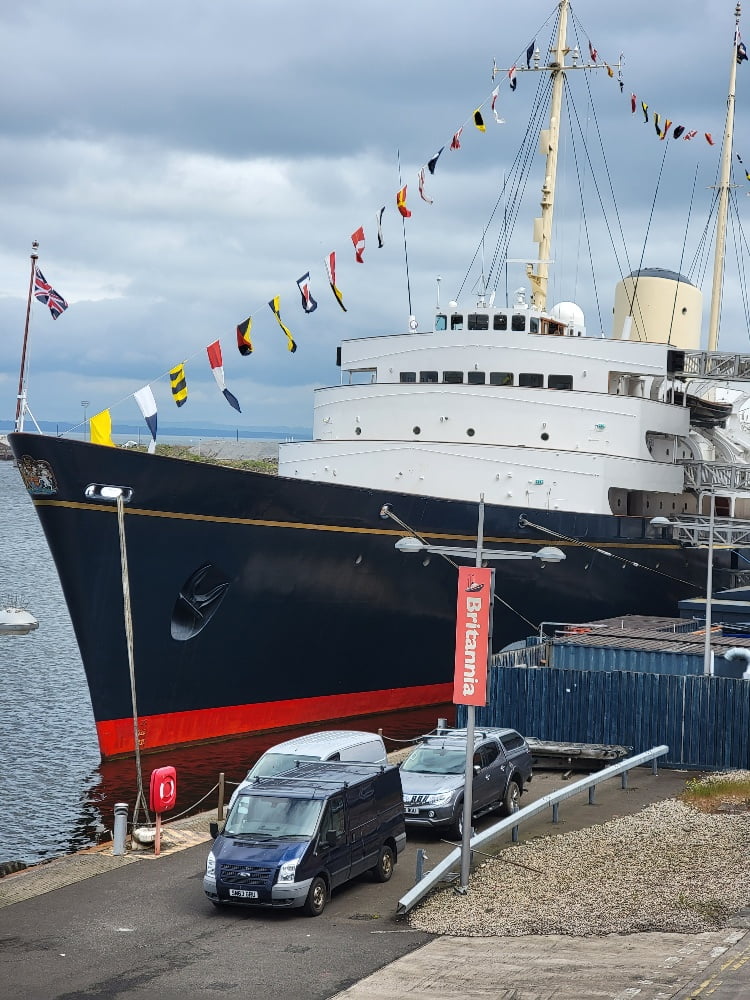 Did I mention that we got "concession" rates in Scotland because I'm so old? Short shrift, but some shrift. And did I mention that I arrived in the UK with paper money from my last trip to London, and paper money is no longer accepted? Only plastic?
At any rate, we backtracked our steps to Stockbridge, for lunch in a Time Out recommended pub called Hector's, then back to New Town for a bit of a relax before dinner. Over 27,400 steps today. Repeat, over 27,400 steps!
For dinner we walked about seven minutes over to a small French bistro called Café St. Honoré. It was typical in its French design and wonderful in its simplicity. SS started with asparagus, I had salmon with beets and cornichons, then he had a pork belly and I tried to get through some spring vegetable risotto. These small portion chef's tasting menus have shrunk my stomach!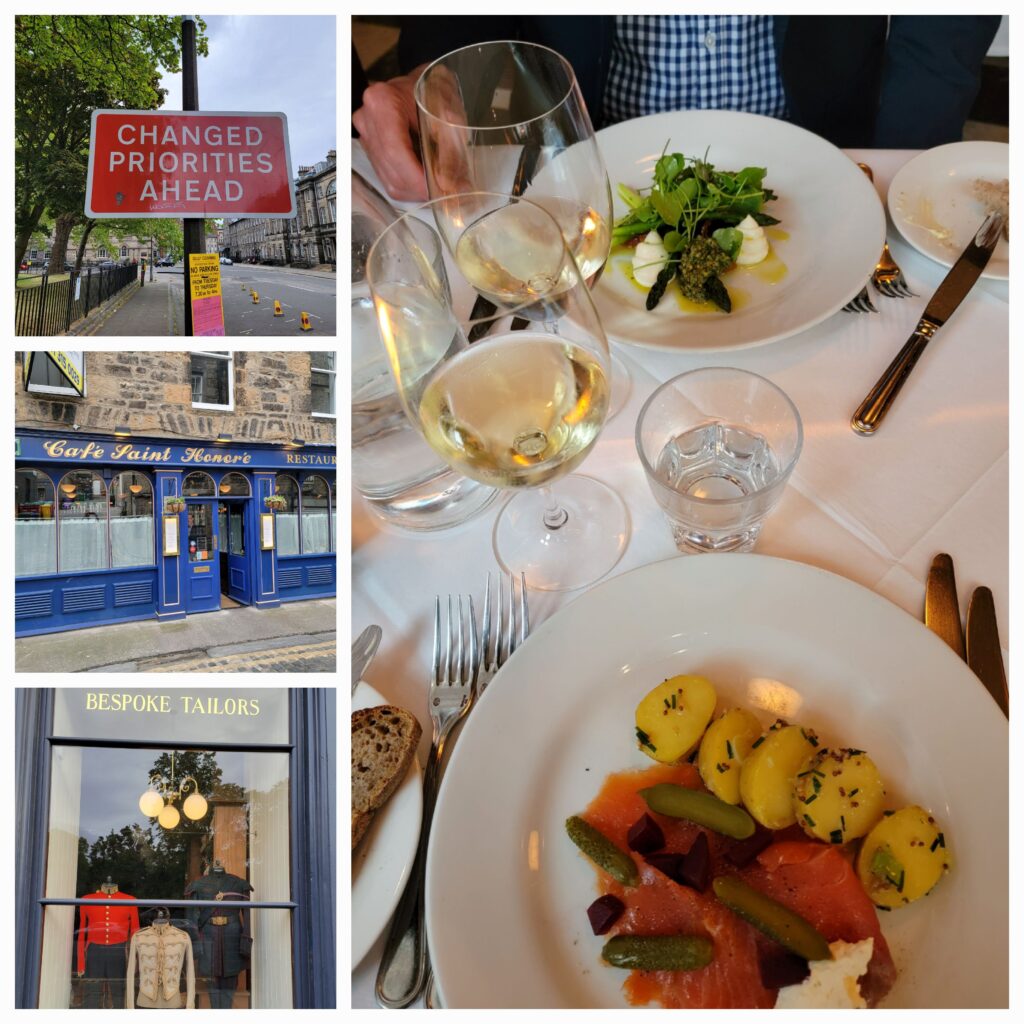 En route we ran across a men's haberdashery offering bespoke military suits as well as street signage reading "Changed Priorities Ahead." I call that retirement.