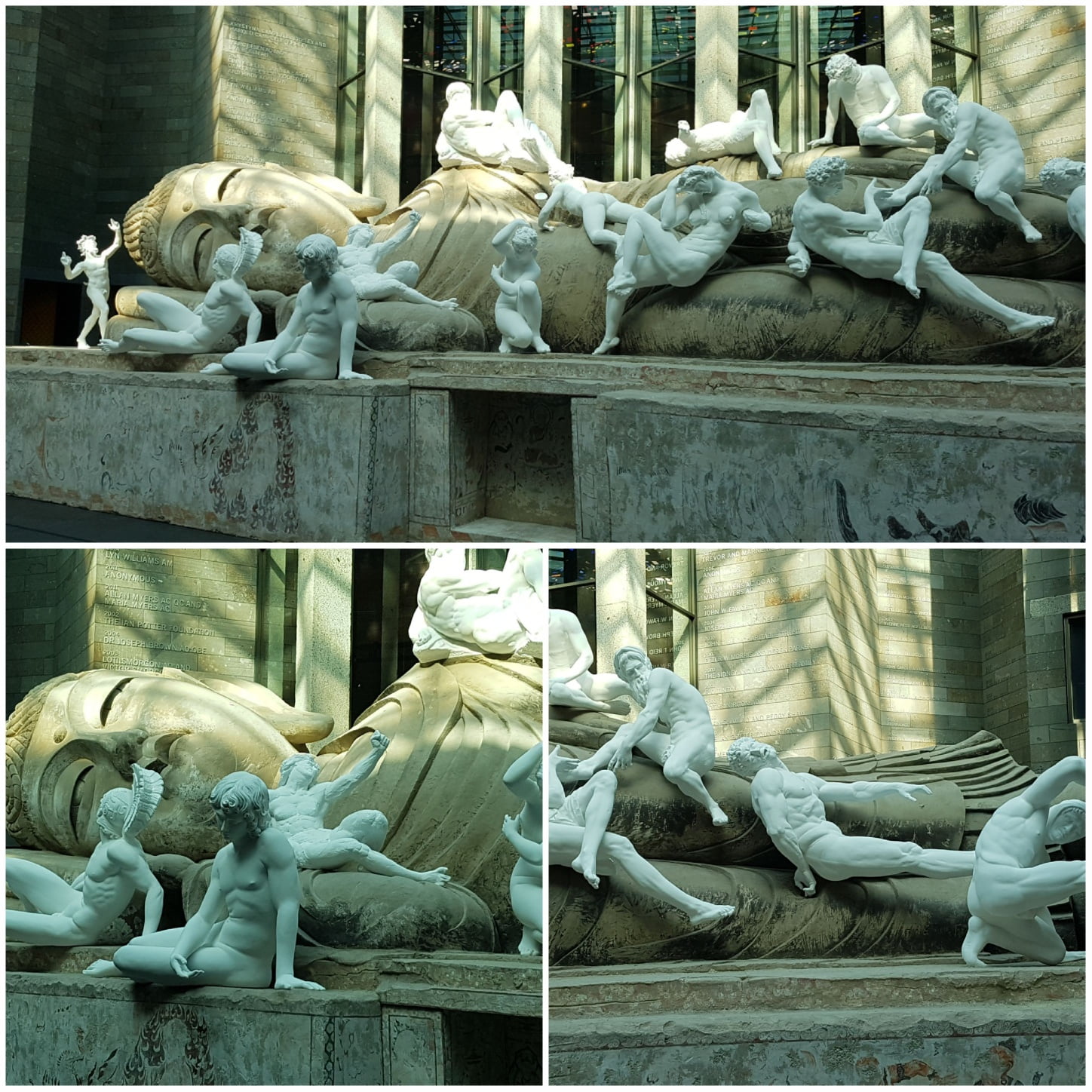 In 2017 Nadal was up a break on Federer in the AO Final.  It looked like he would close the gap to one slam apart.  A year later it's a done deal; Nadal will never close that gap and it will take someone very special to get to 20 slams. 
Our last full day in Melbourne.  Hot.  Men's final.  Hot hot.  It was 34 on our morning walk but hit 38 in the afternoon although all I can say for certain is that it was like being in an incubator and when the wind blew, instead of offering relief, it was like someone turned on a hairdryer.  There wasn't much respite in the shade except that the tiny little spot on the crown of my head, just that very little soupcon of baldness, didn't get burnt.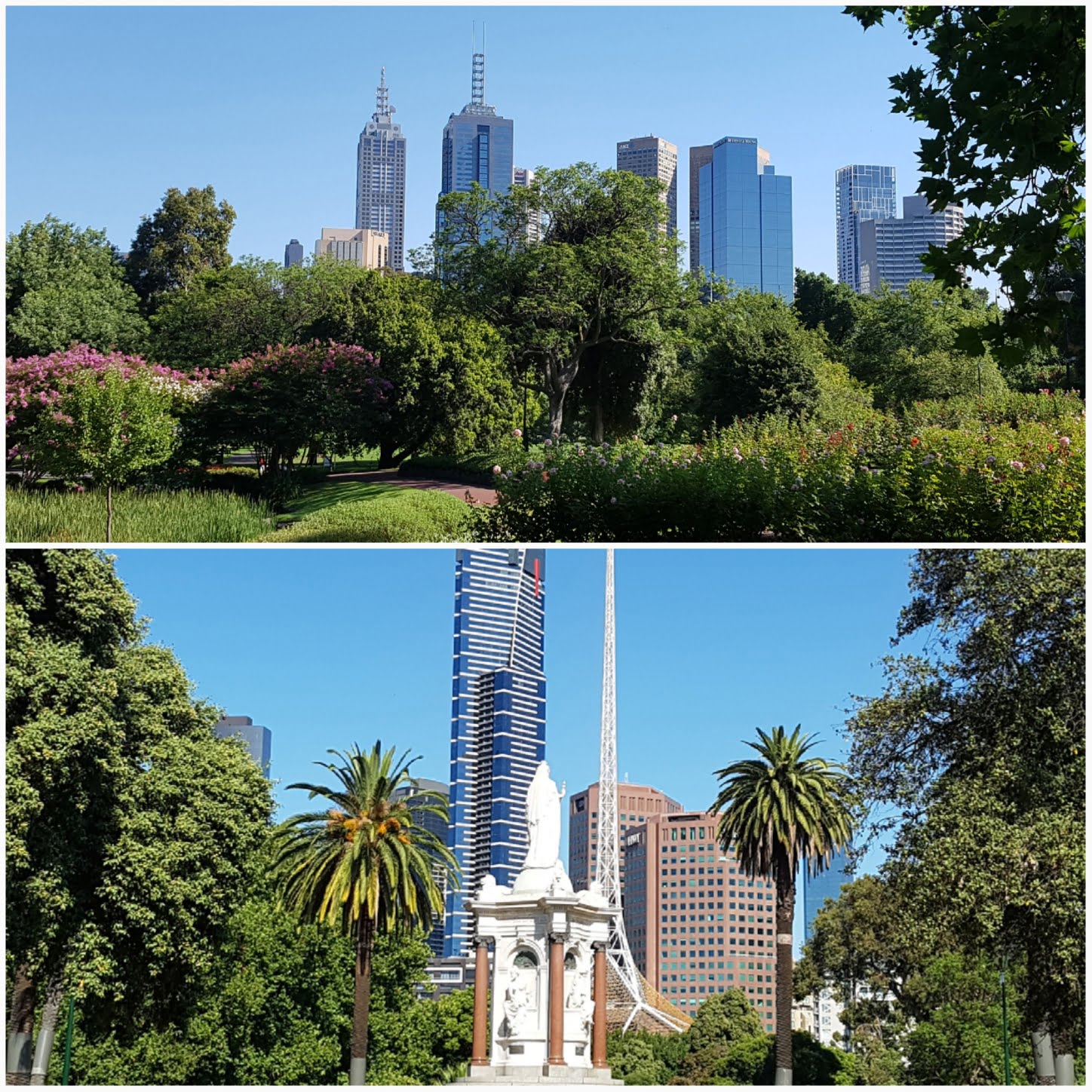 We headed out across the river for coffee then a mosey around the parks which lie near the tennis arenas.  We were heading towards the botanical gardens but only made it as far as Queen Victoria Gardens.  Our plan to stick to the shade didn't help much.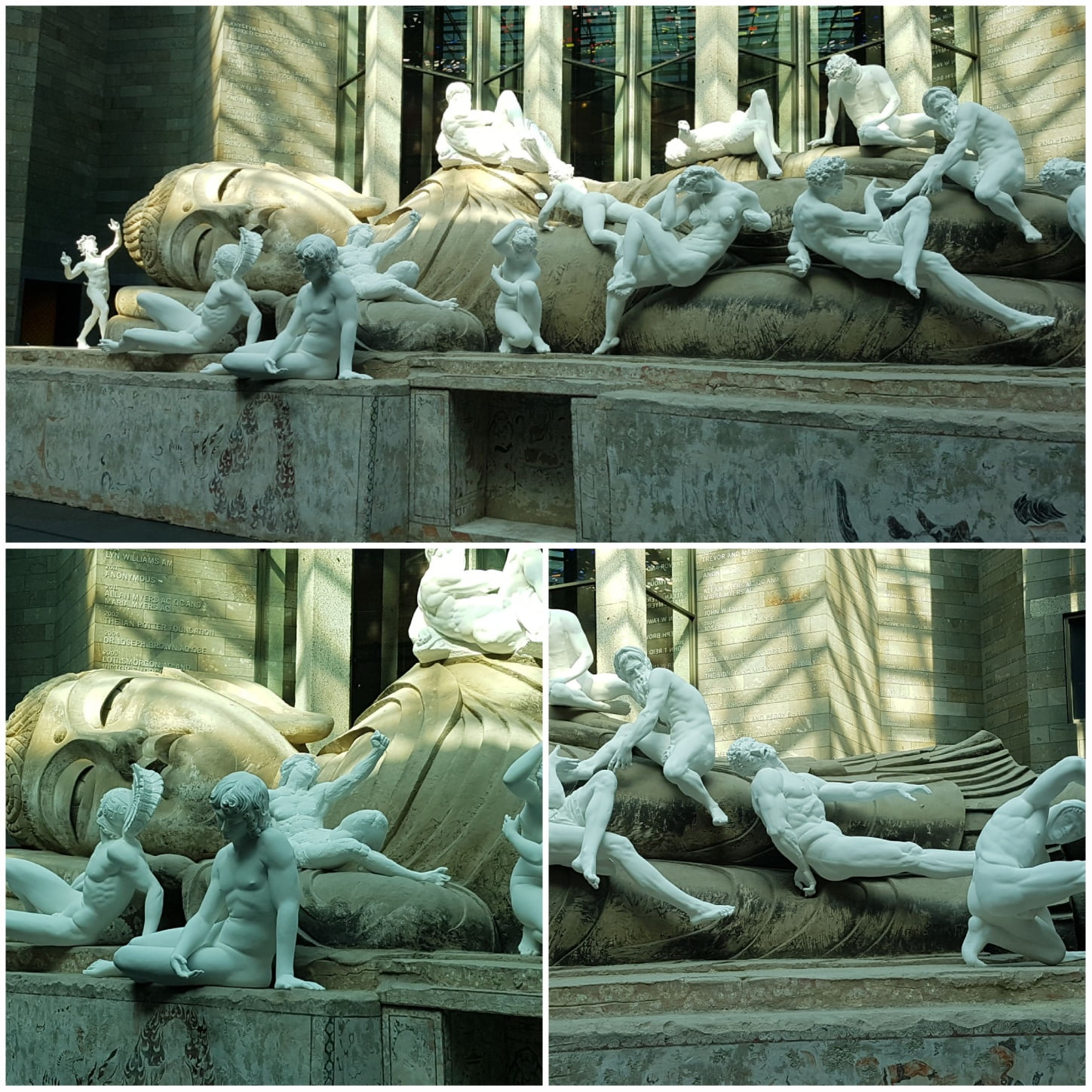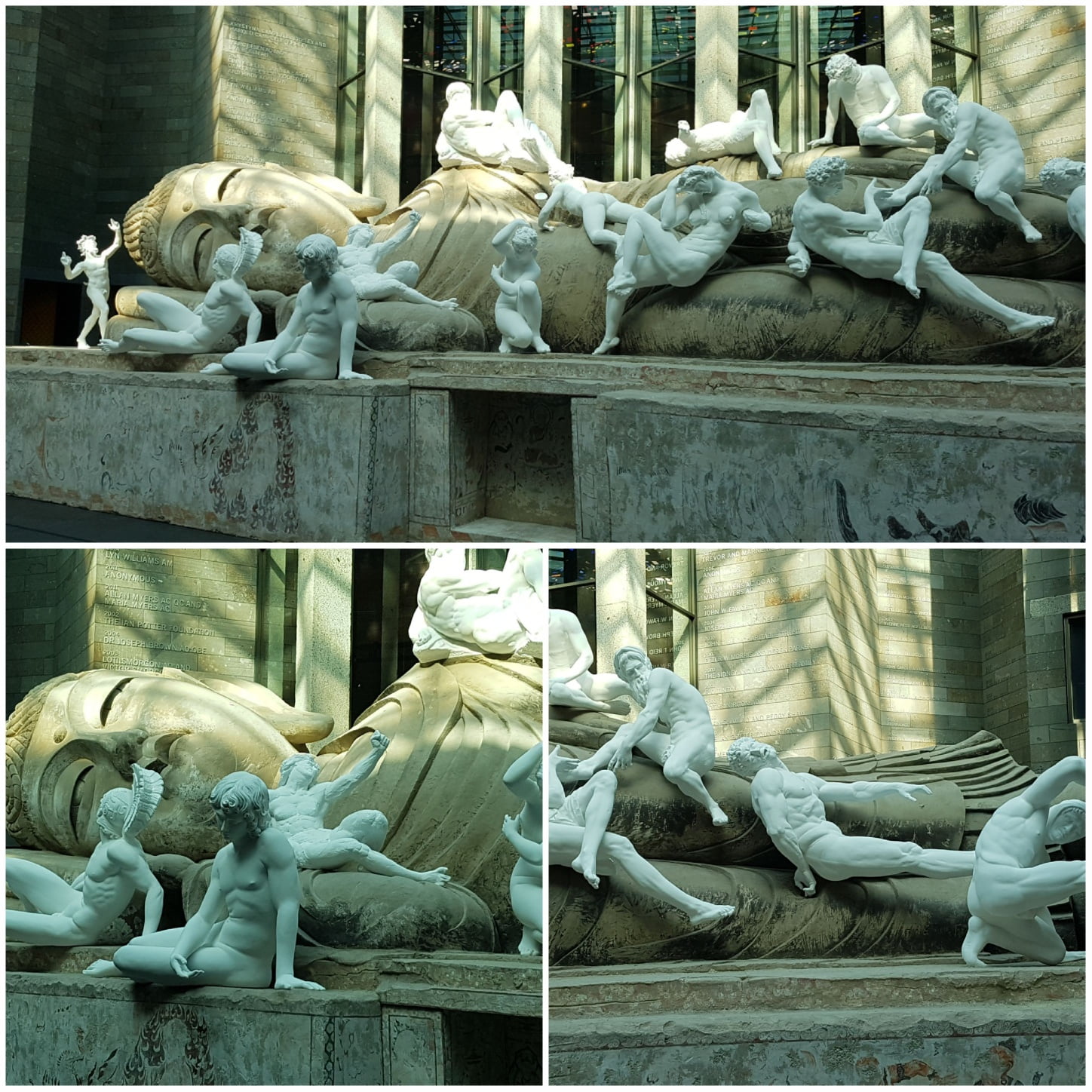 We had a quick peak in the National Gallery of Victoria; there wasn't time for a full on skinny as it was nearing midday and we had lunch reservations, but there was a sensational piece by Chinese sculptor Xu Shen with an eternity Buddha in Nirvana covered in a variety of mythical figures (Achilles, Dancing Faun, Narcissus, Icarus, etc.) near the entrance.
Although we'd only been out for less than three hours we returned to the hotel and showered off the sweat then headed out for lunch.  We decided to do one "fancy" meal in Melbourne and chose Cutler & Company, which is on the pricey side except at Sunday lunch, where they prepare an elaborate set menu at a much reduced price.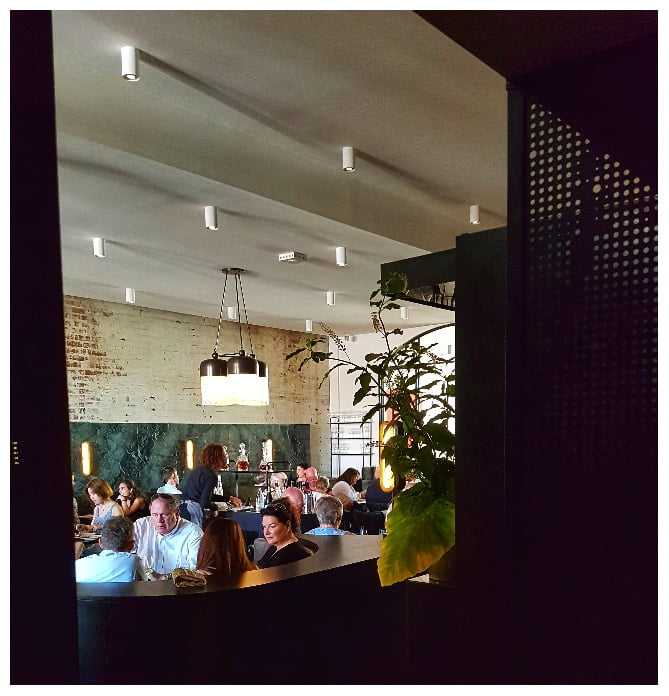 Three starters came to the table first, a seaweed cracker with fromage blanc; salami with marinated olives, and a Sydney rock oyster.  Since I don't do oysters, they gave me a tiny baby corn charred on the grill.  Next, another three small plates, smoked mussels, stuffed and braised zucchini flower and sliced prosciutto with pickled peach.  Again, since I don't do mussels, they gave me an heirloom tomato salad.  For mains SS had an ocean trout (what Canadians call steelhead) with chorizo vinaigrette and I had some hand rolled linguine with basil pesto and fresh peas which was beyond superb.  The prosciutto was the best I'd had outside of Italy and the peaches were sweet and tender as ganache.  For dessert I had fresh fruit with fig sorbet and SS had cheese.  Fresh marshmallows were served with the cheque.  It was a spectacular meal but when we emerged outside around 2 p.m. the heat nearly killed us.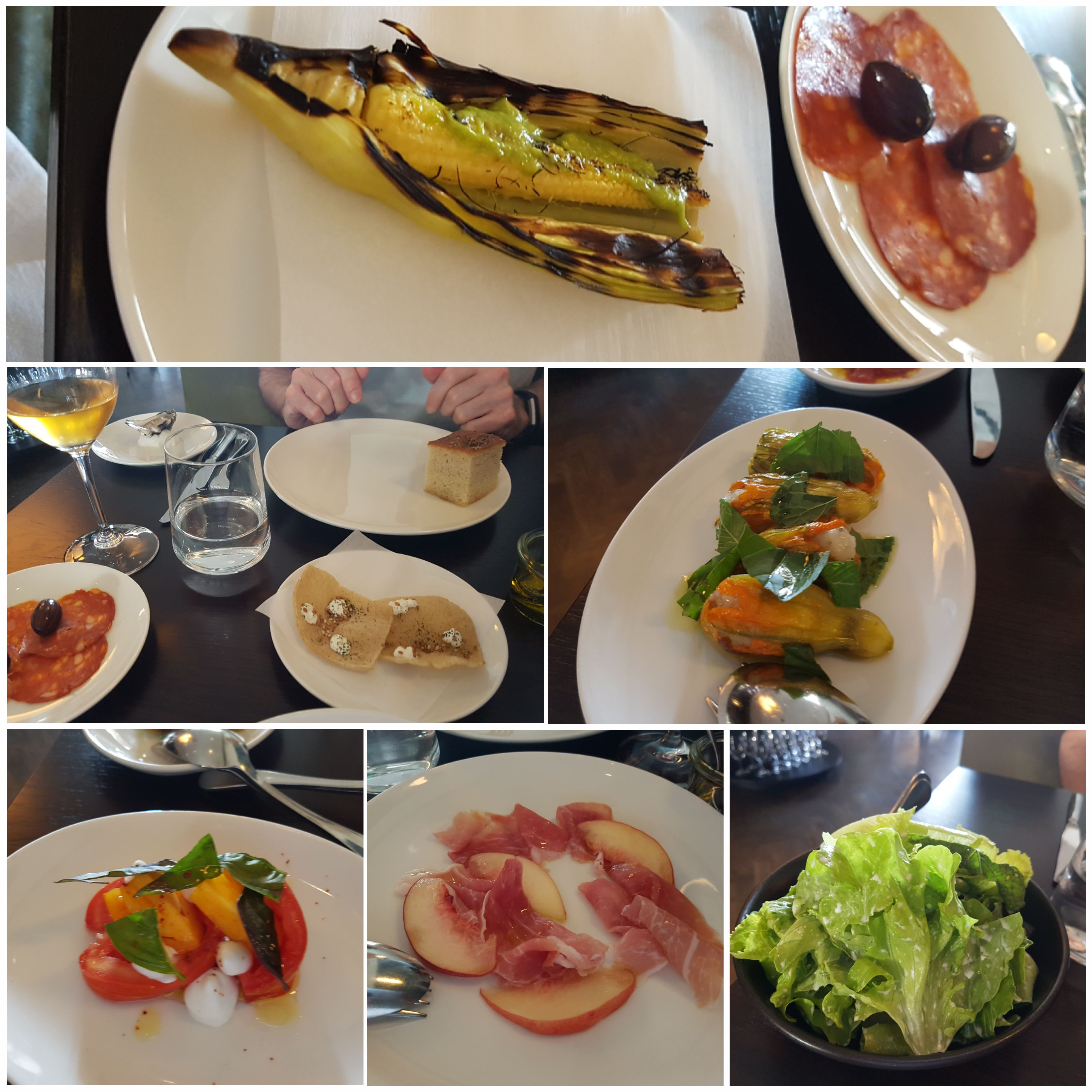 We headed back to the CBD.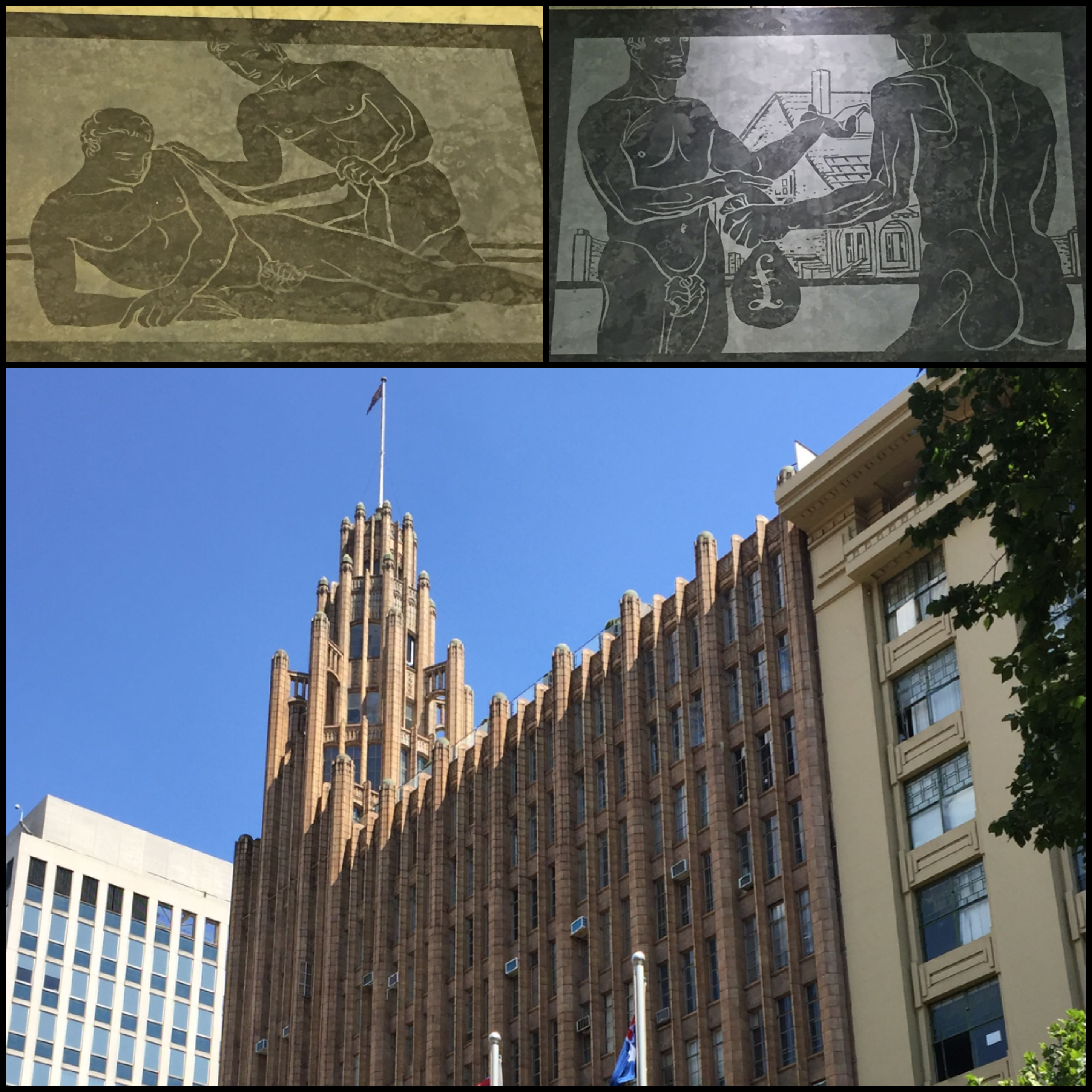 SS pushed on to check out some museums, and snapped these shots of the Manchester Unity Building, a deco gothic heritage structure with interesting friezes in the lobby.  The collage here shows one of the notable human attributes, caring for the sick.  Next to that is another not so human attribute, loaning money for a first home.  Go figure.  I simply motored on back to the AC at the Sofitel.
I guess the tennis was dry and dull.  NOT.  It was sensational and to come all this way and see a rout, which it appeared it would be after the first set, would have been a letdown.  Kudos to Cilic for trying, I would say his power and service prowess far exceeded Roger, but RF doesn't give up, his defense is near miraculous, and when the pressure really, really mounts, he is as stoic and composed as the Buddha we saw in the AM, whereas Cilic fell apart emotionally, grimaces, sweat, anger and frustration.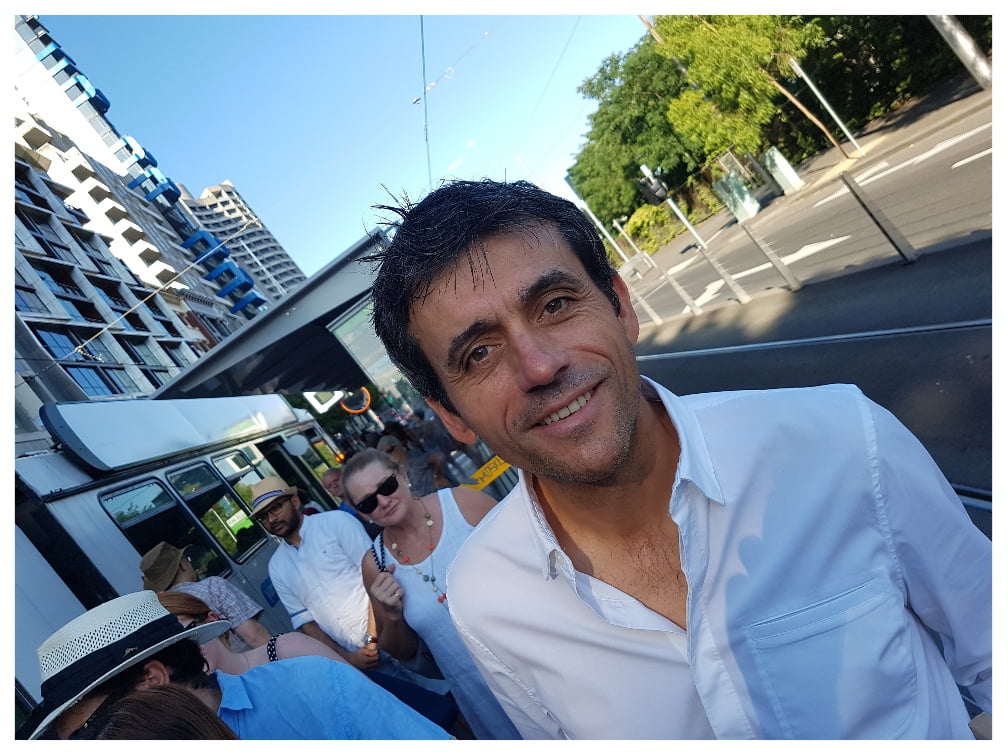 I ran into a tennis umpire on the tram and we had a nice chat.  Not Carlos Bernardes, the other ATP Carlos.  Not Mohamed Lahyani, the umpire for the Isner Mahut match at Wimbledon that went on for two days and for which he appeared never to need a bathroom break.  But Carlos Ramos who, I think, is one of the better umpires in that he gives no favour to the big four (but you can Google him, all the big four have had run ins).  Interesting to see that Tennis Australia and/or the ATP provides no transport for their support team.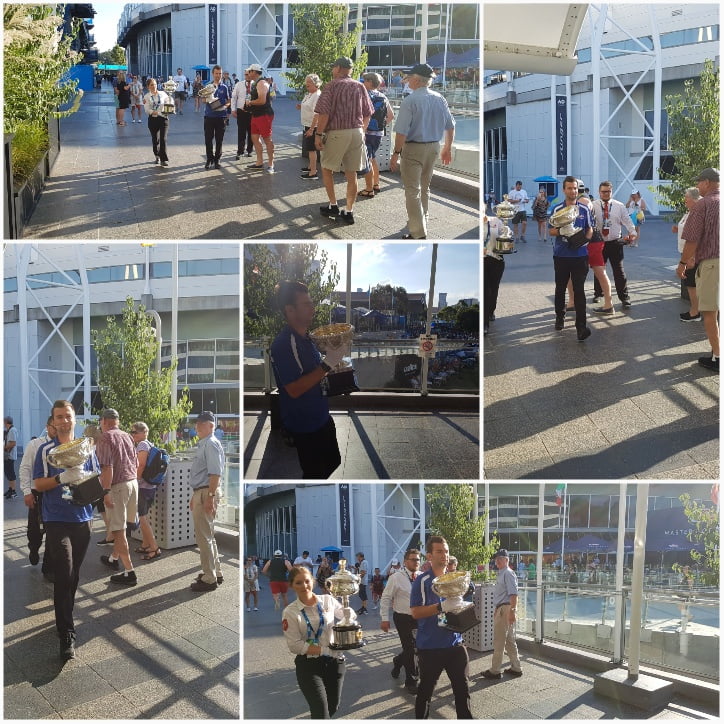 Eyes on the prize.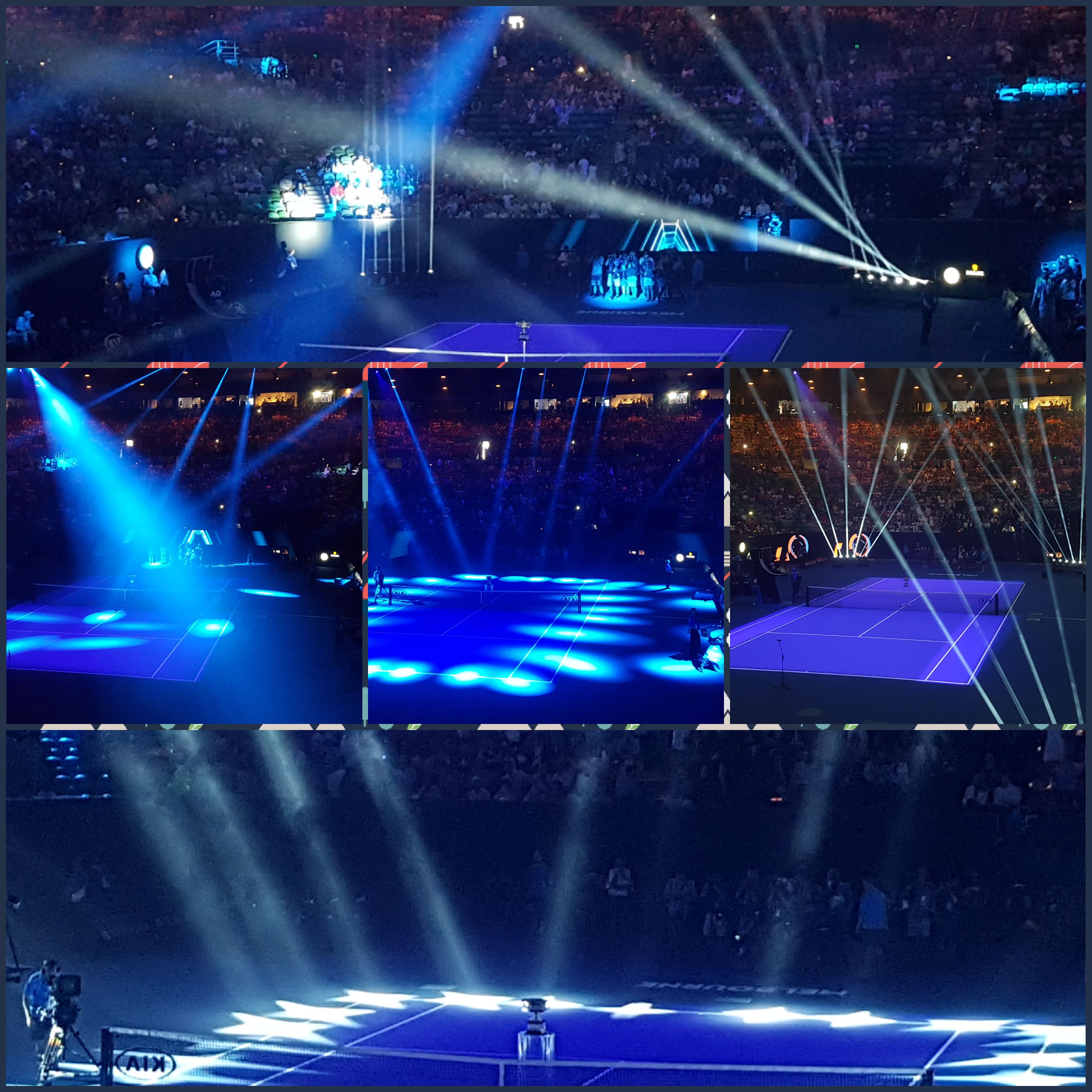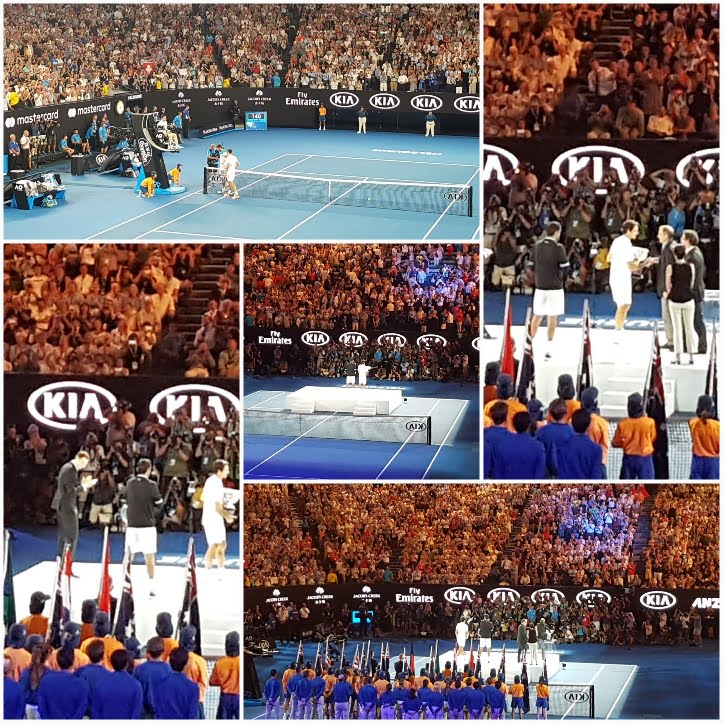 Awards, rewards.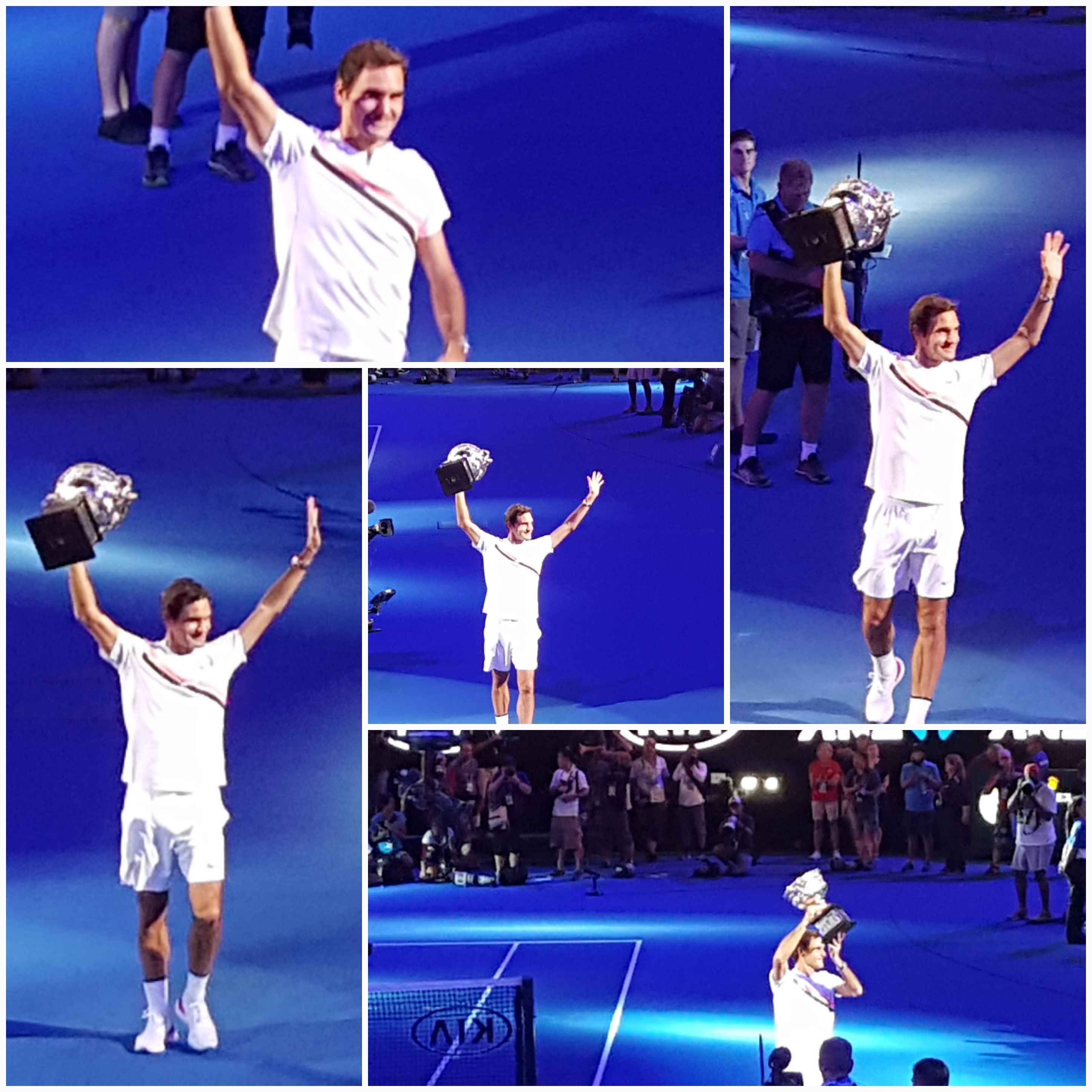 Victory lap. 
So that was tennis, and it was so incredibly worth it I can't imagine.  I headed back to the hotel with a slew of over-excited fans.
The lobby of the Sofitel has an art display showcasing a celebrity photographer of the 60s and 70s called Slim Aarons; he was obsessed with capturing the mid-20th C jetsetters.  His catalog is mainly at the Getty in California.  Unfortunately they hang in the foyer bar where a full wall of glass blasts natural light: In the day you can't even see the art because the light refracts off the glass so sharply.  In the evening, Edison fluorescents mar the images in stripes.  Still, they are so very cool and of a particular moment I had to post a couple regardless of the reflections.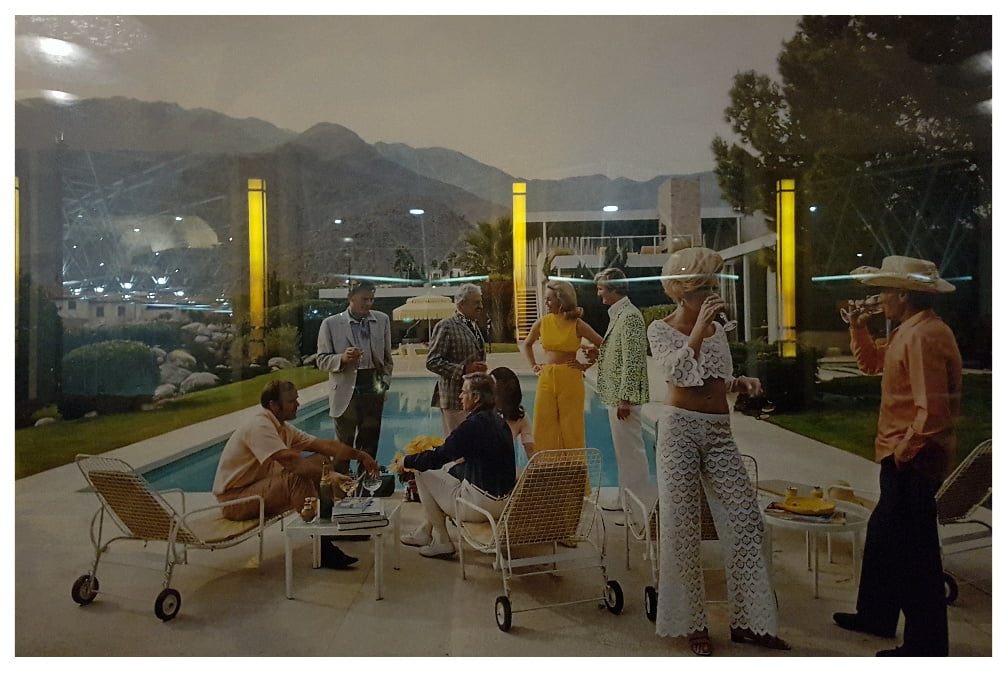 Desert House Party: A 1970 party at a Richard Neutra house in Palm Springs.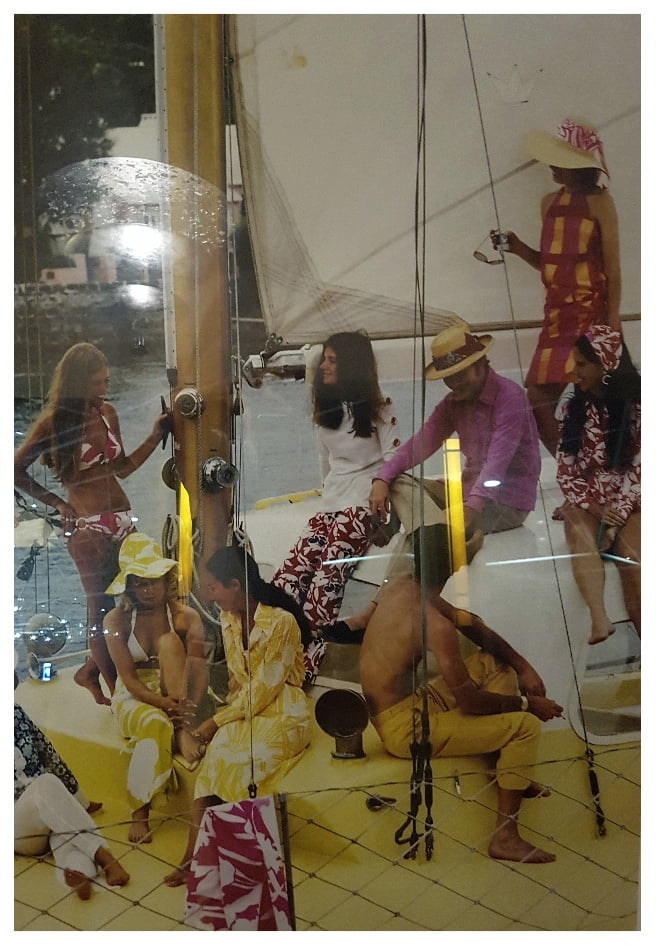 Colourful Crew: On a yacht in Bermuda, 1970.
 :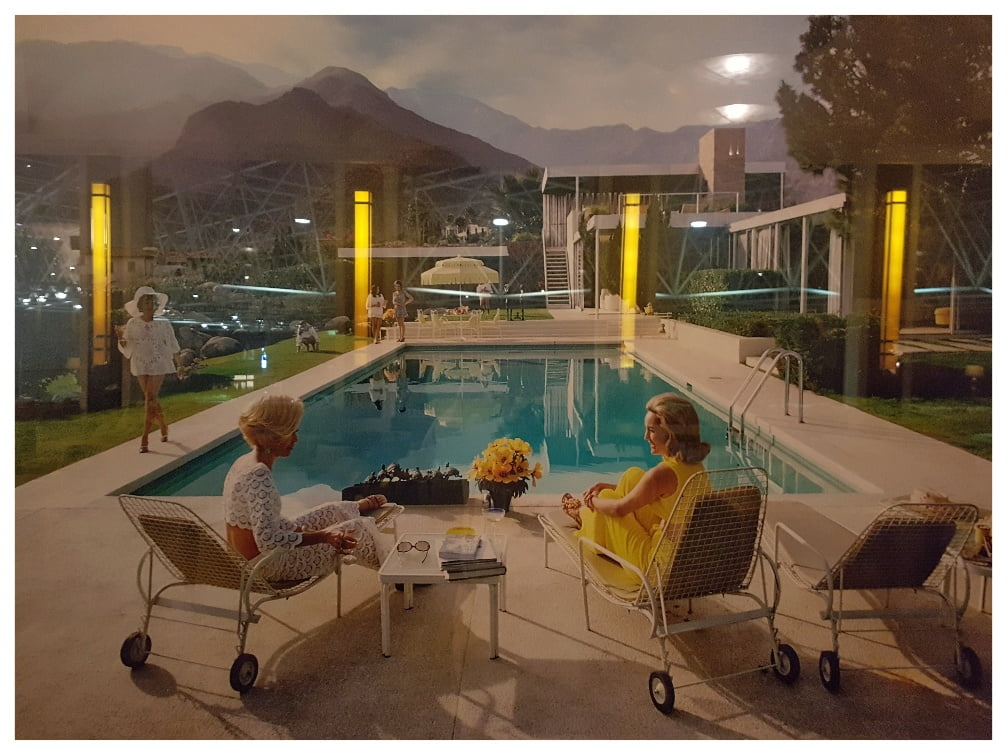 Poolside Gossip: Nelda Linsk, in yellow, talking to former fashion model Helen Dzo Dzo Kaptur.  "Did you hear about the tennis…"