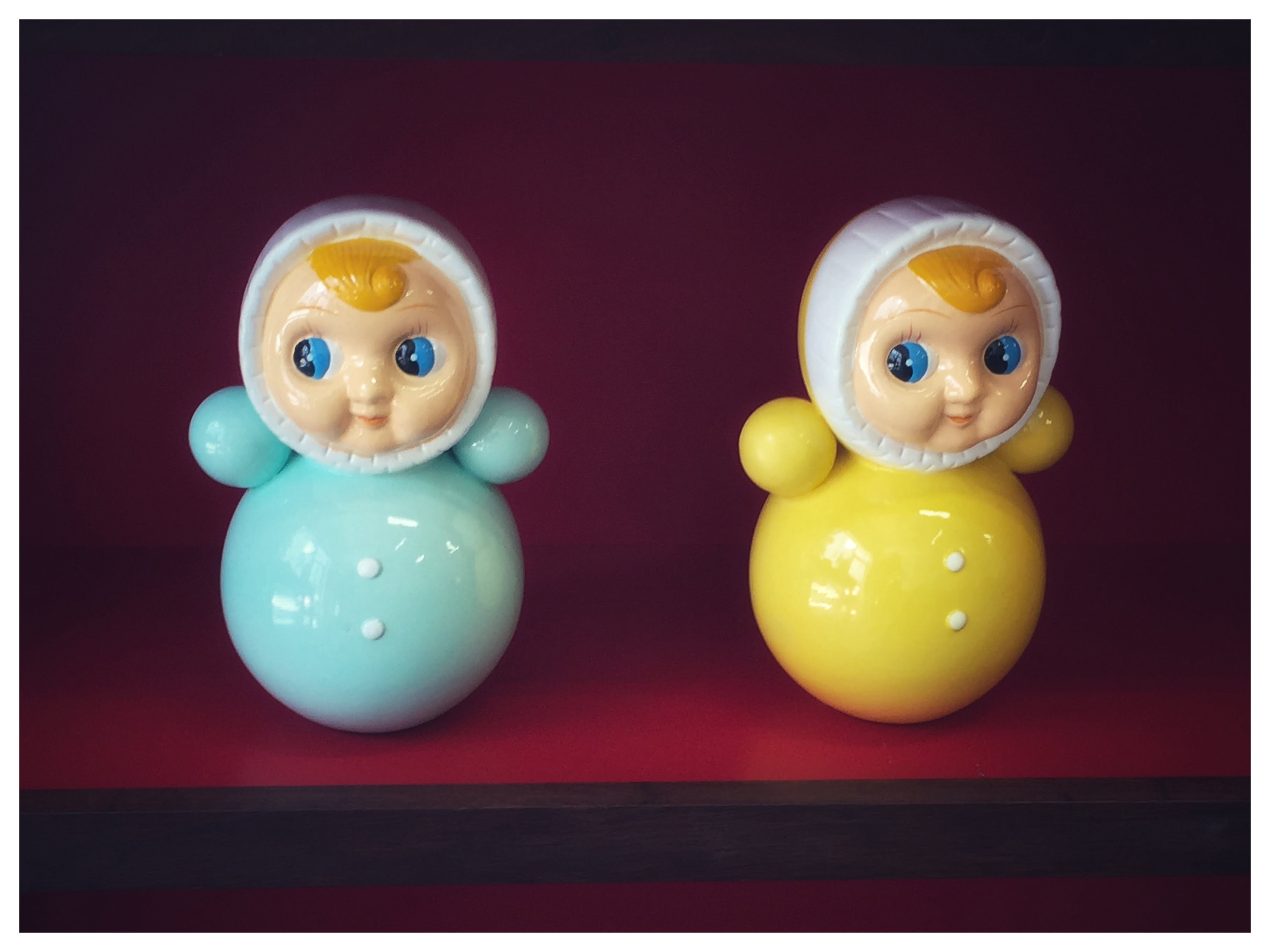 I was going to call this post Hot Pants and a Unique Sweet but then Caroline Wozniacki made history and it seemed flip.
We dropped off laundry first thing.  You know how vacation plus humidity plus staying in a hotel goes.  I remember when Brad Gilbert was Andy Murray's coach and on ESPN he was telling an anecdote about doing (dropping off) Andy's laundry because even when you're a gazillionaire hotel laundry fees are too much to stomach.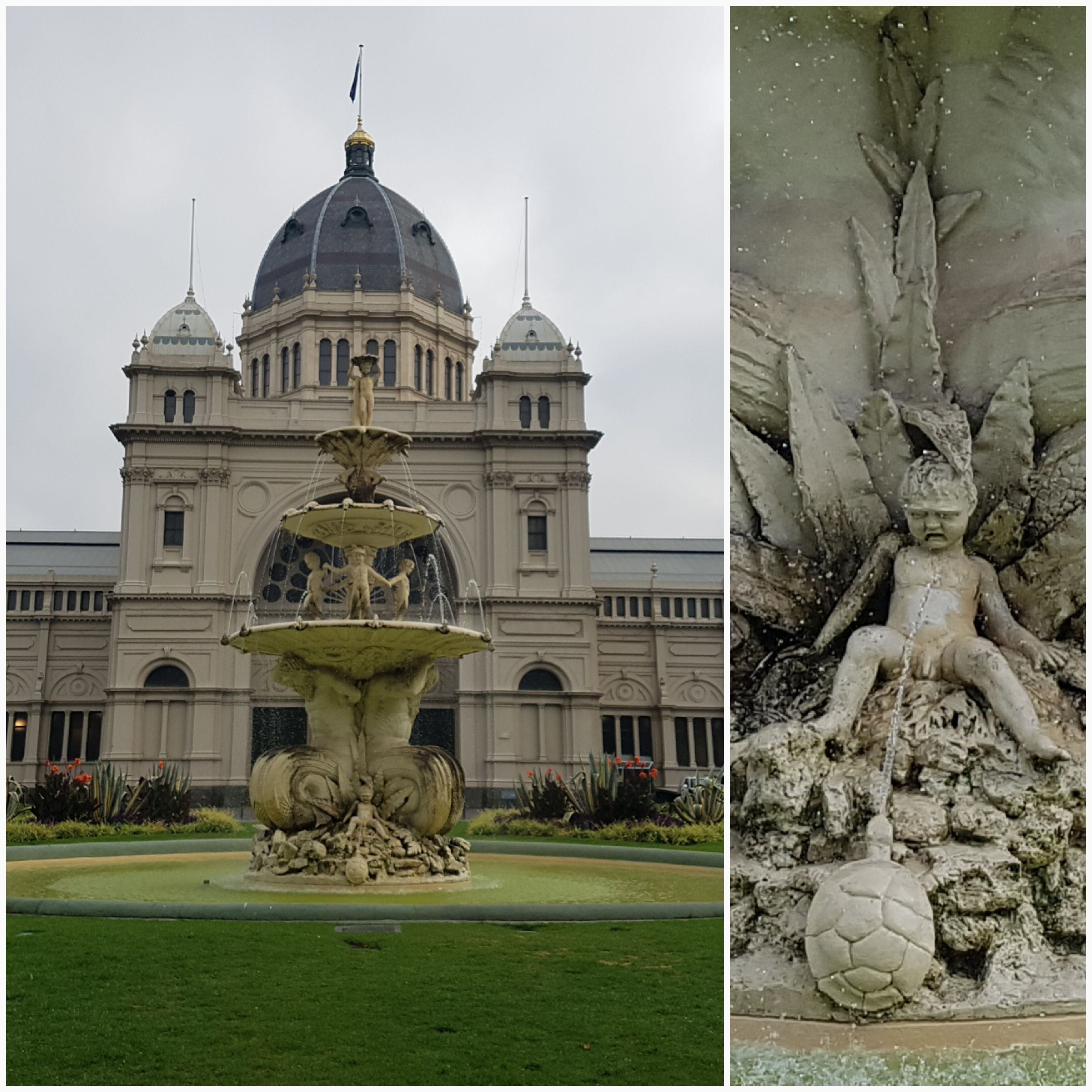 Then we cut across Carlton Gardens with its lovely nymph receiving turtle spray and its Exhibition Hall (a UNESCO World Heritage site) towards Fitzroy.  They were in the early stages of hosting a "hot rod show" which had attracted a mixed bag of cars from a Chevy Chevelle to Wacky Races dragsters. 
A not too mint Avanti on site looked a little sad compared to a red Chrysler.
We returned to Bentwood for breakfast because, well, earlier in the week it was just so darn good.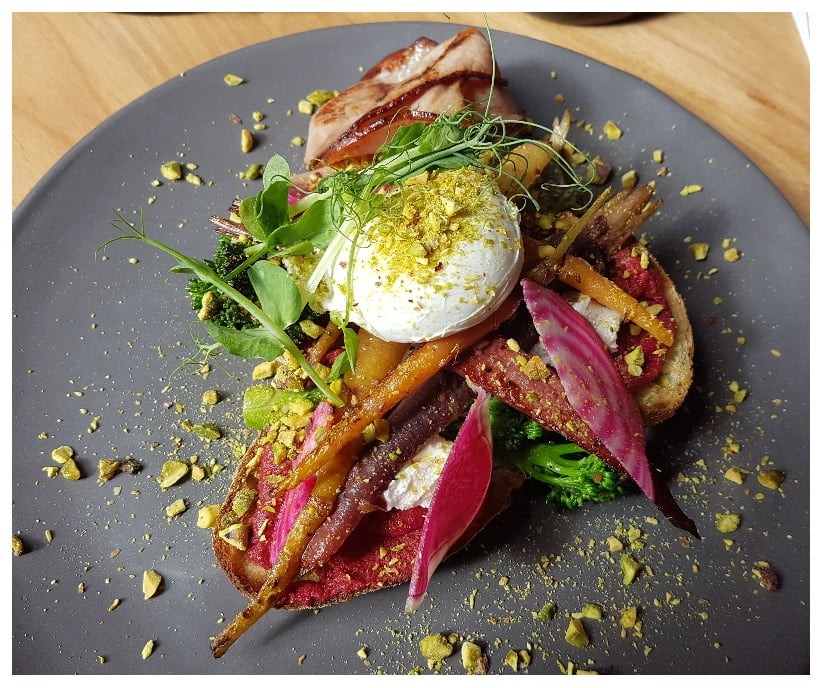 Toasted sour dough with beet paste, topped with heirloom carrots, radish, greens, goat cheese and a poached egg, sprinkled with pistachios.  That bacon on the side, shurely shome mishtake?
After breakfast we walked to the east, the Fitzroy/Collingwood border, where we ambled and shopped along Smith Street.  And, yes, there was Birmingham Hotel, amongst everything else Smithy, from butchers to bakers to expensive candle stick makers.
Smith Street was about the most fun shopping I've had in years.  There was an abundance of every single thing you didn't need (hand-crafted violins, footy memorabilia, kitsch, antiques, outright junk, curated boutiques) and essentials (food of every manner, stationery to take-away to pet care to cleaners), in short, you could live there, and have fun there, and not be awash in multinational chains.  As we walked south you could sense the rents getting higher; less graffiti and more predictability (e.g., a McDonalds).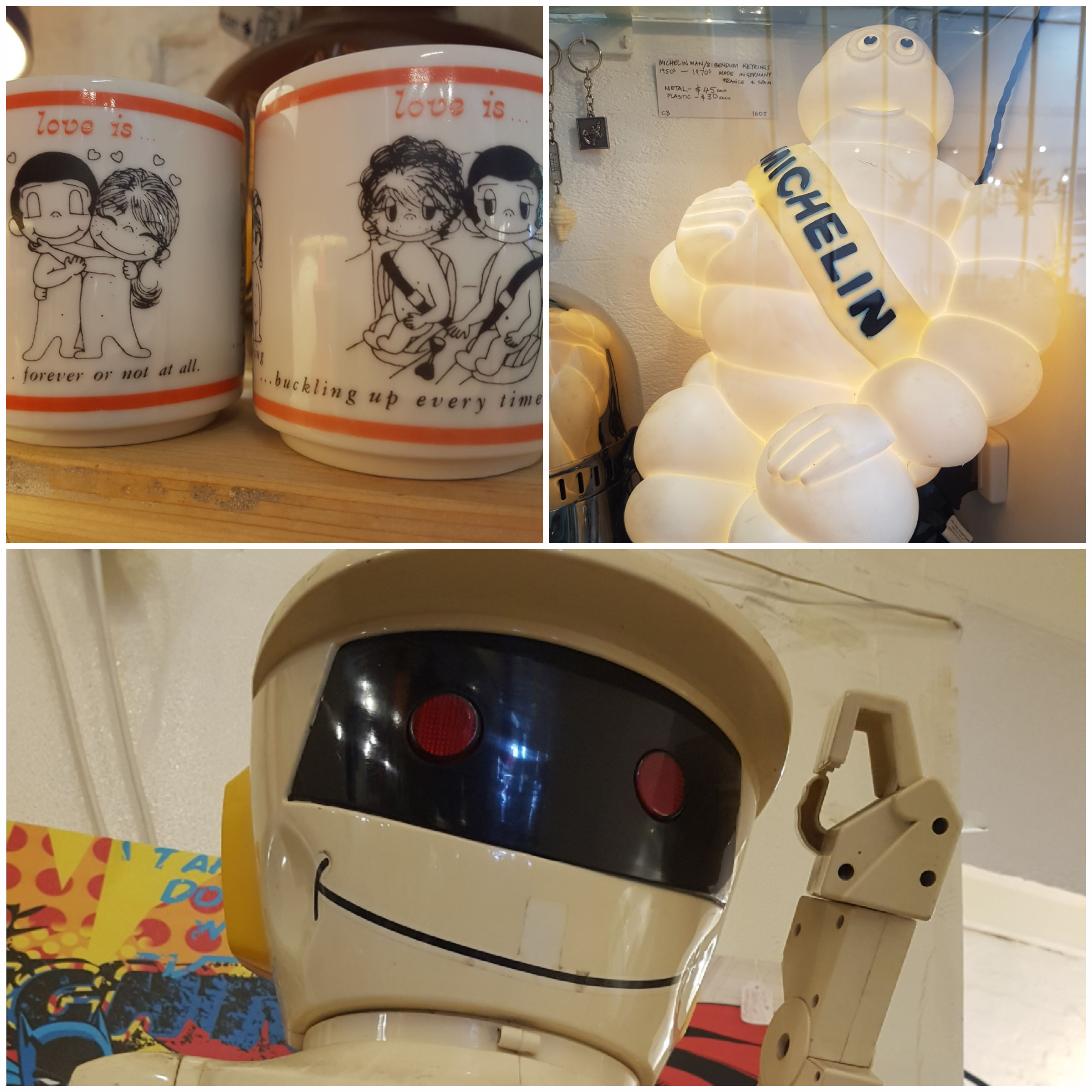 I had to be restrained from buying artificial fruit.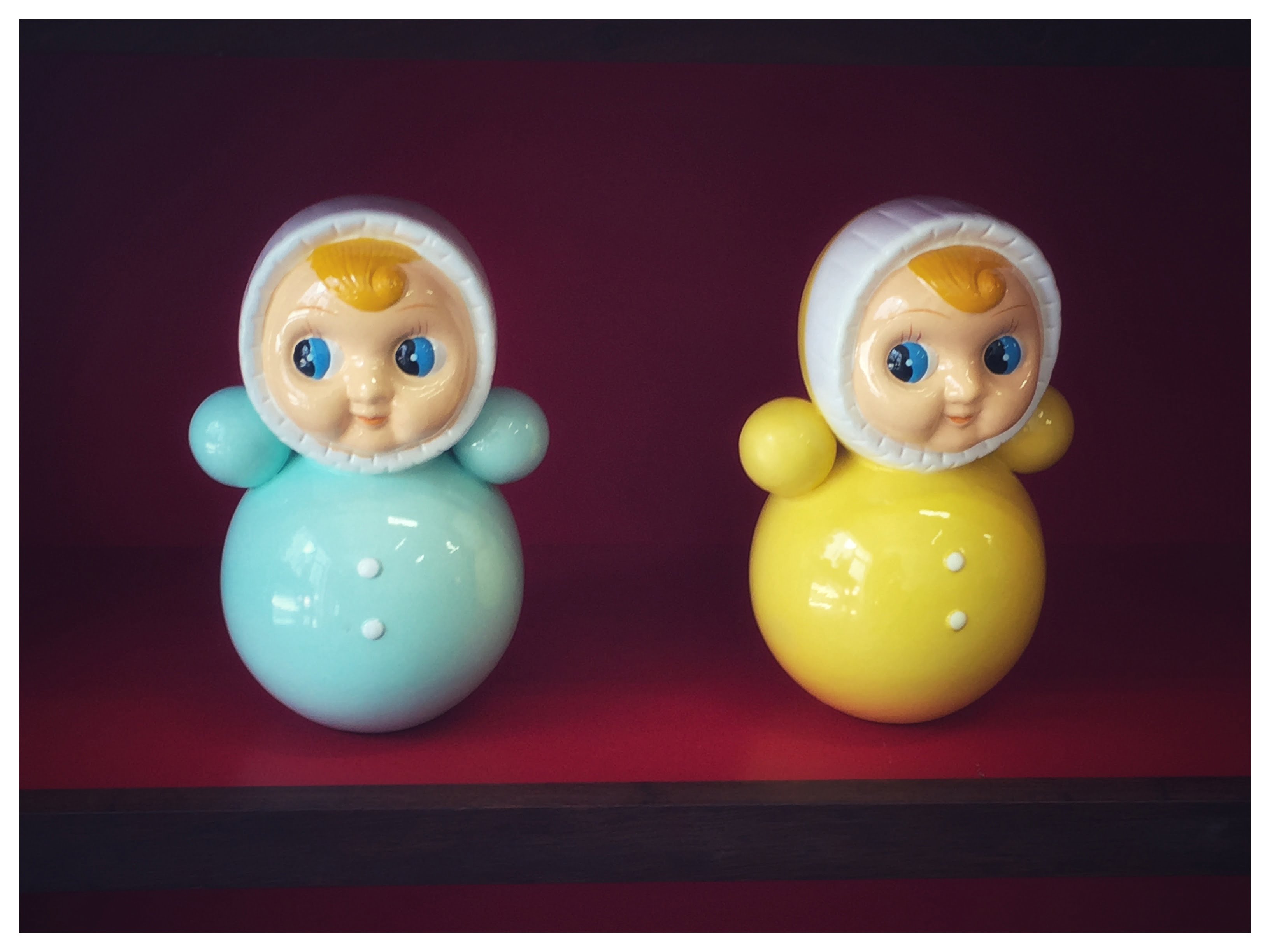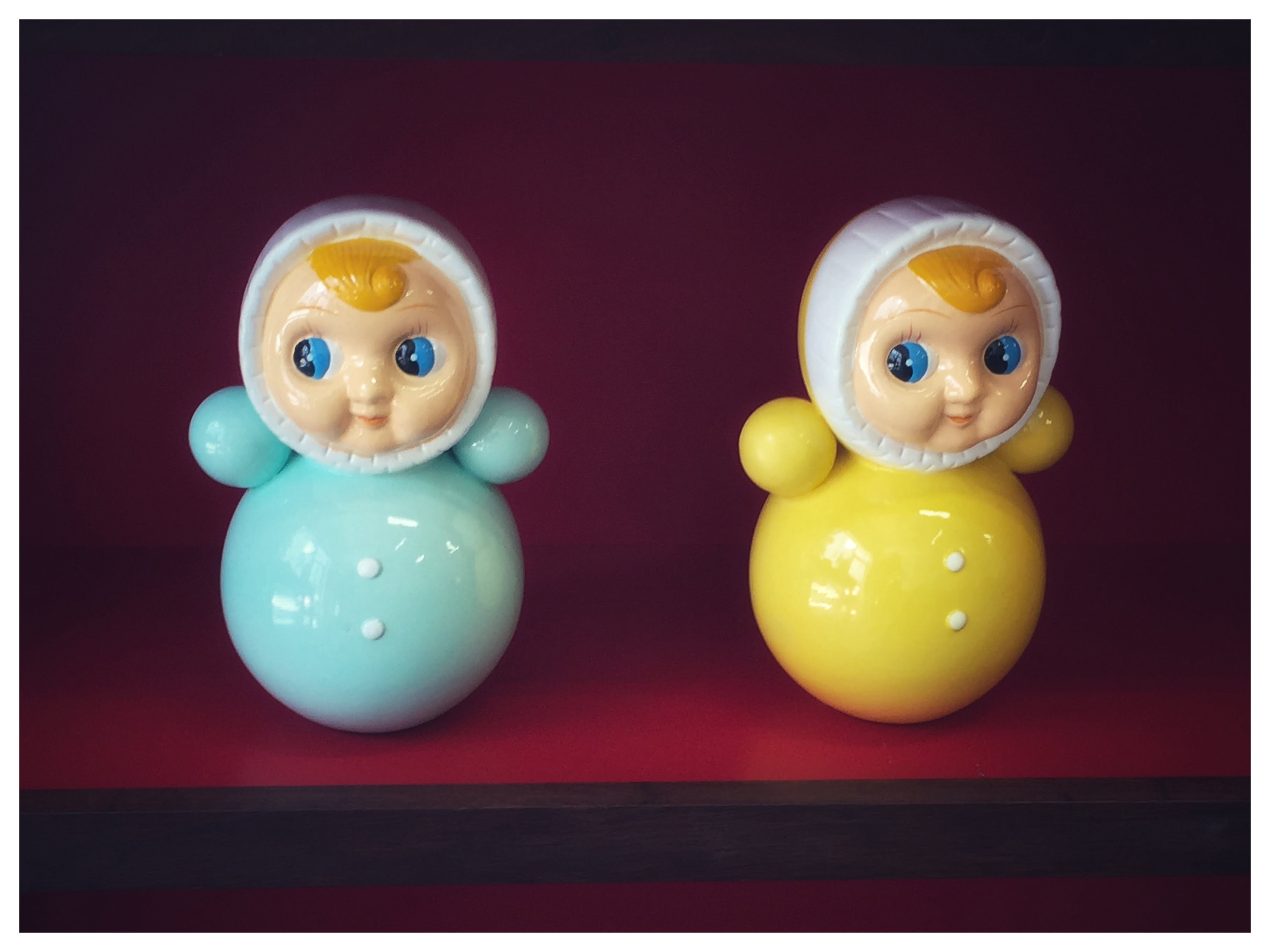 How could you say no?  We did.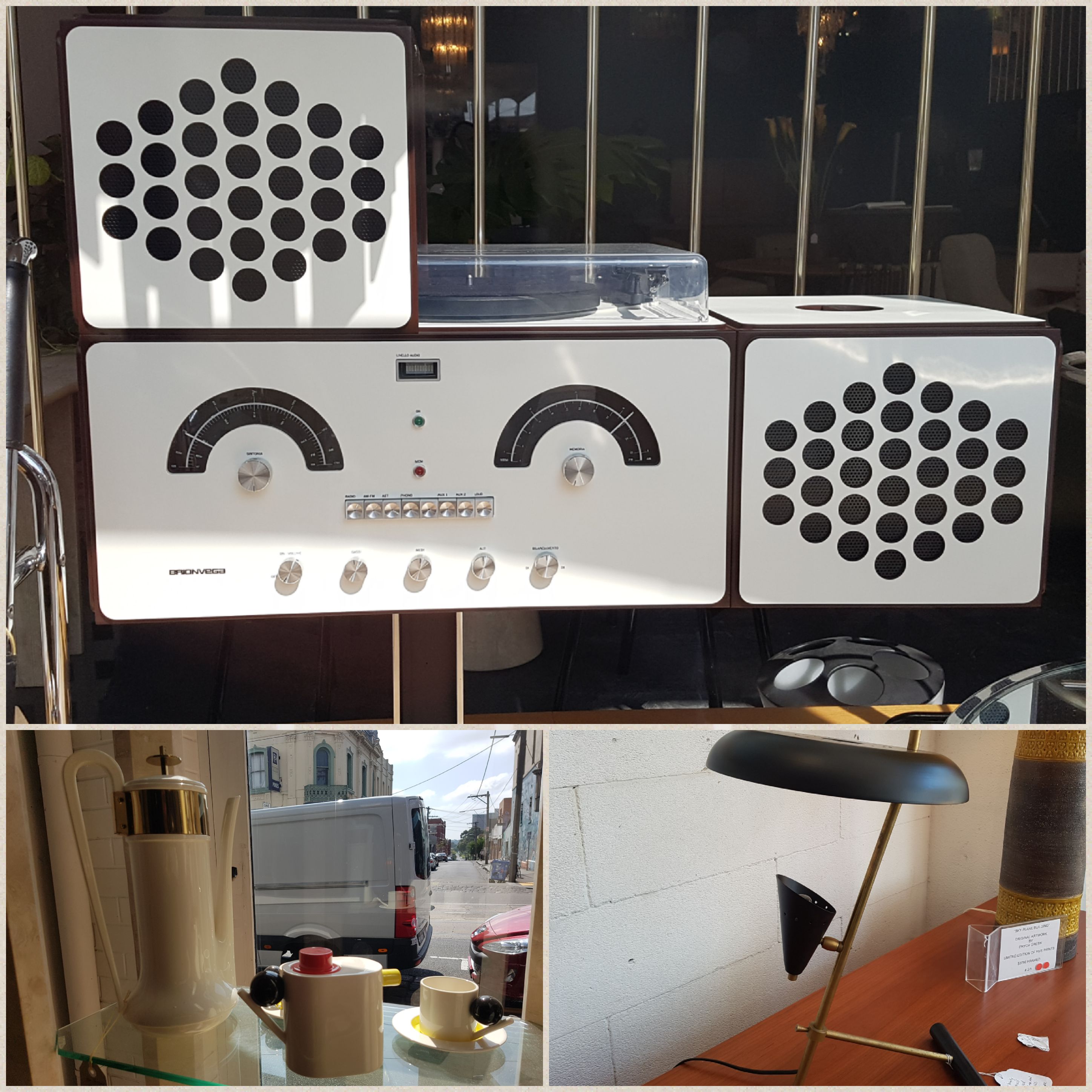 Too big for luggage.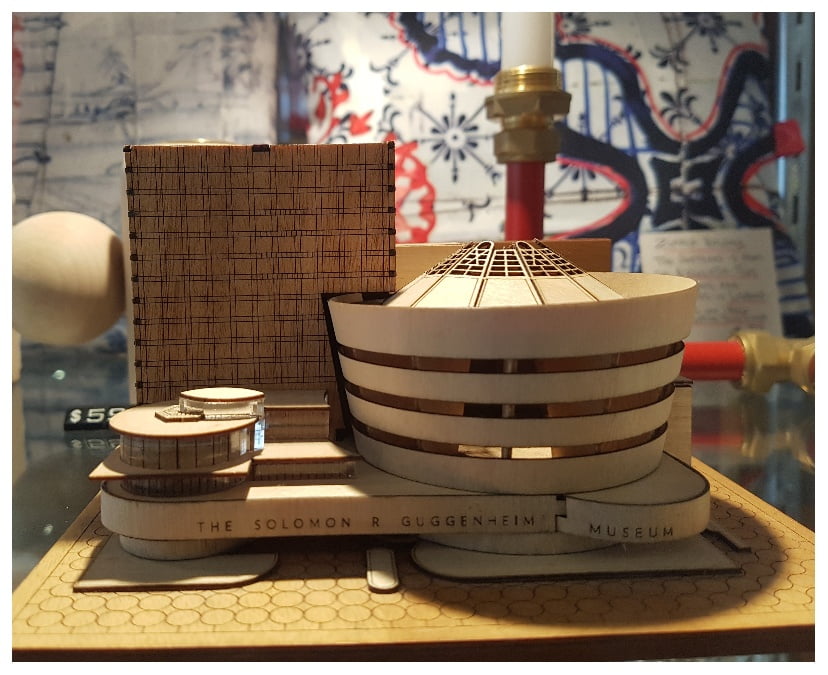 I'm sure Frank would approve.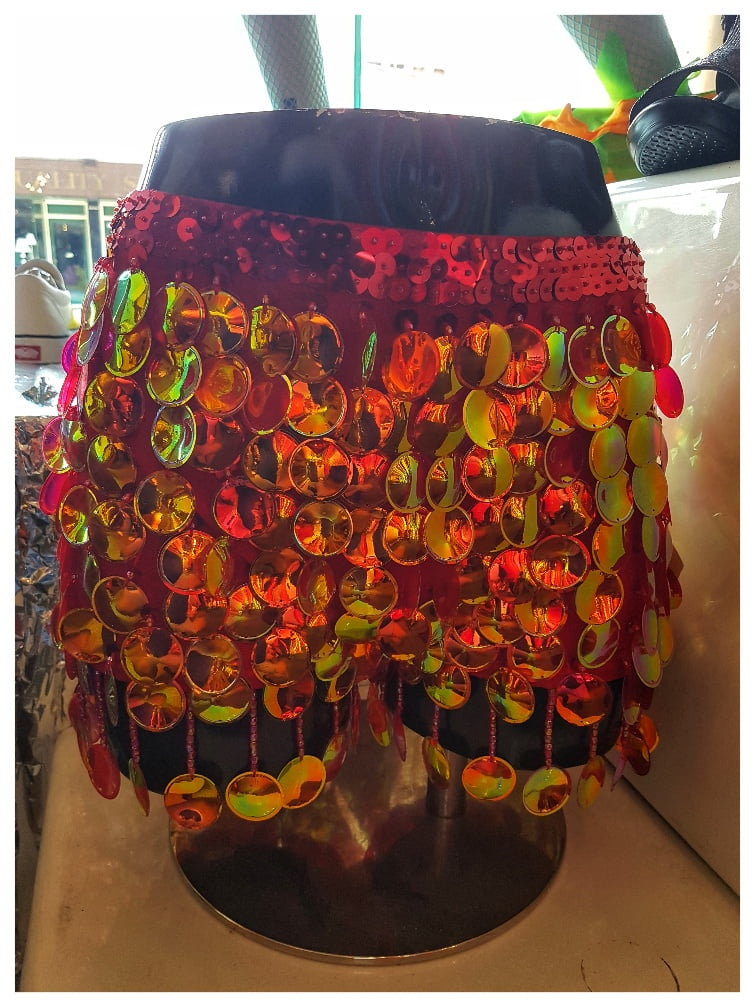 Very, very hot pants.  I'm thinking Versace crossed with Laugh-in.  SS wouldn't even let me try them on!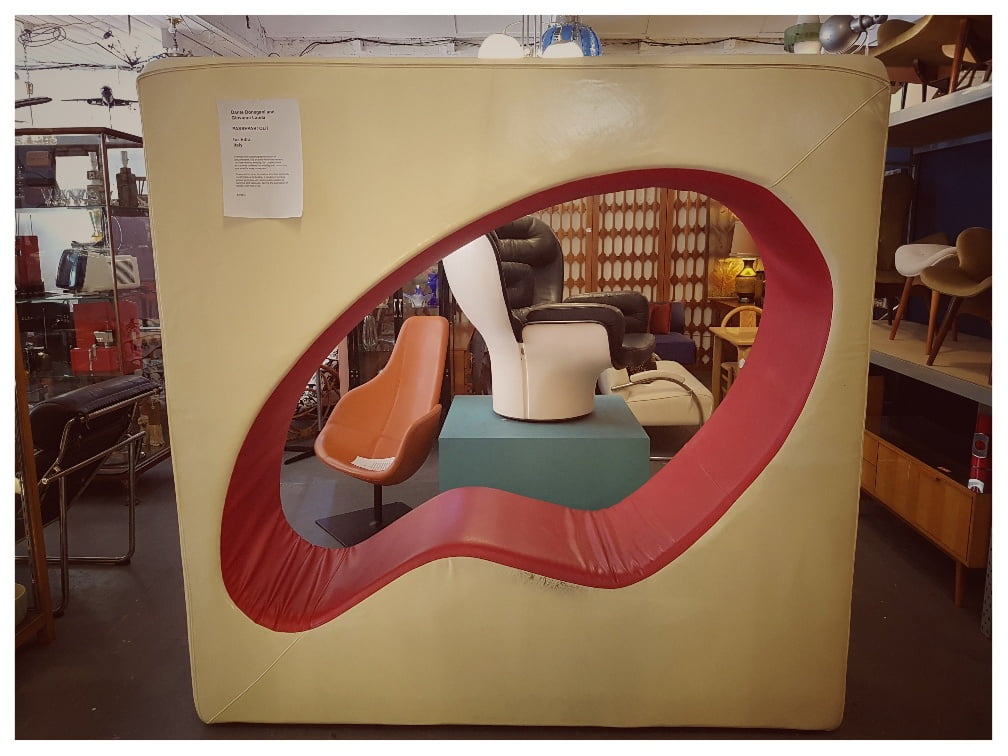 Vintage Passepartout by Edra.  It was meant for hot pants.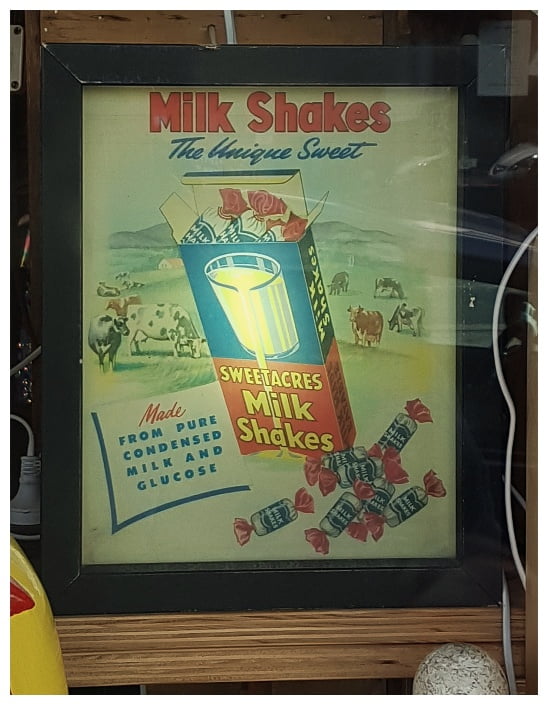 Unique sweet.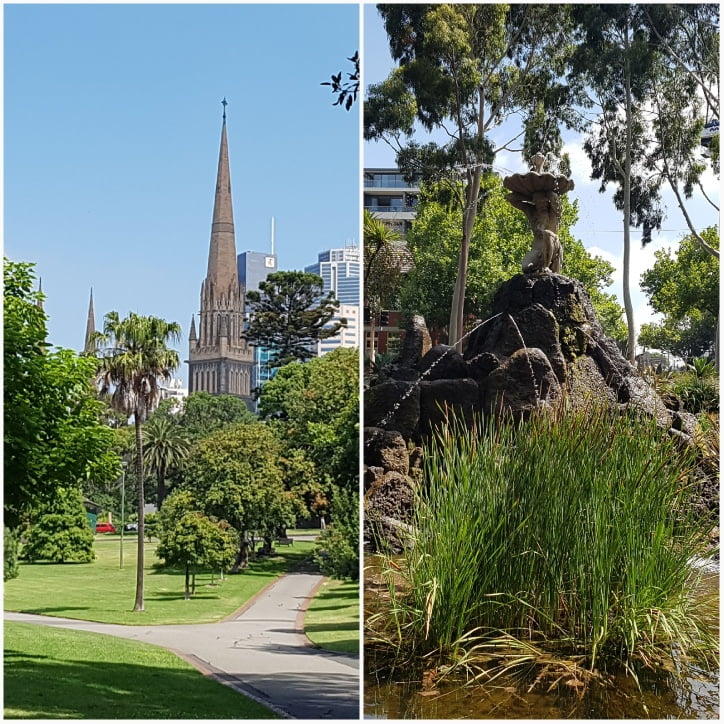 After a lot of fun on Smith Street we walked further east through Fitzroy Gardens into Richmond.
There wasn't a heck of a lot of see in that neighbourhood, but the walk was good.  A long ways from the centre, we caught a tram back to the hotel
With the tennis schedule, we are doing a late-ish breakfast followed by an early dinner.  Tonight we went to, as Time Out calls it, the "no-bookings" zone, a slew of restaurants that are walk-in only and for which people queue forever or, as TO put it, crowds that only slightly fall short of the 1964 visit of the Beatles to Melbourne.  Some, like Chin Chin, do allow reservations (for parties of nine; this is assuming I have eight friends to ask along).  Others, like Meatball, serve meatballs, where an hour and a half wait is common for a product about 40% as good as what SS can pull off on a Tuesday night.  Still, I should be grateful that we can eat a decent meal and, 15 minutes later, be at Rod Laver arena; Wimbledon and Flushing Meadow are over an hour from central London and NYC, respectively, and Roland Garros is also a trek deep west in Paris.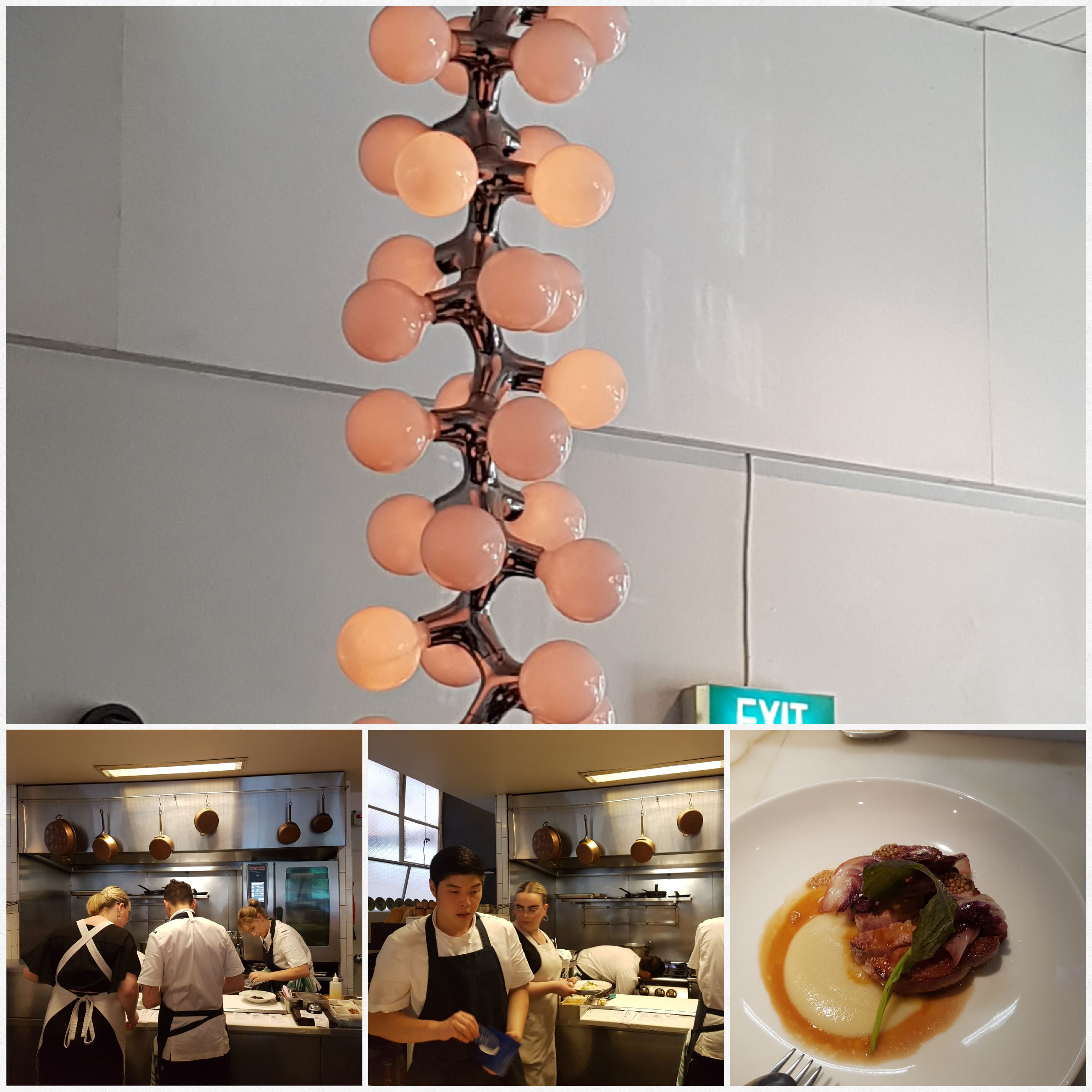 We ended up at a place called Cumulus (which, we didn't know, is owned by the same people as Marion, where we ate last night).  It was, at 5 p.m., you guessed it, packed.  We ate at the kitchen bar watching the chefs, sous-chefs, and expediters handle a Saturday crowd; crudites with taramasalata; dates filled with chorizo wrapped in prosciutto; melt in your mouth ricotta dumplings; and Scotch pork, whatever that is, but to me a loin delicately marinated and served on an apple puree.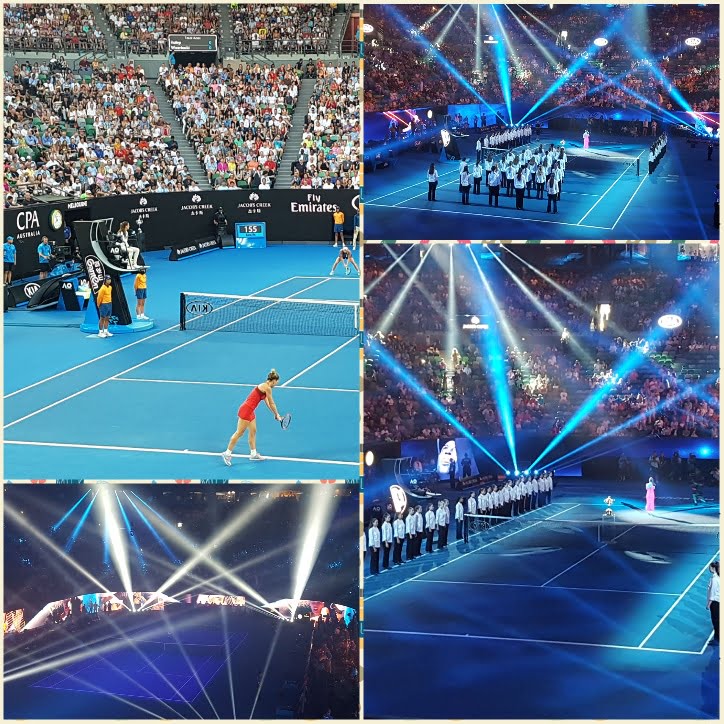 The tennis began with a song from Abba (yes, seriously), an award (Order of Australia) to an Aussie women's singles player of the 1970s (Evonne Goolagong Cawley), the national anthem, the Vegemite song, and then the women's final.  Which was, how can I put it?  Which was phenomenal.  Absolutely over the top point to point amazing, competitive, heart wrenching, brilliant tennis; 60% humidity notwithstanding.  I didn't have a pony in the race, but it was unfortunate to see Halep dig so deep, to fight so hard, to struggle over two weeks with injuries and near losses, only to fade out at the very end.  It really was a final for the ages.  I honestly felt privileged to be there; if there are seven billion people on the planet, a packed Rod Laver arena represents about .0002%.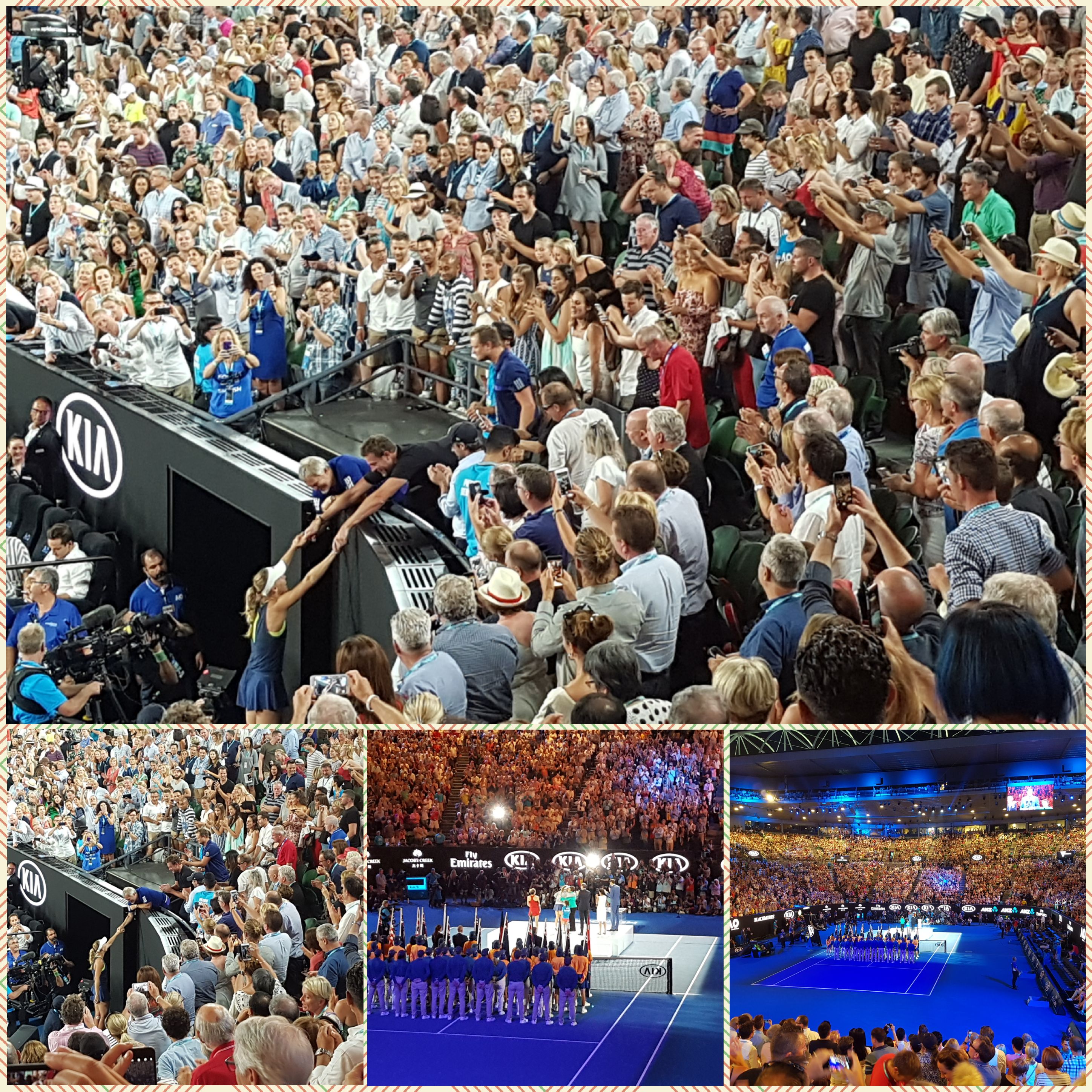 Caroline thanks her dad, accepts a check for $4,000,000, and hopes she'll finally get a cover of Elle.  (She actually said that.)
Back at the hotel by 11; so sweet to be 15 minutes from the arena.