ME Time: Thai Across Asia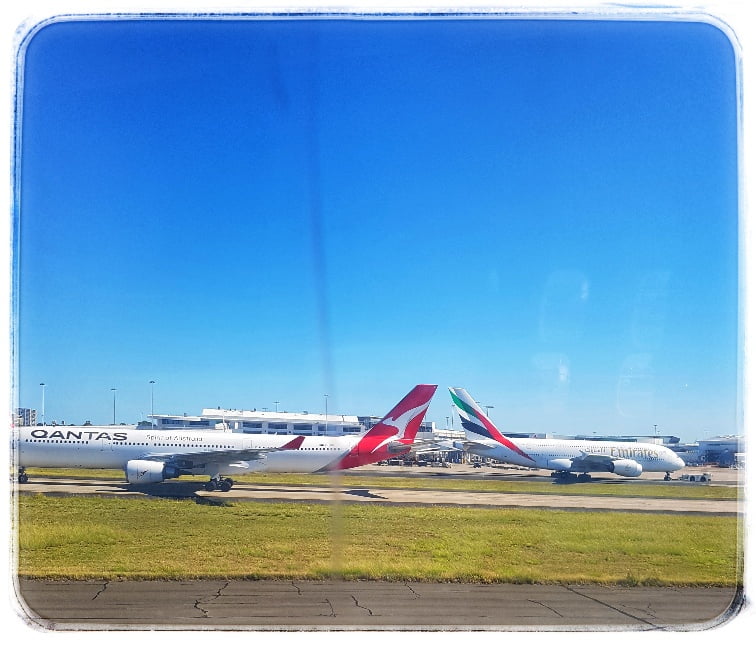 This morning SS woke up, took a shower, walked out of the hotel, across the street, checked in at Cathay, had breakfast in the lounge, takes a seat up front, and then around five in the afternoon arrives in Hong Kong; he takes the airport train and a couple of stops later he checks in at the W, unpacks, and has an evening on the town.
But as we do all this glam travel on points, he takes that trip alone; it was broth without bread for me I guess.  Wait, no, there were enough points on Star Alliance to fly the long way round.  That's the thing with these points programs, and us hedging our bets on both Aeroplan and BA. So bad news for me is I have to take a very long flight to Bangkok, then have a three-hour layover, then another short flight to Hong Kong.  I've learnt that the airline parlance for these indirect routings is "marriage routes" – you know, you type in Vancouver to Chicago on Aeroplan and it routes you through Denver with a six-hour layover.  But good news, if indeed it is good news, is that while he is flying effortlessly in biz, I'm making do in first.  Swimming pools, movie stars, the lot.
We were both out of the airport Rydges by 7:30 or so.  We walked over to the terminal and he checked in then we said goodbye as Thai was another ten-minute slog to check-in.  After security we met up again accidentally; the Aussies may be lax on domestic travel but international is another story, the undressing, the body scans, the wands checking for explosives, the beagles, and on and on.  Sydney has a pretty opulent international terminal.  I don't think I've flown from there since our first trip to Australia decades ago. He was en route to the Cathay lounge while I took the seven minute walk into another wing.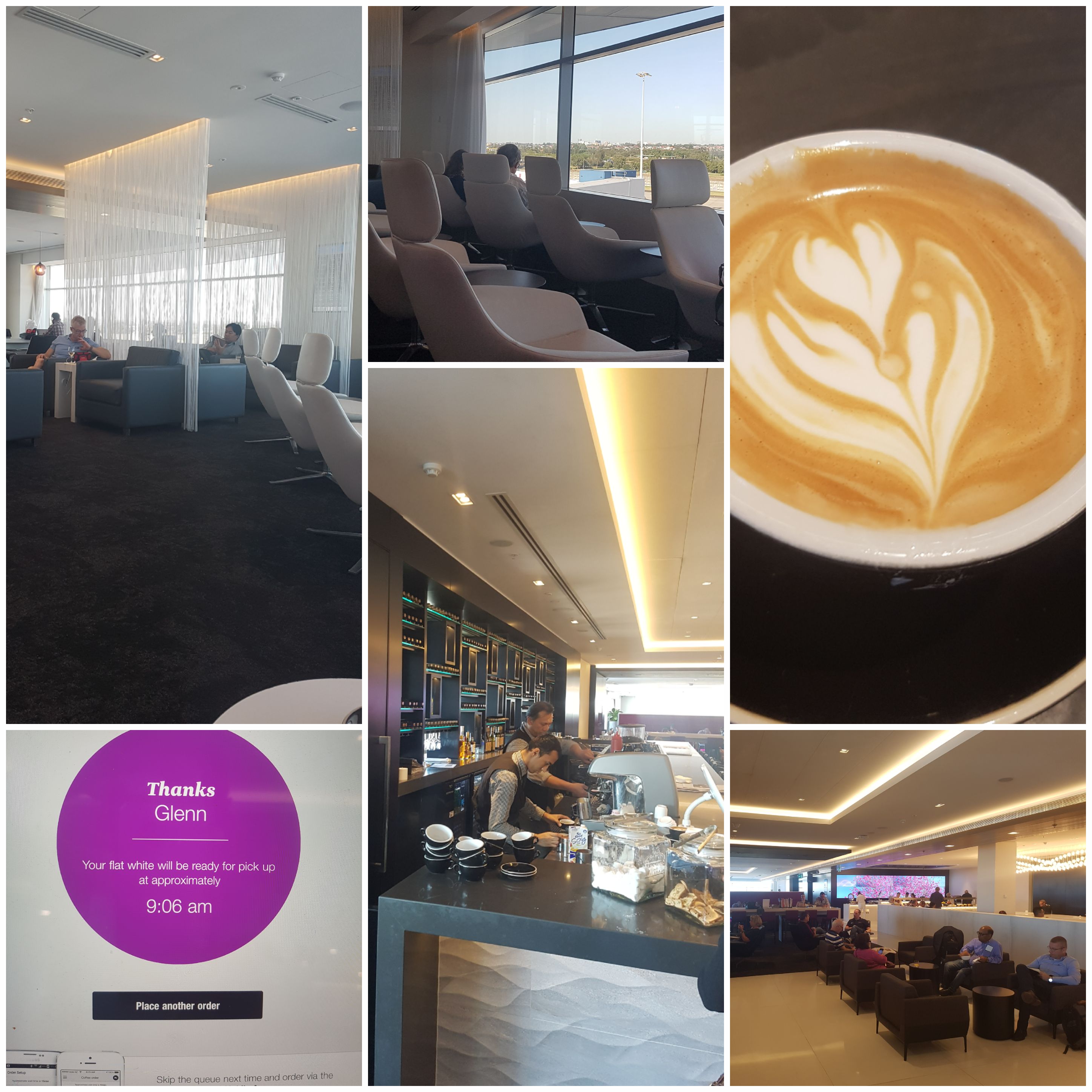 Thai "invites" biz passengers to use the Air New Zealand lounge (shown in the collage above).  But because of my importance, my very special status, I also had access to Singapore and, when they scanned my boarding pass and saw that it was first class, a special sliding door opens and you enter a quiet enclave of international businessmen and wealthy Asians.  It's like a secret Masonic handshake.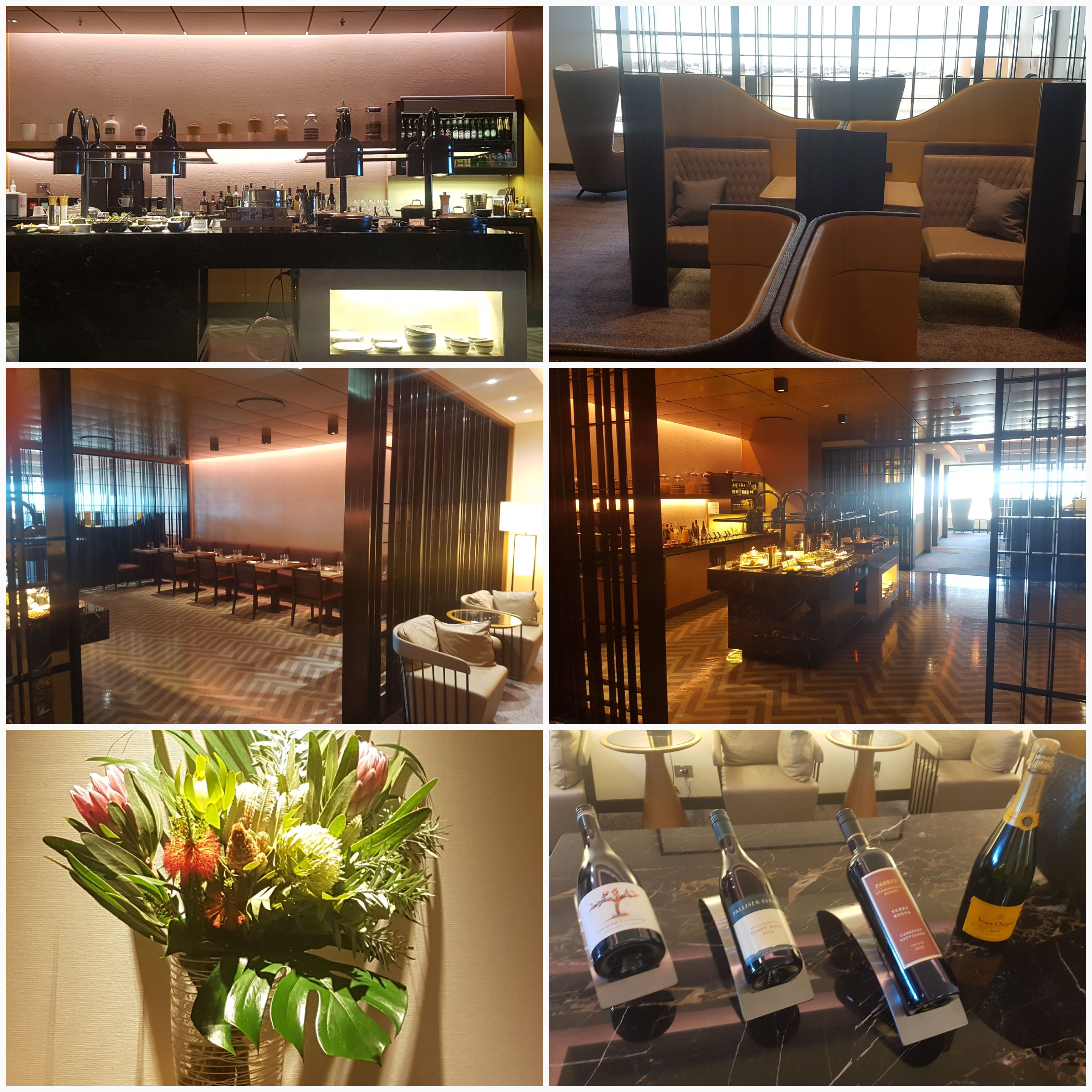 Singapore's SilverKris First lounge has an enormous amount of food and drink on offer, either self serve or off a menu with wait staff (and as with any Asian carrier, a lot of congee, noodles and savoury dishes that don't appeal so much in the early hours).  In fact, all I ordered was fruit and yogurt.  Oh, and a glass of Veuve Clicquot.  Nothing else seemed right at 8:30 a.m.  It's good to know, for the record, that even the poohbahs (when they order fruit salad) are still getting mainly melon.
I knew in advance that the coffee in Singapore was so-so and that you had to go next door to ANZ to get a proper flat white made by a real barista and really there is no better way to say goodbye to Australia than with a proper coffee, so after a tedious round of first class privilege I slummed over to ANZ.  It was crowded and noisy but large and airy and modern and, as business lounges go, rather good.
I headed downstairs to the gate for the 9:20 boarding.  There was general chaos, heaps of ground staff, at least a dozen wheel chairs, one issue after another.  But boarding began eventually.  All I had to do was walk in and turn left.  First is in the nose on the old 747s, ten seats in this version (of which five would be taken).  It would have been excruciating to climb the 11 stairs up to the second story.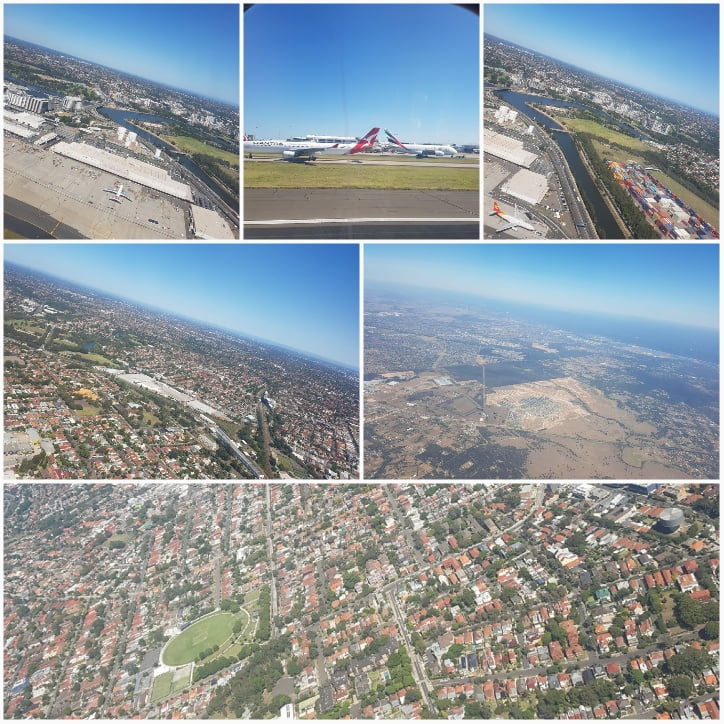 The last time I flew Sydney to Bangkok was 1985, on Thai in economy, on a 747.  Who knows, maybe the same plane?  This was an old plane.  At least British has covered up the fact that their 747s are ancient by completely refitting the interiors, but this old dame felt beyond its prime.  AV was on one of those remote controls that you scroll through and the headset was three pronged (memories of CP Air anyone?).  No personal air vents.  Still, first world problems, right?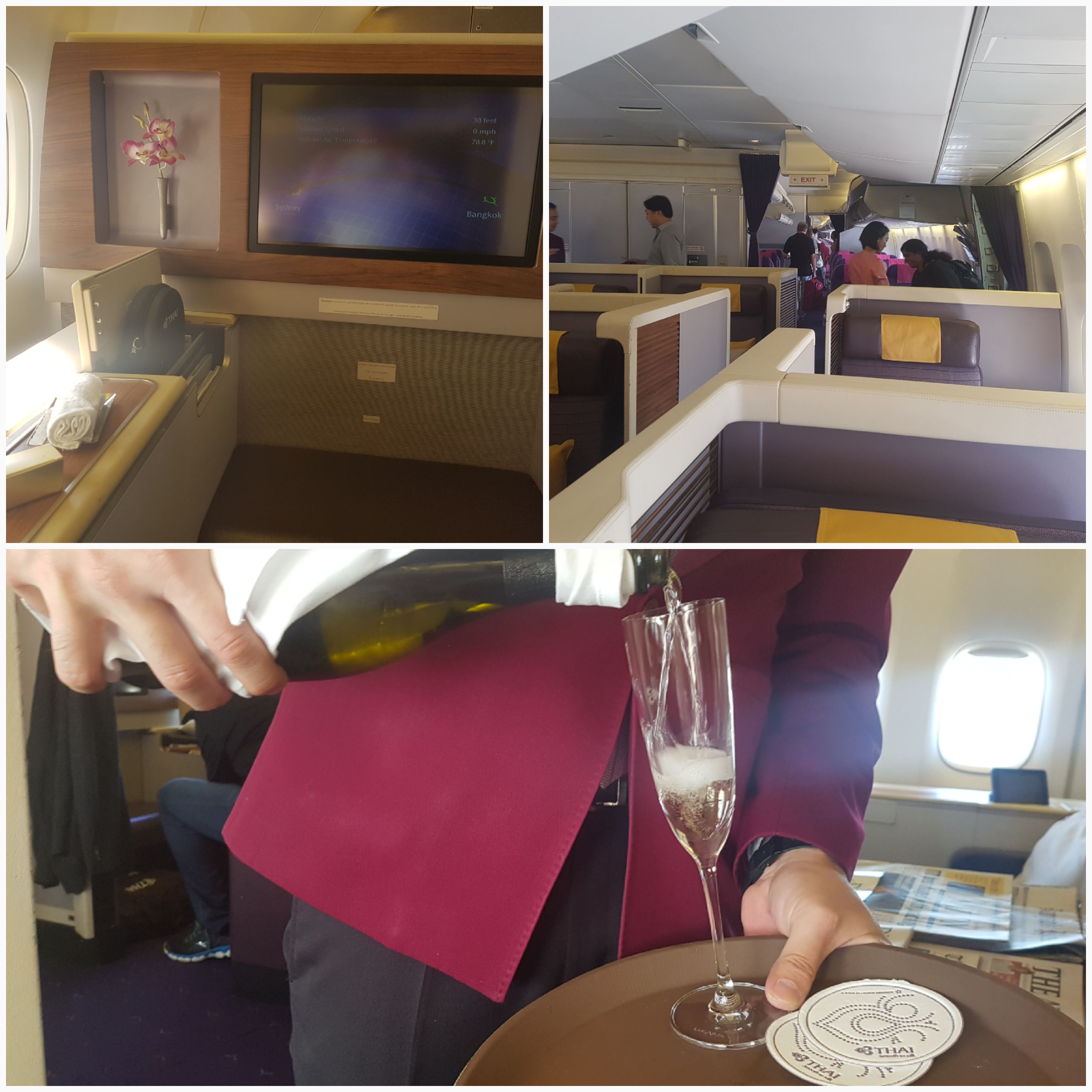 While the hard product, as the bloggers call it, left something to be desired, the soft product was superb.  Staff all introduced themselves to us in broken English and made sure they were correctly saying our names.  They explained the service and made us comfortable.  We had an extended boarding and a half hour on the tarmac; I'd already had a drink and read a Vanity Fair before we finally got the get-go.  Who knew that John Krasinski wasn't as good an actor as his wife Emily Blunt?  No wonder VF is half the thickness it used to be.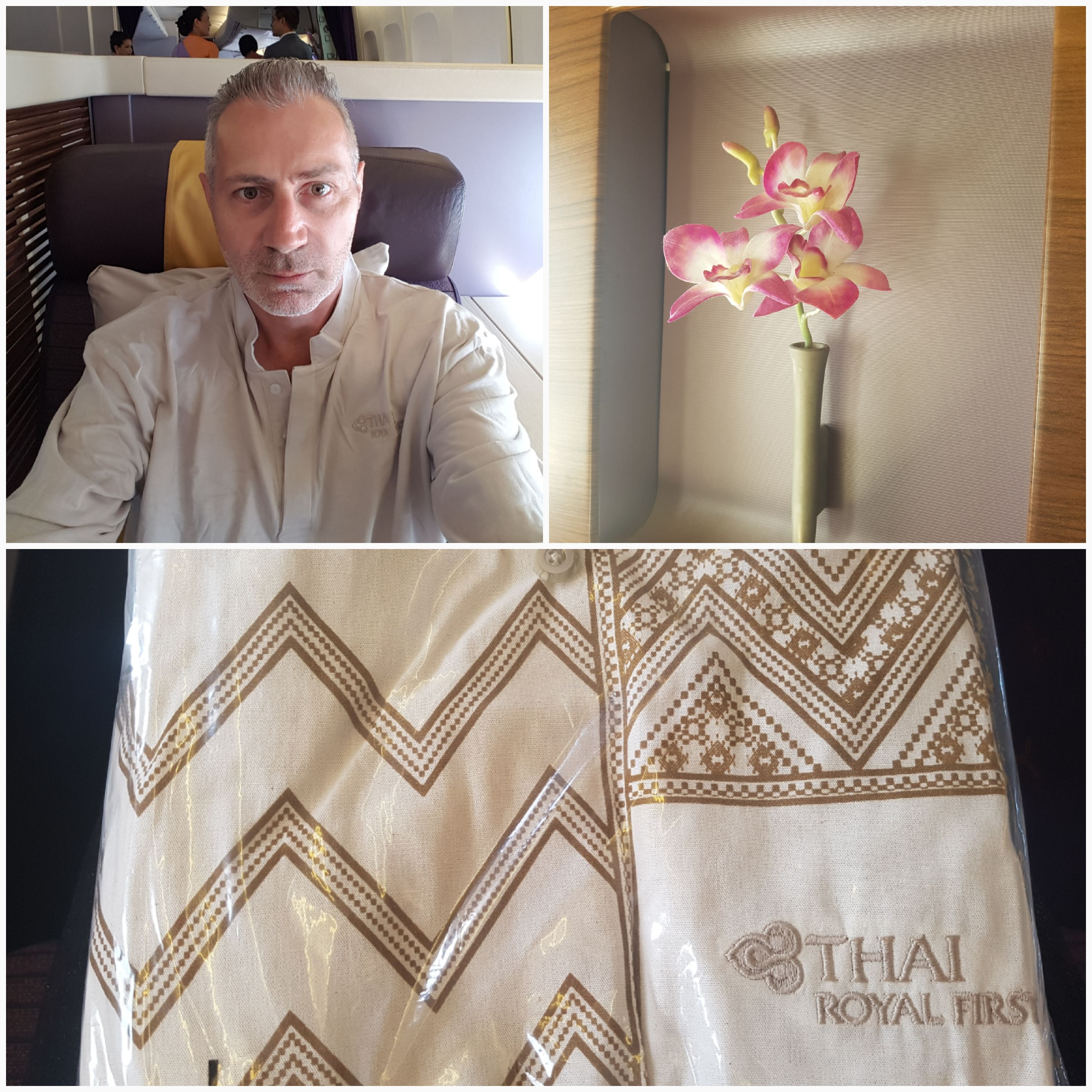 One of the attendants who showed me the spelling of her Thai name (which was a cross between papaya and Stan Wawrinka) told me I could call her Anne.  She asked if I'd like a pair of pajamas.  I said yes, medium.  She took a moment, sighed, and suggested large.  I mean she did it as diplomatically as possible.  But word is out: It's been a month off the diet and there is no hiding now.  I hear there is a Spanx boutique in Hong Kong. I changed before takeoff; 10 seats with two loos.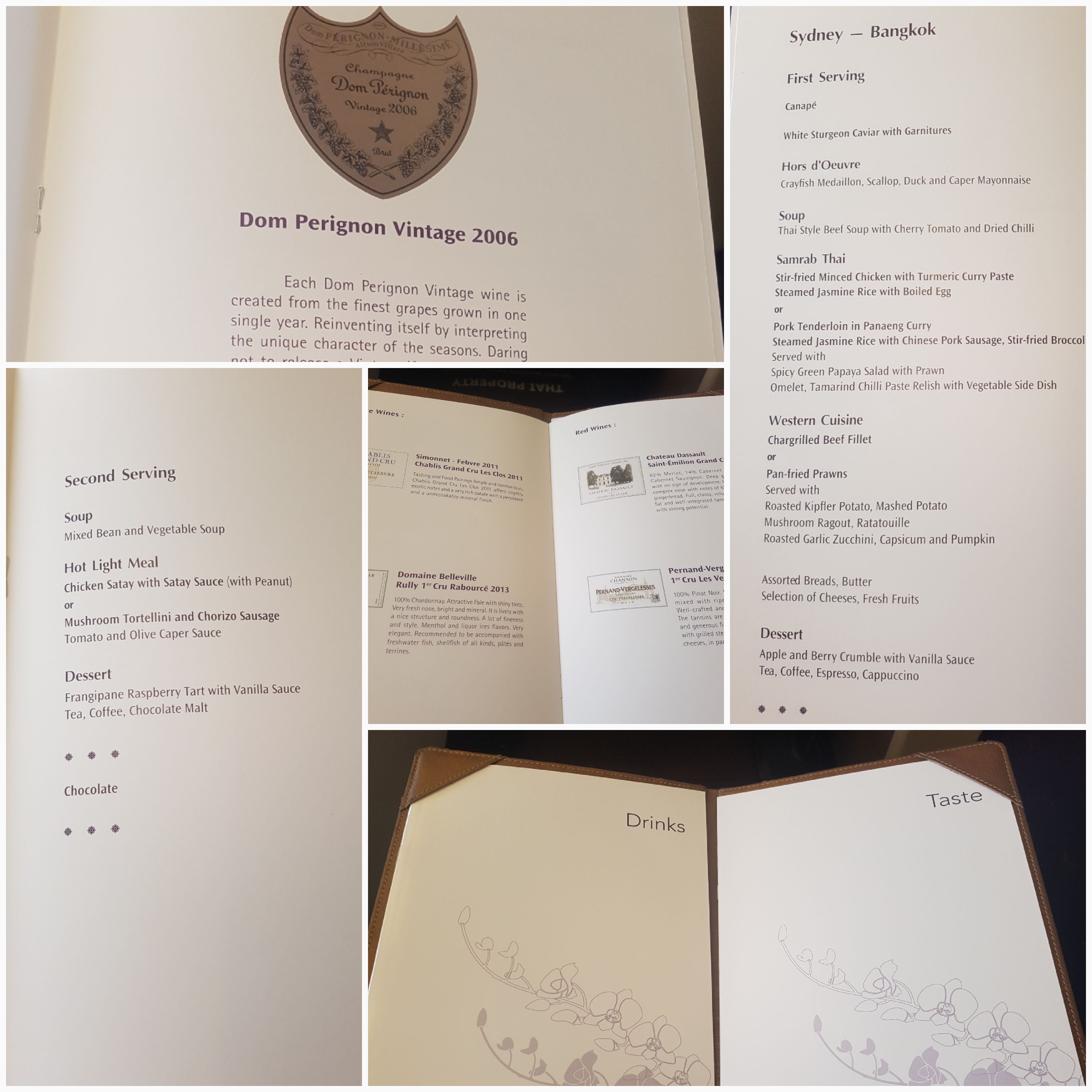 First service (as they called it) was an extended affair.  Lunch I guess you and I would call it.  They advertised on the menu Dom Perignon 2006 but in fact were pouring 2009.  This was of course very upsetting; I'll have to post something online later.  The first bits and pieces were some amuse bouche canapes on toasts.  A huge bread basket, a temptation of carbs, was placed on my tray like some sick lab rat experiment.  And get this, it came with butter but also half a baked garlic.  Has anyone, in any cuisine, ever experienced that?  I actually asked the staff what it was for and they told me to spread it on the bread.  That was followed by 2500 calories in warm macadamia nuts.  Caviar on ice next with all the traditional trimmings, perfectly presented in a crescent dish nestled into a plate; my rule on caviar is similar to my rule on champagne (avoid buying it at all costs but never say no when offered).  They had a bottle of chilled Stoli which they brought around with the caviar and, you know, I get it, that's the experience, but it wasn't even noon Sydney time.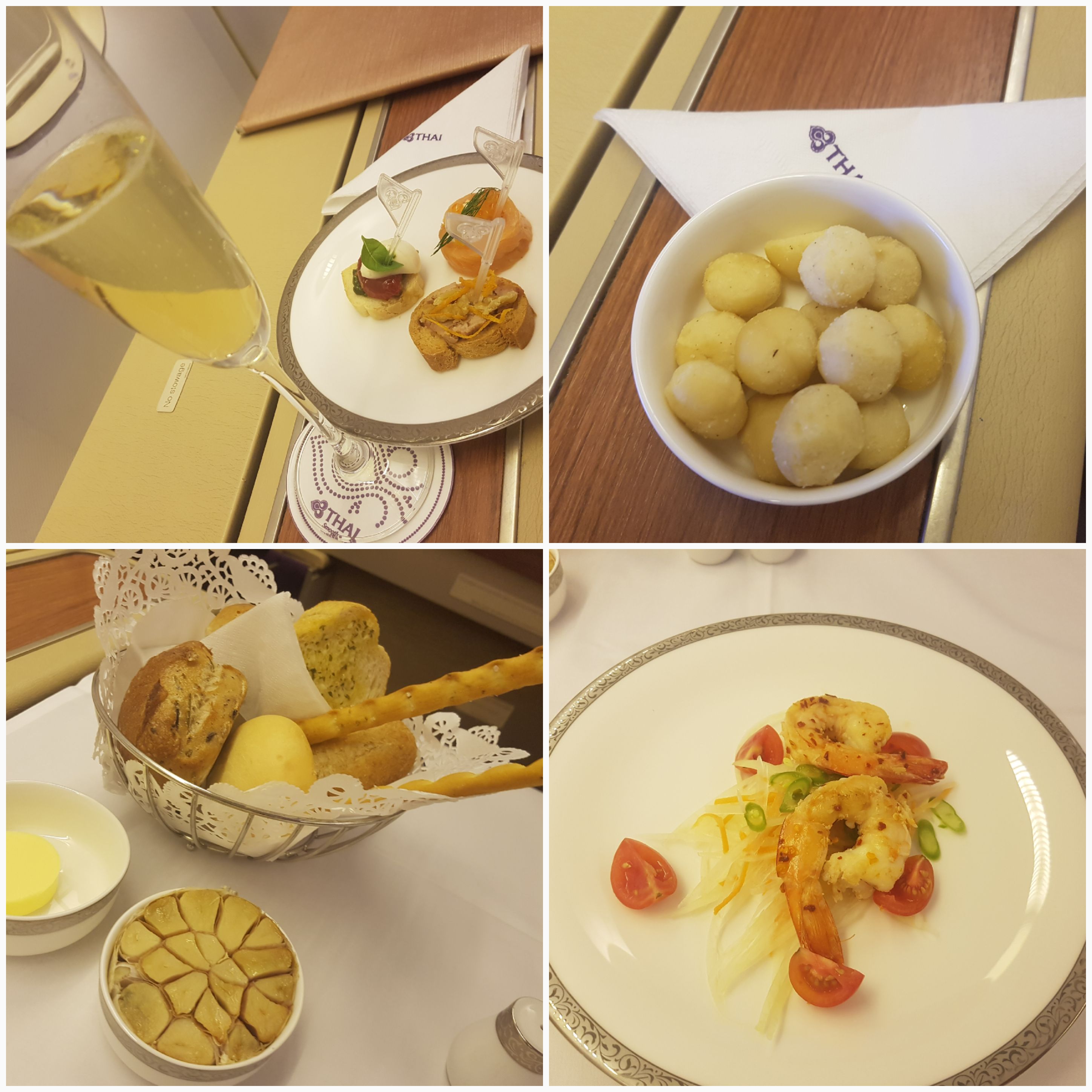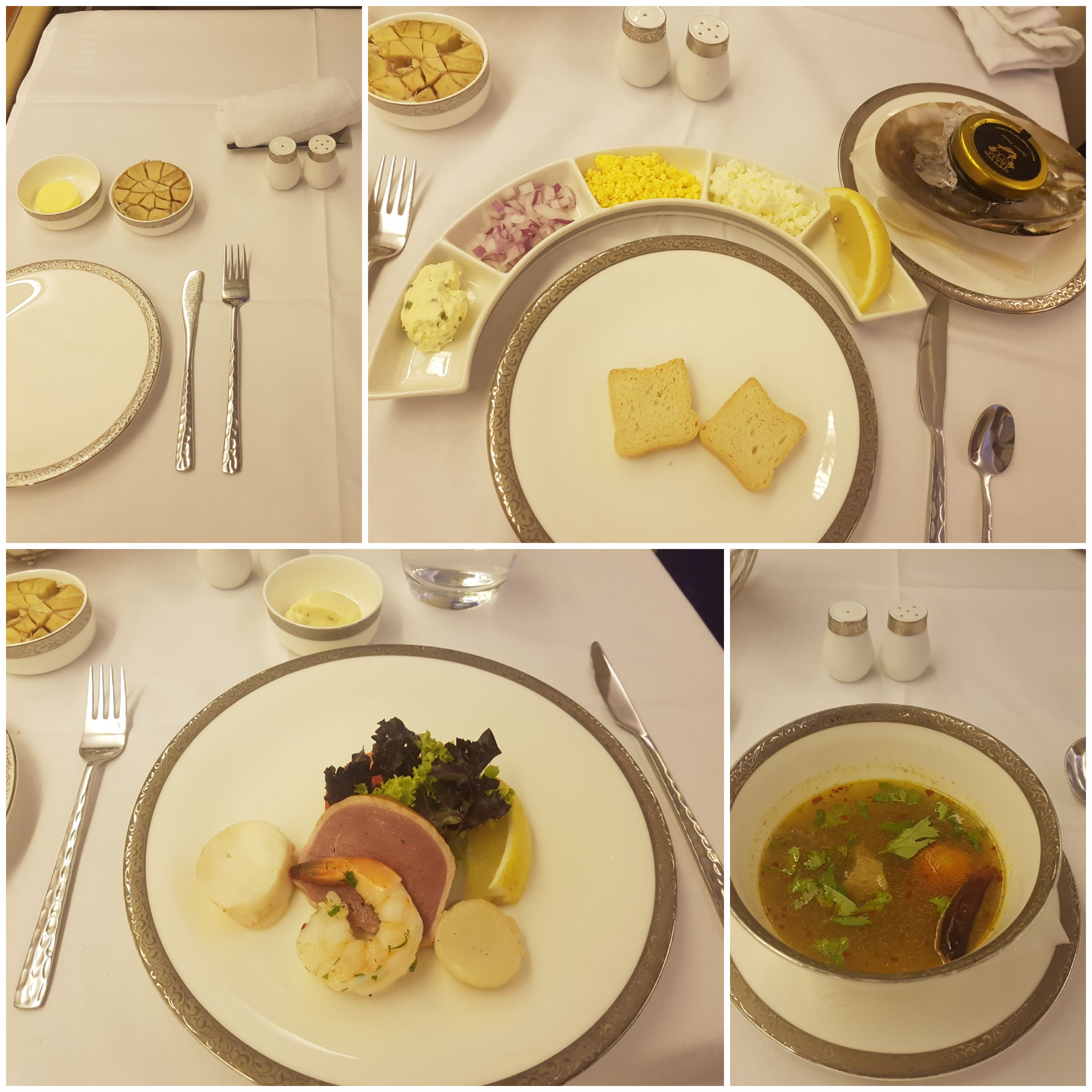 Then came an hors d'oeuvre of crayfish, scallop and duck with some caper mayonnaise.  The soup, the Thai soup, was rather excellent, sweet and sour, lemongrass and basil and chili.  Probably my favorite dish.  From what I could see the others ordered a western main but I ordered the Thai pork curry which rather flummoxed the staff and in the end I found out why: The curry comes with rice, broccoli, carrots, pork sausage, omelette, pepper, shallot and chili sauce.  That was a ton of food.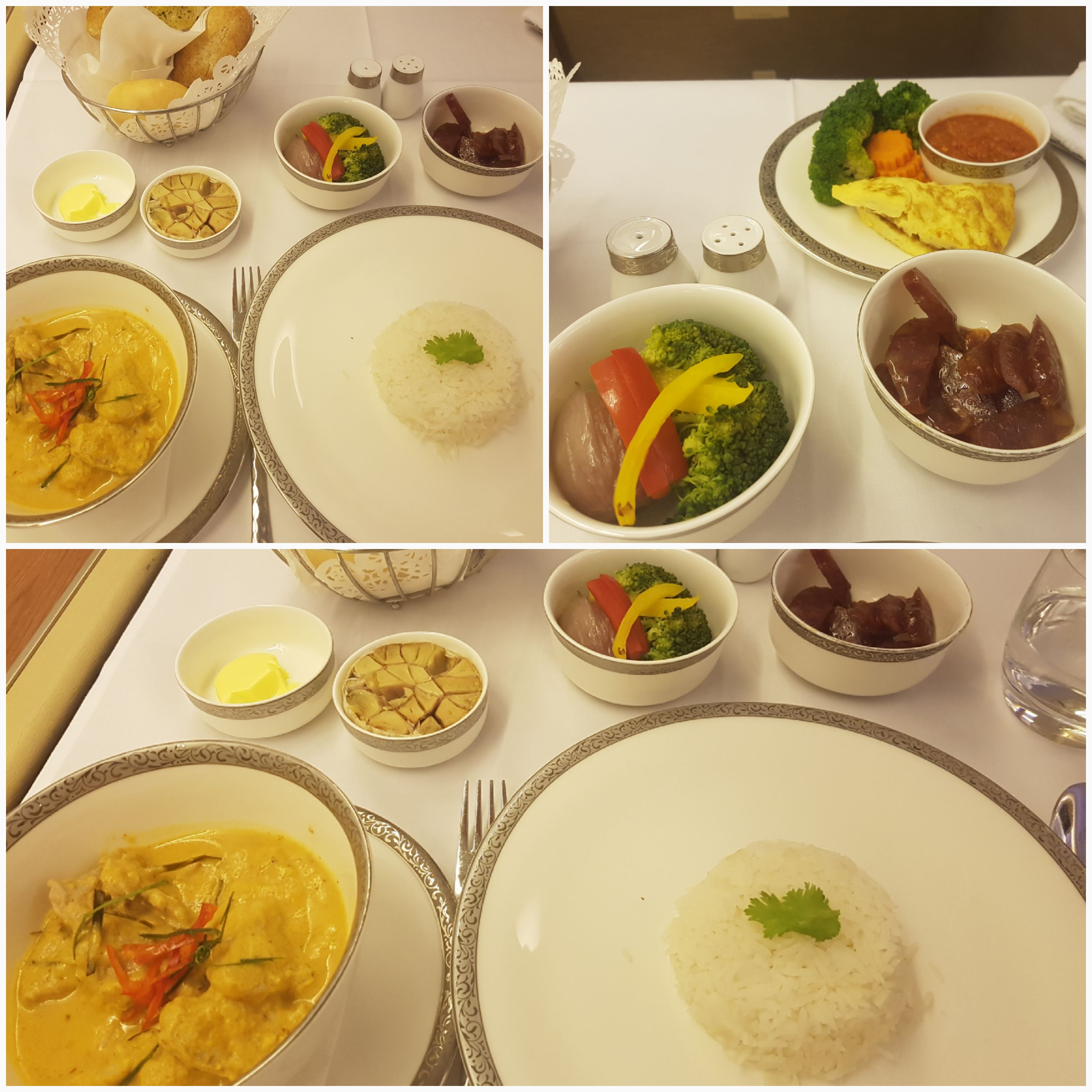 I said no to cheese.  I said no to fruit.  But both presentations looked lovely.  They came around with some very minor dessert offerings and a I had a small berry crumble tart with tea.  There were more changes of cutlery and service tweaks than you could imagine.  Truthfully, no one needs that much food, but flying is boring and it was entertaining and ate up a third of the flight.  (Although, thank goodness for the breath spray in the Rimowa amenity kit; raw onion on caviar, garlic on bread and wine in combination are like the old Scope mouthwash ad in the 70s for those of you who remember.)
The bed was superb, the mattress pad really comfortable, the ambiance a little hot (Asian carriers are generally too warm, North American carriers generally too cold) and when I woke up after a short siesta there were some Ferrero Rocher beside me (the least tempting chocolates known to humanity; I'd rather have a Twizzler).
On the drinks menu there is a quaint typo.  They remark that their bar is constantly adjusting according to vintages, that it is selected by experts for their premium passengers served on a "routation" basis.  I like that. 
The second meal service was a bit of a bomb.  Some soup (OK), and a choice of chicken satay or pasta.  I saw the American turn his pasta back and it seemed too heavy anyway, but the satay was dry and tasteless.  I took a pass on dessert.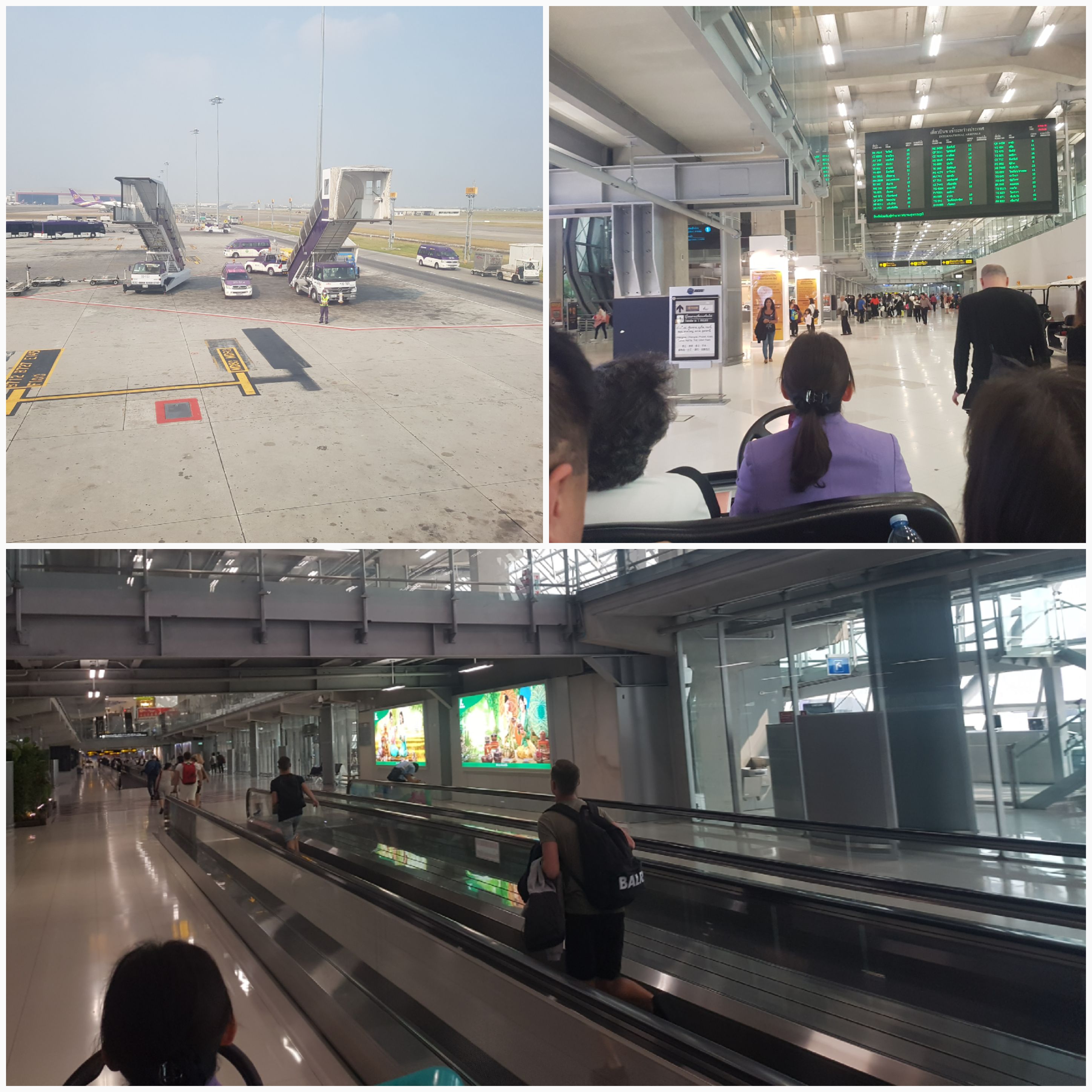 We landed early in Bangkok but, get this, deplaned on the tarmac.  That is crazy for a 747 packed full and landing at the hub terminal.  Anyway, I was first off the plane, a first I think in my life, and a woman at the bottom had a sheet with the five names of the first class passengers and the five of us were escorted into a bus, and whisked off, while all the rest crammed into the remaining convoy.  We drove forever.  We could have been in Koh Samui by the time we got off that bus.  Then the few of us who were transferring were escorted on a golf cart, and fast tracked through security, then taken into the first class lounge.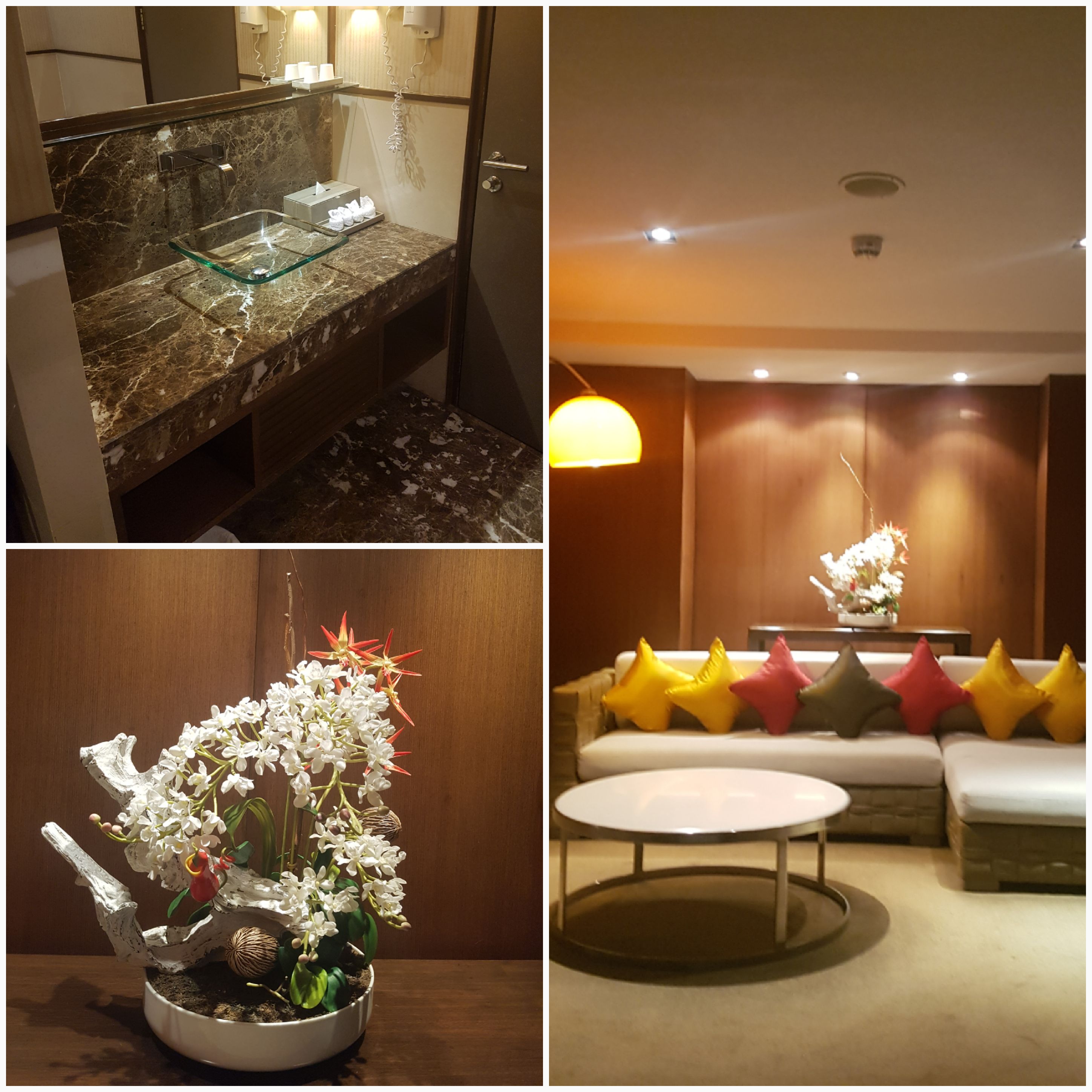 A bevy of women in traditional dress were all over me.  Do I want a massage, will I eat, drink, what do I want to read.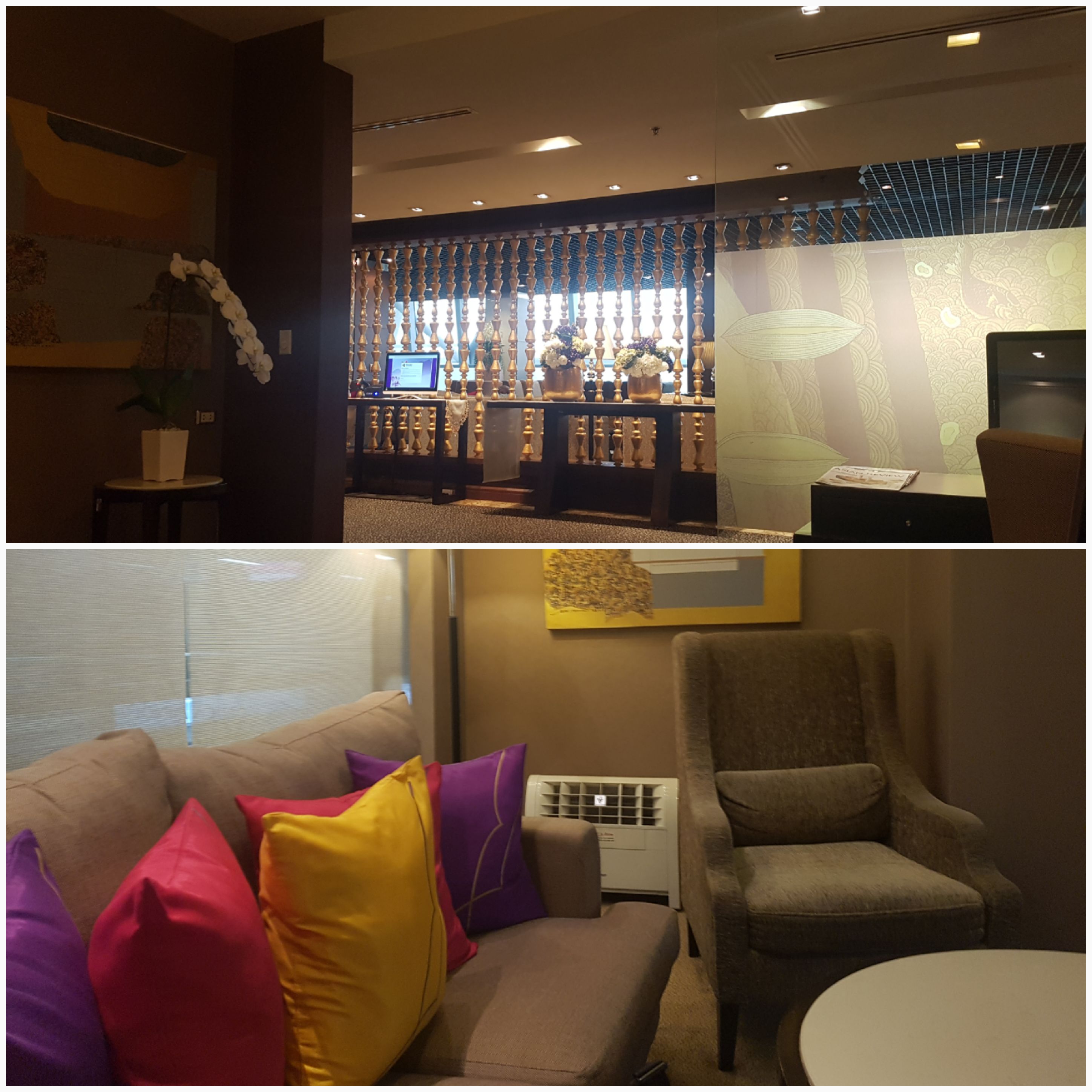 I took a shower, in a pretty elegant shower room supplied with Occitane, then was shown to my own private lounge.  Seriously.  Sofa, two chairs, work desk, TV.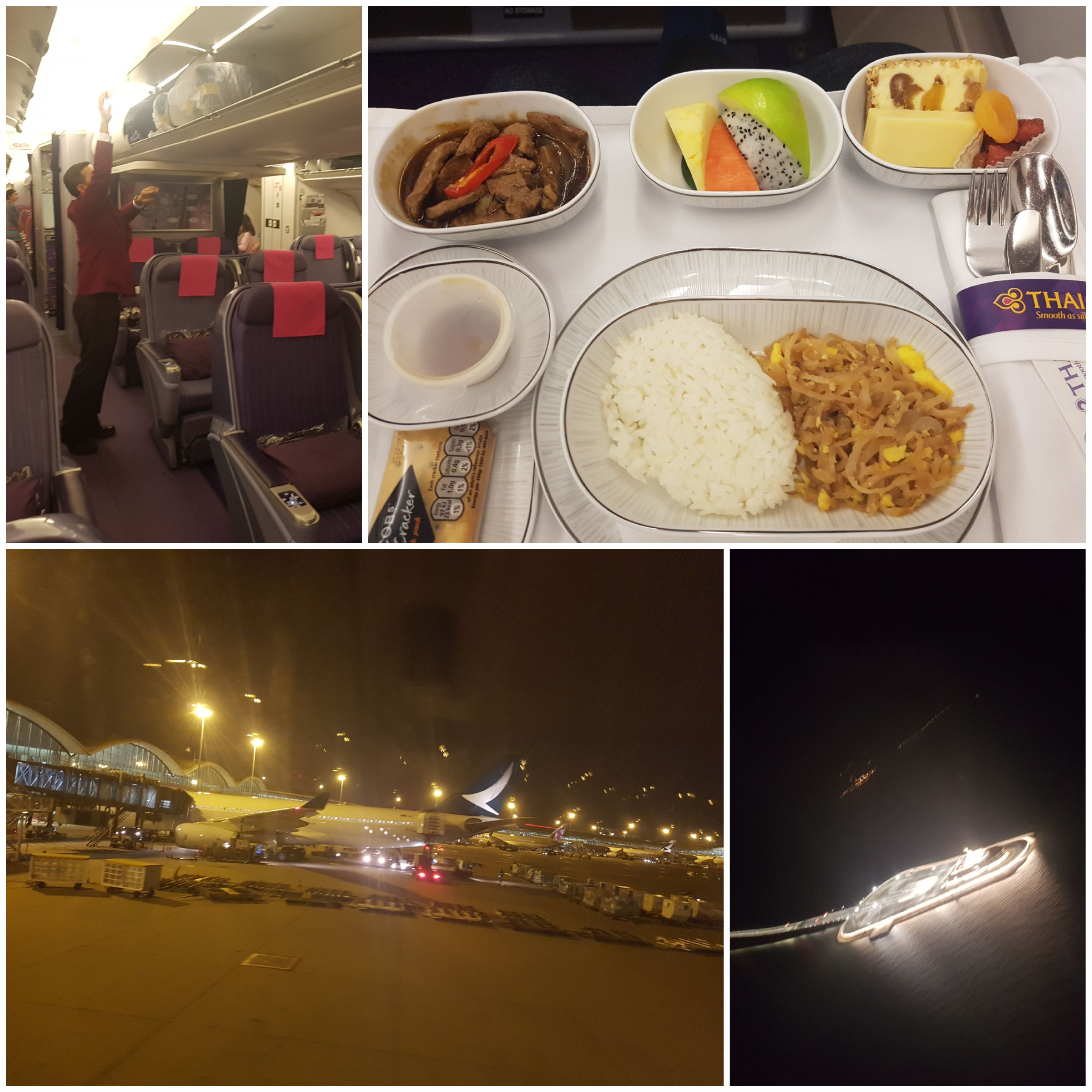 For the final leg I'm slumming it in business.  There just wasn't any first class product to get me to HKG.  Oh well, the good life has its limits.  The collage above shows the standard A330 biz class configuration common on short haul, a pretty basic Thai dinner, and arriving at the spectacularly huge Hong Kong Airport.
I've only flown first three times, with Cathay being the ultimate and British being pretty mediocre (they don't even call their pajamas pajamas, they call them sleepers…).  This was wonderful but if you were making the effort I think you'd want to be aboard a newer craft.